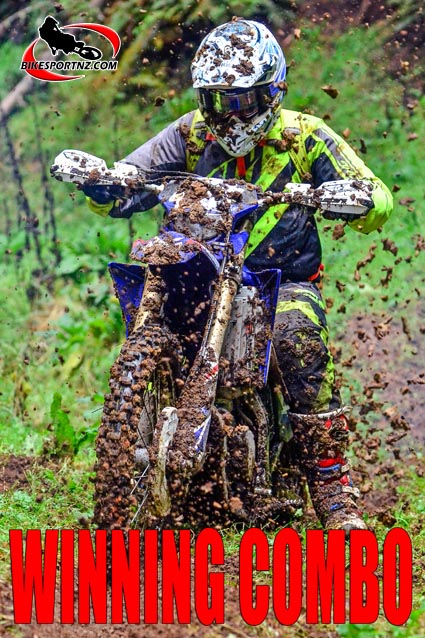 Mitchell Nield and Callan May are proving themselves to be dirt bike racing's dynamic duo.
Once again they were too strong for the opposition in the popular Whangarei Two-Man Three-Hour cross country series, winning the fourth and final round at the weekend, and they hope that result will be a foretaste of what might come in the New Zealand Enduro Championships, starting this coming weekend.
Bay of Islands builder Nield teamed up with Titirangi electrician May at the Whangarei event last Saturday and, between them, they roared to victory, just as they had at round two of the series back in January.
The two former national enduro champions each rode their own Yamaha YZ250X bikes, tag-teaming one another to eventually take the win ahead of Nield's younger brother, Damon Nield, who had teamed up with fellow Hokianga rider Troy Geilen.
However, while the Nield and May combo might have dominated each of the races they entered, they were no-shows at round one and Nield was left to go it alone and he rode (and won) as an ironman at round three and that meant they realistically had no chance of winning the two-man series outright.
That honour instead went to round one's winning pair from Whangarei, Scott Hawkins (KTM450) and Jack Robinson (Yamaha YZ450F).
"We weren't able to race at round one because that was just after Christmas and Callan (May) had only just arrived back in New Zealand after his season of racing in the United States," explained Nield.
"We didn't get a great start on Saturday either, back in about fourth position just after the start and we didn't taken the lead until about the fourth (20-minute) lap. But we managed to hold on to the lead and eventually won by about a minute."
Only nine two-man teams managed to complete nine laps in the three hours.
"Winning this Whangarei series was not really the main focus this season for either Callan or I … it's the New Zealand Enduro Championships coming up that matter most and this event at the weekend was a great build-up for that," said Mitchell Nield.
The four-round New Zealand Enduro Championships kick off near Christchurch this Saturday, with round two of that series following on just two days later, on Easter Monday, at Mosgiel.
"I'll be riding a different Yamaha at the enduro nationals. I'll be on a WR250 four-stroke instead of the YZ250X two-stroke. I finished runner-up to (Howick's) Liam Draper in the under-200cc two-stroke class last year, but now I've moved up to the under-300cc four-stroke class."
Following racing in the South Island this Easter Weekend, the national enduro series continues with round three near Wellington on April 9, round four at Waimiha on June 4 and, finally, it all wraps up near Tokoroa on June 5.
© Words and photo by Andy McGechan, www.BikesportNZ.com
Find BikesportNZ.com on FACEBOOK here