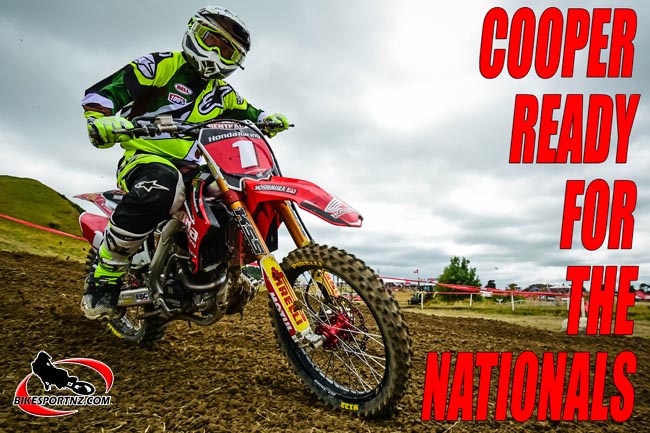 It is fair to say that Cody Cooper's warm-up for the motocross nationals has just about reached boiling point.
In fact, the Mount Maunganui man is so hot at the moment that the 32-year-old is clear favourite to win a fourth consecutive New Zealand Motocross Championships title in the premier MX1 class, that four-round series set to kick off at Pleasant Point, near Timaru, this coming weekend.
It was certainly a sizzling performance from Cooper at his final warm-up event, the 55th annual Honda New Zealand Motocross Grand Prix at Woodville at the weekend, with Cooper again winning the MX1 class trophy.
He didn't have it all his own way at Woodville, though, pushed hard during Sunday's scorcher by visiting internationals Dean Ferris, Todd Waters and Jake Nicholls and by a slew of fellow Kiwi internationals in Brad Groombridge, Rhys Carter, Scott Columb, Hamish Harwood and Daryl Hurley.
But, in the end, Cooper got the job done.
Cooper posted a 1-2-2 score-card to beat Australian former GP star Ferris (2-1-3) to the MX1 class win by four points.
"Normally I win all my races here because of my starts. I had a bit more work to do this year," said Cooper.
"I think I'm peaking at the moment and I'm really looking forward to the nationals.
"In winning the first race today, it took the pressure off me and I knew after that I just needed to stay ahead of Ferris in the races that followed. It was dusty and pretty sketchy out there, so I was sort of in cruise mode. I didn't push too hard to try to beat Todd (Waters) in that last race, because I knew I was ahead of Ferris and that's what mattered in the end."
However, for Cooper, this year's Woodville event was also perhaps another case of him winning the battles but actually losing the war, with Ferris leading from start to finish in the gruelling five-lap Invitation Feature Race, the one race that decides who is crowned overall Woodville champion.
Cooper won this feature race at Woodville in 2007 and 2014, but was again denied in making it a hat-trick by the narrowest of margins, Ferris crossing the line just a smidgen over one second ahead of Cooper, with the Honda man wishing the race could have gone a little longer.
"That would have been nice. Just one more lap might have done it," Cooper smiled.
© Words and photo by Andy McGechan, www.BikesportNZ.com
Find BikesportNZ.com on FACEBOOK here