FERRIS TAKES WOODVILLE CROWN
Mount Maunganui's Cody Cooper has been denied for a second consecutive season.
He was hoping to join an exclusive club on Sunday – intending to become a rare three-time winner of the iconic Honda New Zealand Motocross Grand Prix at Woodville – but once again he was deprived by a trans-Tasman invader.
The two-time firmer Woodville champion was stopped last season by Australian Kirk Gibbs and this time around it was another Australian, New South Welshman Dean Ferris, who rose up to claim the main trophy at Woodville.
The 32-year-old Cooper, the reigning New Zealand MX1 motocross champion, lived up to his star billing when he again won the MX1 class at Woodville, but this 55th edition of the great event was another case of Cooper winning the battles but losing the war, with Ferris leading from start to finish in the gruelling five-lap Invitation Feature Race, becoming the 28th different main event winner at Woodville since the inaugural event in 1961.
"It is pretty special to win here. I had only ever heard of this event once before coming here and that was because of that crazy river race," said the 25-year-old Ferris, from Kyogle, in New South Wales.
"It's great to begin my build-up for the Australian nationals with a win like this."
Cooper won the MX1 class with a 1-2-2 score-card, finishing the day four points ahead of Ferris, while Otago's Courtney Duncan stunned the testosterone-fuelled MX2 (250cc) class to snatch that class win with an outstanding 1-3-2 score-line and Feilding's Tony Cvitanovich did enough in finishing 4-4-3 to be crowned 125cc class champion at Woodville on Sunday.
Not only did 15-year-old Cvitanovich win the 125cc class, but he was also rewarded with the Roddy Shirriffs Memorial Trophy as the highest-placed senior 125cc class rider under the age of 22.
The winner of the spectacular river race class was Palmerston North's James Galpin, the 18-year-old engineer finishing only fourth in the first of Sunday's two river races, which was won by Taupo's Brad Groombridge, but he bounced back and weathered a series of attacks by Masterton's Allan Gannon to eventually win the second race and claim the overall win by just two points from Groombridge.
The founder of the iconic event, Palmerston North's Tim Gibbes, was on hand for the final presentation ceremonies and he expressed enthusiasm that the Woodville motocross would live on forever.
"I'm not surprised that it's still a major event. I remember back in the beginnings when we had 5000 tickets printed but the call came back from the entrance gate at one o'clock in the afternoon that they'd sold out. The crowds just kept coming," said the now 82-year-old former world championship rider.
"It was great to see the car park area chocka full again this year. I'm very proud of this event but it's not all about me … there has been a lot of work done by a lot of people over the years to make this a continuing success," said Gibbes, who had also twice won his own Woodville event in the past (in 1962 and 1964).
"When this first became an international event, nobody in New Zealand knew what motocross was."
They certainly know all about it now.
© Words and photos by Andy & Bridget McGechan, www.BikesportNZ.com
Find BikesportNZ.com on FACEBOOK here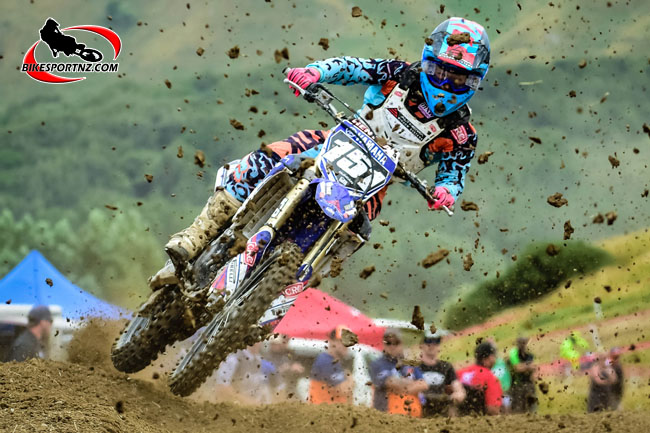 Leading results from the 55th annual Honda New Zealand Motocross Grand Prix at Woodville:
Seniors, Sunday:
Invitation Feature Race: 1. Dean Ferris (Australia, Yamaha); 2. Cody Cooper (Mount Maunganui, Honda); 3. Todd Waters (Australia, Suzuki); 4. Jake Nicholls (Britain, Husqvarna), 5. Daryl Hurley (Hawera, Husqvarna).
MX1 class: 1. Cooper; 2. Ferris; 3. Nicholls.
MX2 class: 1. Courtney Duncan (Otago,Yamaha); 2. Josiah Natzke (Hamilton, KTM); 3. Hamish Harwood (Takaka, KTM).
125GP class: 1. Tony Cvitanovich (Feilding, KTM); 2. Liam Draper (Howick, Husqvarna); 3. Jye Deacon (Hastings, KTM).
Women: 1. Duncan; 2. Jessie Waterhouse (Tauranga, Yamaha); 3. Amber Harris (Cambridge, KTM).
Veterans: 1. Bryan Heaphy (Nelson, Suzuki); 2. Mitch Rowe (New Plymouth, KTM); 3. Kevin Archer (Te Awamutu, KTM).
River race: 1. James Galpin (Palmerston North, KTM); 2. Brad Groombridge (Taupo, Suzuki); 3. Josh Hunger (Stratford, Husqvarna).
Juniors, Saturday:
Champion of champions – 125cc/250cc: 1. Trent Collins (Ohaupo, Honda); 2. Wyatt Chase (Taupo, Yamaha); 3. Jovhann Phillips (Te Puke, KTM).
Champion of Champions – 85cc: 1. Zac Jillings (Rongotea, KTM) 2. Marshall Phillips (Christchurch, Yamaha); 3. Thomas Watts (Wairoa, Kawasaki).
Junior 14-16 years 250cc: 1. Trent Collins (Ohaupo, Honda); 2. Reece Walker (Nelson, Yamaha); 3. Josh Tredinnick (Tauranga, Suzuki).
Junior 15-16 years 125cc: 1. Wyatt Chase (Taupo, Yamaha); 2. Hayden Smith (Taihape, KTM); 3. Oliver Ayre (Havelock North, Yamaha).
Junior 12-14 years 125cc: 1. Grason Veitch (Dunedin, KTM); 2. James Scott (Oparau, Husqvarna); 3. Reece McBride ( Westport, KTM).
Junior 13-16 years 85cc: 1. James Scott (Oparau, Husqvarna); 2. Marshall Phillips (Christchurch, Yamaha); 3. Zac Jillings (Rongotea, KTM).
Junior 11-12 years 85cc: 1. Brodie Connolly (Matamata, KTM); 2. Hunter Miller (Palmerston North, KTM); 3. Ryan Webley (Auckland, KTM).
Junior 8-10 years 85cc: 1. Jared Hannon (Cambridge, Kawasaki); 2. Mitchell Weir (Tokanui, Yamaha); 3. Ryan Tangaroa (Pukekawa, Kawasaki).