GOING GOT TOUGH; TOUGH GOT GOING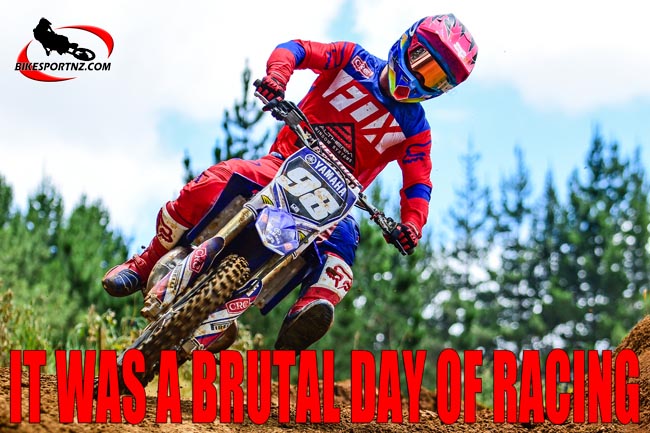 A brutal track delivered a brutal day of racing.
For all three members of the high-profile Altherm JCR Yamaha Racing Team who were in action at the weekend's annual Auckland Motocross Championships, it was probably a case of "what doesn't kill us makes us stronger".
Motueka's Josh Coppins, the retired former motocross world championship star whose duties now mostly include managing the Altherm JCR Yamaha Racing Team, it was another opportunity for him to lead by example as he reverted to the role of MX1 class rider for the team on Sunday.
And what a fine example he set as he grew stronger throughout the day and eventually settled for the third step on the MX1 class podium, the 38-year-old Coppins beaten only by reigning national MX1 champion Cody Cooper (Honda Racing Team CRF450) and a young rising star in the sport, Waitakere-based 20-year-old Hamish Harwood (CML KTM350 SXF)
The team's two MX2 class riders, Mangakino's former national MX2 champion Kayne Lamont and Waitakere's former national 125 champion Ethan Martens, also featured among the leading competitors at the weekend, although deep ruts, bumps and slippery surfaces conspired to ruin what should have been a much better afternoon under the warm sun.
Lamont was the victim of another rider's mistake at the start of the opening MX2 class race of the day – a race that was actually a re-start after another rider had crashed and required a helicopter to airlift him to hospital. When the rider in front of Lamont tumbled from his bike at high speed during the re-start, it left the Yamaha ace nowhere to go and he was caught up in the carnage.
It meant a premature end to the day for Lamont, who was barely able to walk because of severe bruising to his leg. His injury was not considered too serious and he'll be back in action again soon.
Riding a YZ250 two-stroke, Martens finished 3-7-2 in his three MX2 class outings and ended the day third overall, just four points behind fellow Yamaha rider Cohen Chase, of Taupo, while dual class rider Harwood won the class.
"It was a tough day for us," Coppins admitted.
"We were disappointed to lose Kayne again. That's two events in a row where he's been hurt and neither accident was his fault.
"The track was very difficult today, but I'm pleased with my own results. I got better as the day wore on. It's a decent result for a very tough day.
"It's good to be on the podium again but I want to do better at our next event, the Whakatane Summercross (on December 27-28).
"I'll be working with (Otago's) Courtney Duncan this week and then do some preparation with Kayne (Lamont) next week. After that I'll do some work on my own to be ready for Summercross. After that we have our official MX1 class rider, Australian Dean Ferris, coming over to race and I can go back to being team manager."
Class winners at the two-day Auckland Motocross Championships were Cooper (MX1, Honda); Harwood (MX2, KTM); Mangakino's Maximus Purvis (senior 125, KTM); Inglewood's Larry Blair (veterans, KTM); Taihape's Sarah Elwin (women, Yamaha); Opunake's Liam Read (MX3, Yamaha); Collins (junior 14-16 years' 250cc, Honda); Dairy Flats' Claude Griffith (junior 15-16 years' 125cc, KTM); Taihape's Hayden Smith (junior 12-14 years' 125cc, KTM); Oparau's James Scott (junior 13-16 years' 85cc, Husqvarna); Matamata's Brodie Connolly (junior 11-12 years' 85cc, KTM); Cambridge's Jared Hannon (junior 8-10 years' 85cc, Kawasaki); Waitoki's Cole Davies (Junior 8-11 years' 65cc, KTM); Cambridge's Amber Harris (junior women, KTM).
© Words and photos by Andy & Bridget McGechan, www.BikesportNZ.com
Find BikesportNZ.com on FACEBOOK here