The chase is on for 2015 Suzuki Series honours and Wellington's Sloan Frost is in the fight of his life.
The 34-year-old Suzuki ace, national No.3 in the New Zealand Superbike Championships last season, has been fast rising up the ranks over the past couple of seasons and this year he features as one of the favourites to win every time he rolls onto the track with his Fujitsu TSS Red Baron Suzuki GSX-R1000 bike.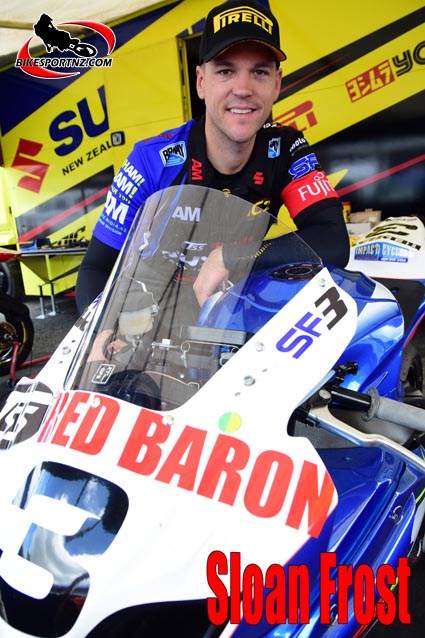 This is perhaps especially so with the two men who finished ahead of him at the nationals – fellow Suzuki riders Jaden Hassan, of Westmere, and Christchurch's Dennis Charlett – no longer in the picture.
But he was always going to have a fight on his hands in the pre-nationals warm-up series, the popular three-round Suzuki Series, with last season's winner, Liechtenstein rider Horst Saiger, returning to defend his Formula One class crown.
And that's how it worked out as the 2015 Suzuki Series kicked off at Hampton Downs on Sunday.
Frost had looked the stronger of the two riders during Saturday's practice day, with Saiger crashing during one of the sessions and then looking quite unhappy as he watched on while his crew worked hard to sort out his damaged bike.
However, Saiger (Red Devil Racing Kawasaki ZXR-10R) bounced back to clock the fastest time, albeit barely two-hundredths of a second quicker than Frost.
But it was Sunday's racing that really mattered and that's when Saiger came up with the goods, winning both parts of the crash-interrupted first race and then taking the win in race two as well.
Frost was always a threat and, if it weren't for lapped riders getting in the way late in the race, he might well have been able to push past the international star.
The riders now head to Manfeild, on the outskirts of Feilding, for round two of the series this weekend and Frost has hinted that the fireworks are just about to begin.
"Manfeild is a very different place to Hampton Downs," said Frost.
"We will be tuning up the bike this week to be ready for that and I believe I will have something to answer Saiger at Manfeild."
Third overall after Sunday's F1 class racing was nine-time former national superbike champion Andrew Stroud, the long-time Suzuki star from Hamilton man making a comeback to the sport after two years in retirement and showing he still has what it takes to challenge.
Waikato's Stroud had been a dominant force in this country for nearly 30 years, before finally announcing his retirement in August 2013.
But the now 47-year-old said he was overjoyed to again be racing the Suzuki GSXR1000 superbike, significantly with the No.10 emblazoned on its number board "signifying that I have 10 children and I'm going for my tenth national superbike title".
Other class winners at Hampton Downs were Switzerland's Roman Stamm (F2 600 supers, Kawasaki ZX6R); Taumarunui's Leigh Tidman (F3 sports bikes, Yamaha RS450); Te Awanga's Eddie Kattenberg (post classics pre-89, Bimota YB8S); Feilding's John Oliver (Bears, non-Japanese bikes, BMW S1000RR); Whanganui's Richard Dibben (super moto, Honda CRF450); UK pair Tim Reeves and Mark Wilkes (sidecars, LCR Kawasaki ZXR-10R).
The third and final round of the Suzuki Series is set for the public streets of Whanganui on Boxing Day, the traditional Cemetery Circuit event.
© Words and photos by Andy McGechan, www.BikesportNZ.com
Find BikesportNZ.com on FACEBOOK here
Full story and more photos in your next issue of KIWI RIDER magazine.
Check back here on www.BikesportNZ.com during this week as we bring you more words and pictures from the weekend.