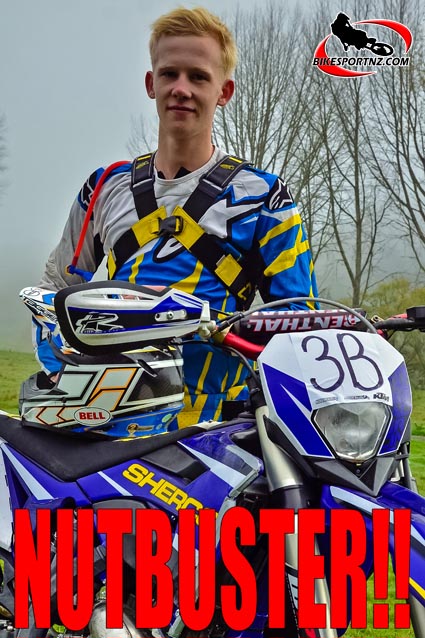 Last weekend saw the inaugural running of the Backflips Enduro X at the Christchurch A&P Show.
More than 100,000 people passed through the gates of the show and the crowds were treated to a jaw-dropping event.
The show is a three-day event and open practice was available twice each day leading to race day on Friday (see this incredible video clip below from MCD Edits).
The excitement, anticipation and awe on the spectator's faces were priceless, together with the front page newspaper and Breakfast TV coverage got the sport into the headlines, cementing this event as a real show winner.
A total of 47 riders signed up to take on the physically demanding course for the Enduro X, to be followed by the big annual Nutbuster Extreme Enduro on the Saturday.
Two heat qualifiers of each class saw the fastest move on to the enduro X finals.
The heat races, based on a sprint format of five minutes plus one lap bought about the closest, most exhilarating racing, riders showing their mix of MX, trials and enduro skills.
The final race (15 minutes plus 1 lap), Gold went to Jake Whitaker (Husq), Chris Birch (KTM) and Angus Macdonald (Sherco); Silver Mackenzie Wiig (BETA), Josh Dando (GasGas), Travis Churchill (KTM); Juniors (9 mins plus 1 lap) Keegan Anglesey (YAM), Ben Dando (Gasgas), Hamish Foster (BETA); Bronze Anthony Collie, Roger McKay and Willy Buchanan and Del Puklowski (KTM) was top female.
Fastest lap went to Angus Macdonald (Sherco) 54.518, with runner-up Chris Birch 54.775.
The Backflips EnduroX established the start order for the main event, Tracktion Nutbuster, the following day.
This gruelling event was won by Hamish Macdonald (pictured above), who finished an incredible 22 minutes ahead of runner-up Chris Birch, with fellow Aucklander Liam Draper, Wellington's Jake Whitaker and Hamish's brother Angus Macdonald rounding out the top five.
© Video clips by MCD Edits
© Photo by Andy McGechan, www.BikesportNZ.com
Find BikesportNZ.com on FACEBOOK here
The Tracktion Nutbuster Hard Enduro was always going to test the body after a physically demanding EnduroX prologue.
The event has a reputation of being technically challenging, with little respite and the rain earlier in the week could have put some of the new Gold sections in doubt, but with the windy conditions on race day it was all go.
Gold would be tested with two loops, totalling 45km, Silver 37kms and bronze 28km. Times from the Prologue set the start order with the top three Gold riders given choice of start order. A 4.5 hour cut off meant Jake Whittaker made a strategic move choosing to start third, meaning local rider, Angus Macdonald (Sherco), would led the way ahead of Chris Birch (KTM), followed by Hamish Macdonald (Sherco), Warren Laugesen (BETA), Tony Parker (KTM), Liam Draper (Husq) and Josh Christiaans (KTM).
Gold riders went straight into the first of the challenging rocky creek sections, both gold and silver got Hydraslide and everyone got to experience the daunting drop into the big shingle scree. A few riders taking time to stop and take in the panoramic view of the Waimakariri River and backdrop of the Southern Alps before edging their way over.
The vertical shingle scree named Parachute Drop uncharacteristically caught Draper (his moment caught on camera) but comparing last year's video footage shows how much the rider skill level has increased. Spectators back at base were not left bored as a short steep hill, visible from the start, caught a few inexperienced silver and bronze riders with its tight right hand entry corner, so there was plenty to see.
By 74 minutes later the leading group came in, Hamish Macdonald two minutes ahead of Birch with Angus Macdonald another minute back in third. Draper and Whittaker pitted 5 minutes later.   Meanwhile Silver rider Wiig was 4 minutes ahead of the bunch of Armitage, Churchill, Clarke and Dillon with Junior Riders Foster and Anglesey battling it out between them. Bronze riders Foster (BETA), McKay (KTM) 7 minutes apart.
The 2nd Southern loop, considered to be more technical with lots of freshly cut single lane Manuka tracks, black sticky bogs, uphill waterfalls, tree roots and steep twisty shingle down hills, mixed in with Mitchell's crack (originally believed to have been an unpassable narrow creek – turned into a rideable delight with that "we have chainsaw can do anything attitude" – by the younger members of the Nutbuster Track Team! This loop saw a change in order with Angus Macdonald unluckily hitting something dense and his brake pedal ending up solidly jammed under the casings leaving his brakes on and unable to fix until he pitted losing 15mins.
Second time through loop one – lapped riders could possibly have made things more interesting – it was only going to need a bottle neck in a tight one track technical section for Birch to catch up Macdonald's lead but he encountered no problems and pitted 14 minutes up on Birch. Whittaker four minutess back, closely followed by Draper and then Angus Macdonald 19 mins back. Silver leader was Wiig, 4 minutes up, Armitage 7 minutes then Churchchill and Clarke. Junior Anglesey had a comfortable lead over Foster. Bronze remained unchanged with Foster and Mackay 7 mins apart and 30 mins back to Buchanan.
By the time Macdonald pitted at Loop 4 he had accumulated a lead of 14 minutes and was looking strong, finally finishing 22 minutes ahead of Birch.
"I knew that if I just rode smoothly and had no problems I could keep pushing and extending my lead.   I love riding this challenging terrain and my Sherco didn't miss a beat."
The next round of the KTM Hard Enduro Series is at Waimiha on January 13, 2016.
Final Results:
Gold
Hamish Macdonald (Sherco) 13.08
Chris Birch (KTM) 13:30
Liam Draper (Husq) 13:32
Jake Whitaker (Husq) 13:34
Angus Macdonald (Sherco) 13:55
Silver:
Mackenzie Wiig (BETA) 13:28
Ryan Armitage (Husq) 13:29
Travis Churchill (KTM) 13:38
Jess Clarke (Husq) 13:45
Carey Thompson 13:51
Bronze:
Angus Foster (BETA) 13:06
Roger McKay (KTM) 13:19
Junior:
Keegan Anglesey (YAM) 13:34
Hamish Foster (BETA) 10:17