Ten times World Motocross Champion Stefan Everts has joined Suzuki's official 2016 Factory Motocross team as the new Team Principal and to celebrate the moment Suzuki has produced a new video filmed on location at Geboers Racing Promotion's Lommel HQ in Belgium.
The 42-year-old Everts assumed duties from Sylvain Geboers last week and will guide the factory MXGP and MX2 teams in future world motocross championships. The new video, produced by leading cinematographer Mikey Neal, features interviews with Everts, Geboers and Everts' father Harry Everts, himself a former World Champion with Suzuki.
Suzuki World MXGP will attack the 2016 FIM Motocross World Championship with Belgian Kevin Strijbos and New Zealand's Ben Townley in the MXGP division. Jeremy Seewer and Brian Hsu will gun the RM-Z250 in MX2 while Bas Vaessen will enter the EMX250 European Championship.
About Stefan Everts:
Stefan Everts is the most successful motocross rider in the world championships with an as-yet unsurpassed total of 10 world titles in all three classes – 125cc, 250cc and 500cc/ MX1.
Started riding motorcycles at the age of four.
Was the second person, after Sylvain's brother Eric Geboers, to become "Mr 875cc" – winning titles in all three classes.
Stefan is the son of four-times World Motocross Champion Harry Everts.
In a grand prix career that spanned 15 years (he retired in 2006) he accumulated a total of 101 Grand Prix victories.
Won his first world title – the 1991 World 125cc Championship – for Suzuki at the age of 18.
Is the only rider in history to win world titles for all four Japanese manufacturers.
About Sylvain Geboers:
Sylvain Geboers was one of the leading and most prolific motocross riders in the late 1960s and early 70's, winning a total of 14 GPs between 1968 and 1972.
He finished in the Top-three of the world championship in five consecutive years.
In 1971, Geboers also won the Trans-AMA Motocross Championship in America aboard his 500cc RM Suzuki.
In his successful racing career, he was twice runner up and silver medallist in the World Motocross Championship (in 1969 and 1970) and three time bronze medallist (third positions in 1968, 1971 and 1972).
During his professional racing career, he collected numerous victories for Belgium in the high-profile Motocross and Trophee des Nations events.
After his retirement Geboers became Suzuki's driving force as the factory's European Motocross Team Manager, helping groom many motocross stars such as his younger brother Eric Geboers, Greg Albertyn, the late Georges Jobe – and Suzuki's new Team Manager Stefan Everts.
© Photo above by Gary Freeman
© Photos below by Andy McGechan, www.BikesportNZ.com
Find BikesportNZ.com on FACEBOOK here
The photos below are from the 2005 GP season, when Stefan Everts (then Yamaha) and Kiwi rider Ben Townley (then KTM) went head-to-head in the MX1 class.
Everts won the MX1 title that year and Townley finished third overall, behind fellow Kiwi Josh Coppins.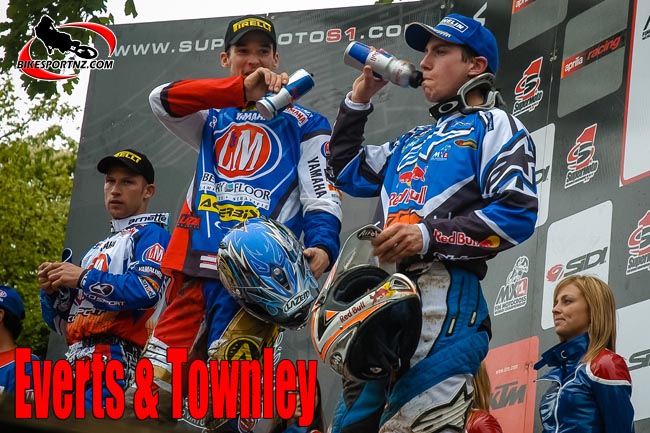 This last photo shows an MX1 race start, with Everts (72) and Townley (30) side-by-side, and Coppins (5) also pictured.