NOW FOR KAWASAKI IN EUROPE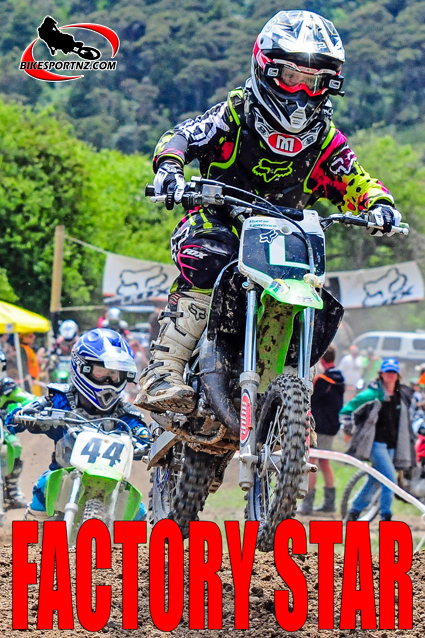 From humble beginnings in New Zealand, former Kiwi motocross champion Hunter Lawrence is now ready for the big time with Kawasaki.
The young superstar from Australia, along with his younger brother Jett, will fly off soon to join the Monster Energy Kawasaki MX2 Racing Team for a full season of racing in Europe.
Having won virtually everything in Australia this season, the 16-year-old Hunter and 12-year-old Jett first discovered Europe when they successfully contested the FIM Junior World Championships.
Jett was crowned 65cc World Champion in 2014, while Hunter finished second in the 85cc class in 2013 and third in the 125 class this summer, behind French hero Maxime Renaux and Britain's Conrad Mewse.
Both grabbed new titles in Australia this year; 125cc and 250cc junior titles for Hunter, and the 85cc junior title for Jett, so the family has now accumulated 11 Australian national titles.
Lawrence raced a Kawasaki KX65 to become New Zealand 9-11 years' 65cc mini motocross champion in 2010, the championships that year staged near Huntly (pictured above).
He won three of his five races and finished runner-up in the other two.
The only New Zealander who came close to Queensland's Lawrence was Mangakino's Maximum Purvis, riding an identical Kawasaki KX65.
Purvis finished 4-1-2-2-1 over the weekend and ended up just seven points short of equalling Lawrence. It's interesting to note that Purvis made his senior 125cc debut at the Waikato Championships near Te Kuiti nearly two weeks ago, winning the day.
Hunter, Jett and their family are now ready to walk in the footsteps of fellow Australian Chad Reed, who went to Europe in 2001 to race the World Championship with Jan De Groot and the Kawasaki Racing Team.
Reed finished runner-up in the 250cc motocross world championships in 2001, along the way becoming the first Australian to win a 250cc GP race.
Much younger than Reed was at that time, Hunter will enter the European MX2 series while Jett will race selected 85cc races all over Europe.
Both the Hunter brothers are delighted at the prospect of this new experience.
"Europe has always been my main goal since I first raced the Junior World Championship in Italy. I love the tracks, the different cultures and racing lots of fast riders … Europe produces so many amazing champions and I have always wanted to have a chance to grow in the environment that the European motocross scene provides.
"In Australia we don't have the population to get a lot of fast riders on the line; there is usually one or two really fast riders but not half the field like in Europe so that provides more challenges which I love. I believe Europe is a great opportunity to see how far my career can go," says Hunter, while Jett is also very excited. "I am excited because the tracks are awesome in Europe, and I get to race heaps of fast kids."
This project wouldn't have been possible without Jean Jacques Luisetti, team owner of the Kawasaki MX2 Racing Team.
"For several years already we have worked on the possibility to bring young hopefuls into the team, to prepare them for the MX2 World Championship. Our friend (New Zealand former MX2 world champion) Ben Townley recommended Hunter and Jett to us; they have amazing riding style, speed and ability despite their young ages," said the French manager.
For Darren, the father of the young boys, it's a great opportunity for the family to take another step.
"The opportunity Kawasaki has given our family is a dream come true for us, not only do we get to race over in Europe we get to do it on a brand of bike and team that has worldwide proven success. So to be able to join the Kawasaki factory team is unbelievable and we are really excited to be able to learn and grow with the team to hopefully return a World Championship back to Kawasaki in the future.
"We can never thank Kawasaki enough for this opportunity, it means so much," explained Darren, who will move with his wife and their three children in Europe to enter this exciting challenge.
© Action photo by Andy McGechan, www.BikesportNZ.com
Find BikesportNZ.com on FACEBOOK here