WHIBLEY ULTIMATE DIRT GUIDE
With three wins from three starts, Taikorea's Paul Whibley can now not be beaten for senior honours at the Dirt Guide Cross-country Series.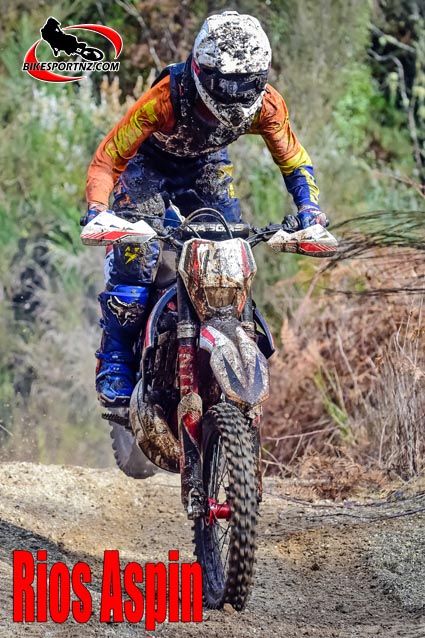 He took his Yamaha YZ450F to win the third round of four at Ohakuri, near Atiamuri, on Sunday and, with only three of the four rounds to be counted as riders discard their worst result, the Manawatu man can afford to skip entirely the series' final round near Tokoroa on October 4 with the 2015 trophy already now in his possession.
The 37-year-old former Manawatu forestry worker, affectionately dubbed "The Axeman" on the motorcycling scene, won the short race to turn one on Sunday and looked to have a comfortable advantage as the riders completed the first of five roughly 26-minute laps, Whibley 13 seconds ahead Reporoa's Hadleigh Knight (Husqvarna CR250), with Coatesville's Sam Greenslade (Kawasaki KX250F), Mokau's Adrian Smith (Yamaha YZ250FX), Wainuiomata's Jake Whitaker (Husqvarna TE250) and Masterton's Allan Gannon (YZ250) following close behind.
But it wasn't going to be a cruise for Whibley as Knight closed in to be right on Whibley's rear wheel after two laps, although Knight lost ground again briefly when he called into the pits for fuel at the end of lap two.
When Whibley came in for fuel at the end of his third lap, Knight pounced, bypassing the pits and snatching the lead. The race was on with two laps to go.
There was nothing to separate them a lap later, although Whibley took the lead early on the fifth and final lap.
Twenty minutes later and it was all over, Whibley arriving at the finish with a comfortable win and Knight nowhere to be seen after he had run out of fuel five kilometres from the end.
"I grabbed the holeshot but was riding quite cautiously on the first lap," Whibley explained. "You never know what's a head when you're first on the track.
"I tipped over at one point and Hadleigh was suddenly right behind me.
"When he got past while I pitted it meant I had some work to do over the final stages and it was hard to find a way past him. He was pushing hard and riding good lines and there weren't many opportunities to pass him.
"I got past him early on the last lap and I was soon alone out in front … I kept taking sneaky looks behind me but I couldn't see Hadleigh coming at all. It was until afterwards that I learned he'd run out of gas."
Eventual runner-up was 2014 Dirt Guide series winner Greenslade, with seven-time former New Zealand moto trials champion Whitaker third, former national enduro champion Jason Davis (KTM 500XCW), of Whangamata, fourth and with Gannon rounding out the top five.
"So, by going 1-1-1 for the series so far, I've wrapped it up," said Whibley. "I want to thank my pit man, Marton's Blair Davison, for assisting me. He helped enormously."
Meanwhile, Te Awamutu's Daniel White (Kawasaki KX125) won the 90-minute junior race staged earlier in the day, with Hamilton's Lachlan Bishop (Yamaha YZ125) challenging early on, until a crash damaged his gear change peg and he was forced to slow. Whitianga's Blake Wilkins (KTM125) finished third.
Fourth was Eketahuna's Chris Dickson (Suzuki RMZ250), giving him the 12-15 years' 250cc four-stroke class win, while Te Awamutu Rachael Archer (KTM 85SX) came home fifth, giving her the 85cc/150cc class win.
Top among the mini bike riders was Oparau's Bree Scott (Husqvarna), with Taupo's Will Yeoman (Kawasaki) and Rotorua Daniel Bates (Suzuki) rounding out the podium.
Whibley is supported by Yamaha Motor New Zealand, Freedom Moto Yamaha, Sidi, Smith, G2, Asterisk, MotoSR, Vortex Ignitions, EC3D, Bush Riders MCC, HJC, DID, JT sprockets, Vesrah, Rosscos Start Up Services, Works Connection, Pro Taper, Race Pace Services, Unabiker, Leatt Brace, Tire Balls, BikesportNZ.com, CarbSport, KettleClamp, Alliance Offroad, MotoSeat, FMF, Kenda, Yamalube, CV4, GYTR, IMS, MSR, Rekluse, Twin Air, Wiseco, Ride Eng and Workshop graphics.
© Words and photos by Andy McGechan, www.BikesportNZ.com
Find BikesportNZ.com on FACEBOOK here