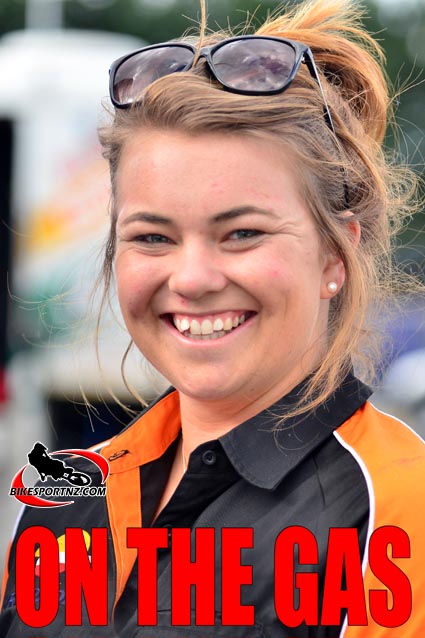 Globe-trotting Orewa motorcycle racer Avalon Biddle has been extremely busy in Europe over the past few months and today she reports in to give us all a quick catch-up.
"I have been keeping busy during European summer, relaxing and also getting ready for the exciting races coming up to finish off the 2015 season," said the New Zealand superlites class champion, who is currently in a commanding position to go on and win the European Women's Junior Cup at the final round in Spain in just over a week's time.
"After arriving back in Europe from the Suzuka Four-Hour race in Japan five weeks ago, my partner Jake (Lewis, from Rangiora) and I have stayed majority of the time in a small principality called Andorra (in between France and Spain).
"We were invited there by (New Zealand's) former MotoGP race winner Simon Crafar (originally from Taihape) and his wife Kirsten, who provided amazing hospitality and showed us around the very unique country. In between house sitting, dog walking, fence painting and training in the mountains, we also managed to fit in a lot of fun, relaxing time spent with friends.
"Last week was the World Mountain Bike Championships, so we made sure to check out the action there and meet the great bunch of athletes in the Kiwi team.
"It sure was nice to have a break and resume a more 'normal' lifestyle from the constant travel and racing, but Jake and I were both itching to get back on a bike so this past weekend we booked in to ride at Kenny Noyes camp on the Motorland Aragon go-kart circuit – just to make sure we remembered where the throttle is!
"It was a great day on track, along with Simon's son Cooper Crafar, we did impressive lap times and found a good feeling with the bike again. Simon was really helpful with his 'Motovudu' instruction and I was able to improve my technique and even body position the bike.
"Anyone interested in expert instruction from the man himself can check out www.motovudu.com
"It's all come around very quickly and exactly one week from today I will finally reunite with my faithful Honda CBR650f for an official Pata Honda European Junior Cup warm-up event.
"Then on Friday the 18th the World Superbike race weekend at Jerez (in Spain) kicks off with official practise next Friday.
"With a lead of 35 points in the Women's Cup, as long as I finish the race in Jerez I have the opportunity to win the title there. I'm also aiming to improve on my season best finish of 13th place in the overall race standings. To finish inside the top 10 overall is achievable and would be a great way to finish off this amazing season.
"The race at 2pm local time on Sunday will once again be televised live, and updates posted on my Facebook fan page.
"There will be three Kiwis in action with Jake Lewis and WIL Sport's Alastair Hoogenboezem racing in stock 600, also along-with our Australian friend Lachlan Epis, leaving plenty for the Pacific to cheer for."
© Photo by Andy McGechan, www.BikesportNZ.com
Find BikesportNZ.com on FACEBOOK here