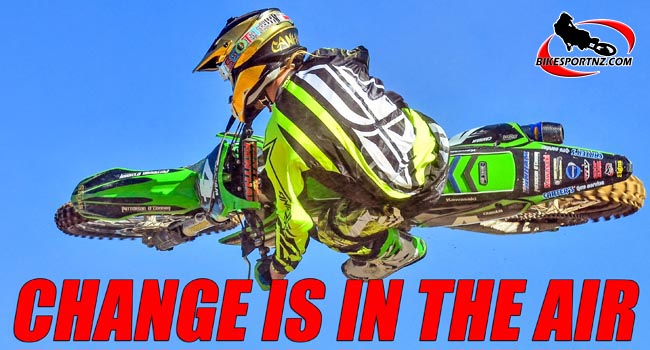 It is that time of the year again when riders acquire their new bikes, raise the tempo on their training regimes, make serious plans for the coming national championships season and, in a few instances, also change teams.
We call it the "silly season" but, in most cases, that's far from the truth as individuals very carefully plan their campaigns and there's nothing too silly about riders repositioning themselves for what they hope will be a sensational summer of racing.
Bay of Plenty engineer Derek Haywood and Mount Maunganui's Rhys Carter have come together to form 3Twenty3 Racing this season.
Carter is taking his experience from being a Suzuki team rider to become a rider/manager, partly taking the responsibility upon himself for what lies ahead in the 2015-16 season.
The naming of the 3Twenty3 Racing team is significant because the number belonged to that of Derek's son and Carter's fallen Suzuki comrade, 14-year-old Trent Haywood, who passed away following a motocross accident last year.
Carter is being been joined in the two-rider MX2 class team by Onewhero's Jayden Turnwald, making the switch back to Suzuki as well as stepping up to the bigger bike class after a season of racing on a 125cc KTM.
Meanwhile, Te Puke's Logan Blackburn moves across from the Bel Ray Moto City Suzuki team to join The Honda Shop Racing Team and he will ride the MX2 class, with defending national MX1 champion Cody Cooper as his team-mate.
After many years riding the green bikes, flamboyant Rotorua racer Scotty Canham is also changing brands.
A long-time privateer Kawasaki rider, Canham will now move across to join the new Workshop Graphics Husqvarna NZ Racing Team, managed by Karaka's Howard Lilly.
Canham will race a 450cc Husqvarana in the MX1 class this coming season, with Reporoa's Hadleigh Knight riding a 250cc two-stroke Huqvarna in the MX2 class, Karaka's Kurtis Lilly racing again in the 125cc class and Oparau's James Scott (junior 85cc) completing the team line-up.
Expect to see all these riders out in their fresh, new colours at Taupo's MX Fest on October 24-25.
Turnwald, Blackburn, Canham and Lilly all have one more thing in common … they are each supported in their racing by BikesportNZ.com.
© Words and photo by Andy McGechan, www.BikesportNZ.com
Find BikesportNZ.com on FACEBOOK here