It was an almost totally dominant performance from Taupo brothers Cohen and Wyatt Chase at the inaugural Trent Haywood Memorial Motocross near Te Puke on Friday.
The two Yamaha riders between them won five races from six starts in their respective classes, elder brother Cohen winning all three of his races in the 15-18 years' 250cc class and younger sibling Wyatt compiling a 2-1-1 score-card for the day in the 15-18 years' 125cc class.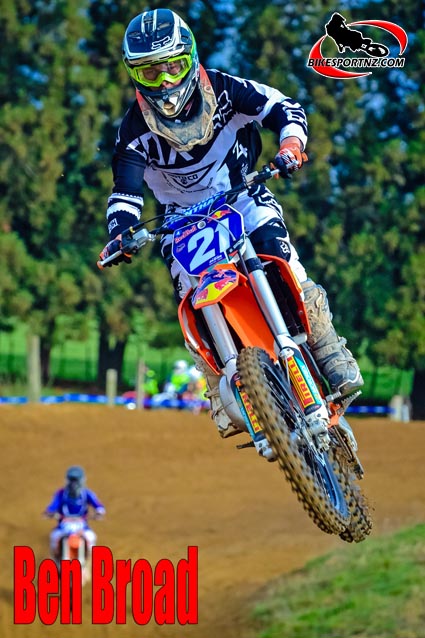 As the only two riders there to represent their Tauhara College, less than the number required to officially register as a team, the two bothers therefore did not qualify for school team points, but that didn't stop them showing up to "pay tribute to our friend Trent Haywood".
And it certainly didn't stop them winning as individuals.
"I want to offer a big thanks to (Mangakino's former national MX2 champion) Kayne Lamont and Altherm JCR Yamaha Racing Team boss Josh Coppins for loaning me the race team's Yamaha YZ250F today. It was awesome," said the 17-year-old Cohen Chase.
"The starting gate positions were determined by a random peg draw and so that was a bit of a lottery and so I didn't get the starts I was looking for."
Each time Chase had to fight through to the front, battling past fast starters Trent Collins (IThe Honda Shop Racing CRF240), from Cambridge, and Te Puke's Tyler Steiner (MX Antix KTM 250) on each occasion.
"I was in front after a couple of laps and then that was that."
With the worst pick on the start gate for the first race of the day, 15-year-old national junior 15-16 years' 125cc class champion Wyatt Chase (Total BikesportNZ.com Yamaha YZ125) needed to dig deep to fight his way through virtually the entire field to finish runner-up in the first outing, eventually crossing the line behind Ngatea's national junior 14-16 years' 250cc four-stroke class champion Ben Broad (CMR Red Bull BikesportNZ.com KTM).
Wyatt Chase then led Broad to the chequered flag in the two races that followed, giving him the overall class win.
The overall winning school was Napier Boys' High School, with Trident High School and Hauraki Plains College completing the podium.
© Words and photos by Andy McGechan, www.BikesportNZ.com
Find BikesportNZ.com on FACEBOOK here