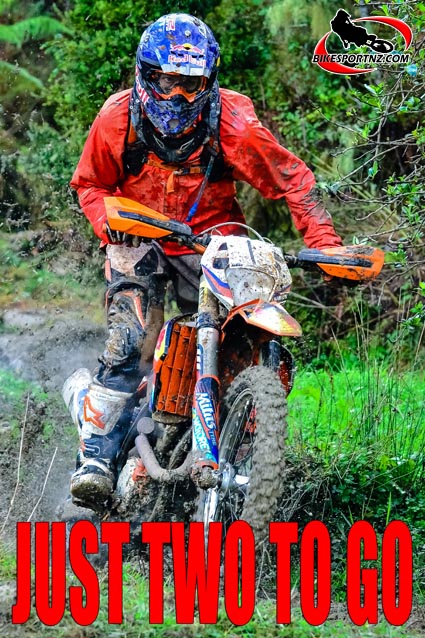 It is a massive double-header weekend for the nation's off-road motorcycling elite this Saturday and Sunday.
The final two rounds of the KTM-sponsored New Zealand Enduro Championships are set for two different venues, both in the central North Island, and riders can expect to be stretched to the limit with gruelling back-to-back events giving them virtually no time to rest, recover or repair any damage that might happen to themselves or their bikes during the early stages of the competition.
The sixth round of seven is scheduled for Waimiha, not far from the remote King Country township of Benneydale, on Saturday, with the final round set for the following day at Tar Hill, in forestry land about 15 kilometres south of Tokoroa.
The crowning of the series' outright winner will probably be little more than a formality now, with Auckland's Chris Birch having won outright at all five rounds thus far – and he leads the battle-within-a-battle for over-300cc four-stroke class honours as well – but the chance still remains for another rider to snap Birch's win streak.
Glen Eden's Birch is certainly taking nothing for granted, it's not in his nature, but the reality is that it would be a huge upset if the 36-year-old defending champion didn't manage a clean sweep this season.
The rider who has come closest to toppling Birch is fellow Auckland rider Chris Power, who finished the day just five seconds behind Birch at round five near Mosgiel last month.
But Power has probably left his charge too late – he is outside of the top five overall after five rounds and with only an outside chance of finishing on the podium overall – although he remains on target for a top-three finish in the over-300cc four-stroke class battle.
"I'm the first to admit that I'm not very good when it comes to farm land type racing, but as enduro racing is about who is the best over all different kinds of terrain, it's something I need to really work on to become a better all-round rider," said Power, who was disappointed with finishing eighth overall at round four near Christchurch before he launched his spectacular attack in the forestry near Mosgiel.
"Mosgiel was a stark contrast to Christchurch and, with the majority of the event run through pine forest, I felt a lot more at home."
With that being the case, Power should enjoy Sunday's racing through the trees near Tokoroa.
Second overall in the series is multi-talented Howick rider Liam Draper. Already leading moto trials and motocross exponent, the 18-year-old Draper is a relative novice at enduro racing, only coming into the sport for the first time three years ago.
Draper leads the under-200cc two-stroke class, but for him to also be running second overall on a 125cc bike is a remarkable feat.
With Birch virtually assured series outright and over-300cc four-stroke class honours and Draper with one hand already on the under-200cc two-stroke title, most fan focus this weekend will be on where the other class titles end up.
Wellington's Jake Whitaker leads the under-300cc four-stroke class; Whangamata's Jason Davis leads the over-200cc two-stroke class Tokoroa's Sean Clarke is on top of the expert veterans' over-40 years class, although riders such as Kaikohe's Mitchell Nield, New Plymouth's Renny Johnston, Palmerston North's Adam Reeves, Whangamata's Jason Davis and Taumarunui's Kevin Taylor are all capable of surprising.
Former national enduro champion Adrian Smith, of Mokau, and motocross and cross-country ace Brad Groombridge, of Taupo, will also make rare appearances this weekend.
In the intermediate division, likely title winners include Mercer's Mark Bon (under-200cc two-stroke); Wanganui's Seth Reardon, Cambridge's Ashton Grey or Auckland's John Turpin (under-300cc four-stroke); Paeroa's Matt Coombe or Howick's Mark Draper (over-200cc two-stroke); Cambridge's Tony Grey or Pukekohe's Chris Hilton (veterans 40-49 years); Helensville's John Buxton (veterans 50-54 years); Tairua's Mark Scott (veterans over-55 years) and Thames rider Natasha Cairns, who heads the women's class.
© Words and photo by Andy McGechan, www.BikesportNZ.com
Find BikesportNZ.com on FACEBOOK here