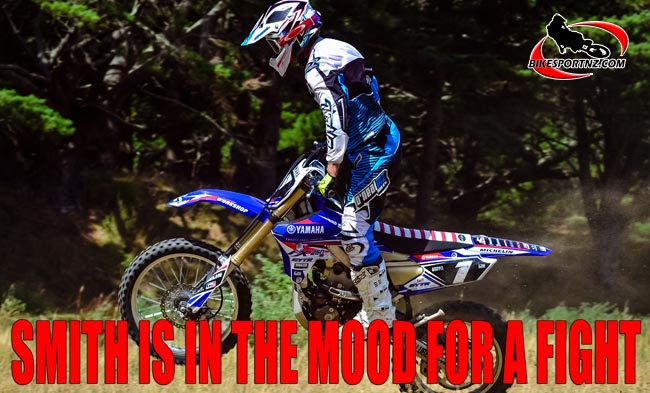 Mokau's Adrian Smith is not a greedy man, but he would have loved nothing better than to have had the chance to reclaim the national enduro championship crown this season.
The outright and under-200cc four-stroke class winner of the New Zealand Enduro Championships in 2012, and a class winner for the past two years as well, a disappointing clash of dates between the separate but similar enduro and cross-country codes meant he was left with a simple choice … contest one championship or the other.
He could not be in two places at once to contest both series and so the 29-year-old Yamaha rider, also the four-time former and current national cross-country champion, chose to this season try and extend his winning run in the cross-country competition.
But there is no clash of dates this weekend and so the sheep and beef farmer will take his Yamaha YZ250FX into battle at the final two rounds of the national enduro championships, the two venues not far from his home, at Waimiha on Saturday and near Tokoroa the following day.
Auckland's Chris Birch (KTM 350 XC-F) has had something of a golden run in the enduro nationals, the winner of all five rounds thus far, but Smith plans to put a halt to that this weekend. Smith was the only rider to steal a round win away from multi-time enduro champion Birch last season.
"I really want to stop Birch's win streak. I love the terrain at Waimiha and Tokoroa. These are the venues closest to my home so you could almost call them home turf," said Smith.
"I know I can't win the enduro series after having been forced to miss so many rounds, but this weekend will be a good build-up for me anyway ahead of the final round of the New Zealand Cross-country Championships (near Pahiatua the following weekend).
"I want to have as much time on the bike as I can and it will be two full days this weekend.
"I'm feeling very good physically and the bike is brilliant, so bring it on."
Winning the national cross-country championships is his main focus this season and in that series he is locked in a fierce battle with fellow Yamaha ace Paul Whibley. Whomever wins that final round near Pahiatua on May 17 will take the 2015 crown.
© Words and photo by Andy McGechan, www.BikesportNZ.com
Find BikesportNZ.com on FACEBOOK here