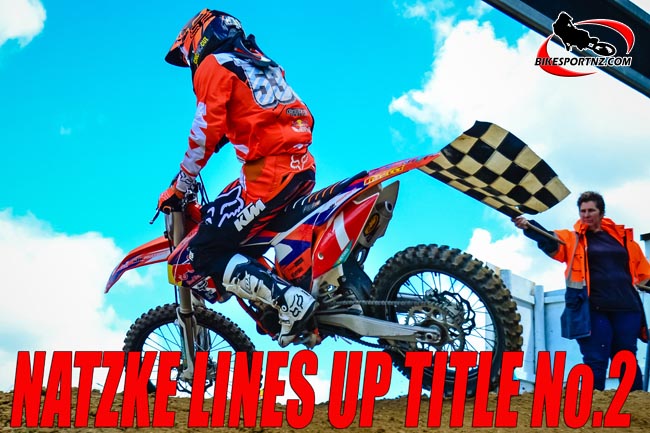 Waikato's Josiah Natzke is on the verge of winning his second consecutive senior national 125cc motocross crown, a full year before it would be compulsory for him even to become a senior rider.
With 17 the age at which a rider must step up from the junior ranks to senior competition, 16-year-old Natzke is already well ahead of the pack.
The Hamilton teenager became the youngest rider ever to win a senior title last season and is now just a few days away from successfully defending that title after another scintillating performance at the third round of four in the 2015 New Zealand Motocross Championships near Rotorua on Sunday.
The CMR Red Bull KTM Team rider scored another hat-trick of wins on Sunday, ballooning his advantage from 11 points over Taupo's Cohen Chase at the start of the day to now be 37 points clear of new No.2 man, Ngatea's recent CMR Red Bull KTM Team signing Ben Broad.
Chase crashed and finished down in 15th place in Sunday's first 125cc race at Rotorua and, although he managed third and second placings in the races that followed, his result in race one has cost him dearly.
Broad was a picture of consistency, finishing 3-4-3, although he will need to step it up at the final round near Pukekohe this coming weekend if he hopes to catch Natzke and, besides that, Chase is breathing down his neck, just one point behind.
Natzke has now won eight of the nine 125cc races held thus far and, if he had not crashed at the start of one of his races at the series opener in February, forcing him to settle for eighth in that fateful race, he may well have been able to record a perfect campaign.
As it is, Natzke has enough points in the bag that he could potentially wrap up the title early and be able to skip entirely the final race of the series next weekend.
That won't happen, however, because Natzke is riding his KTM bike as much as he can before he leaves for Europe in just over a week, when he will continue his preparations to tackle the EMX 125 European Championships.
He will race for the KTM factory in the EMX 125 European Championships, the eight-round competition beginning at Trentino, Arco di Trento in Italy on April 19 and concluding on August 30 in Assen, in the Netherlands, at the end of August.
"I'm riding as much as I can at the moment, which is why I have also been racing in the MX2 class here in New Zealand, just so that I get more practice battling with fast riders," he explained.
"I am really excited about going to Europe. Everything is waiting for me when I arrive in Brussels. I will be doing a lot of bike testing before the first EMX125 race and will also be racing the Dutch championships at one of the sand tracks over there as part of my build-up. That will be interesting."
The fourth and final round of the JT Racing-sponsored New Zealand Motocross Championships series is set for Harrisville, on the outskirts of Pukekohe, this coming Sunday.
© Words and photos by Andy McGechan, www.BikesportNZ.com
Find BikesportNZ.com on FACEBOOK here
Leading championship standings:
JT Racing NZ Motocross Championship (after 3 of 4 rounds):
MX1 (450cc):
1 Cody Cooper (Mount Maunganui) Honda, 194pts; 2 Kirk Gibbs (Australia) KTM, 175pts; 3 John Phillips (Rotorua) Honda, 168pts; 4 Kade Mosig (Australia) Yamaha, 153pts; 5 Brad Groombridge (Taupo) Suzuki, 138pts; 6 Ethan Martens (Auckland) Yamaha, 123pts.
MX2 (250cc):
1 Jay Wilson (Australia) Yamaha, 215pts; 2 Hamish Harwood (Takaka) KTM, 178pts; 3 Micah McGoldrick (Amberley) Honda, 157pts; 4 Scotty Canham (Rotorua) Kawasaki, 128pts; 5 Hadleigh Knight (Atiamuri) Husqvarna, 124pts; 6 Logan Blackburn (Te Puke) Suzuki, 103pts.
125cc 2-stroke:
1 Josiah Natzke (Hamilton) KTM, 213pts; 2 Benjamin Broad (Ngatea) KTM, 176pts; 3 Cohen Chase (Taupo) Yamaha, 175pts; 4 Courtney Duncan (Palmerston) Yamaha, 159pts; 5 Kurtis Lilly (Pukekohe) Husqvarna, 152pts; 6 Liam Draper (Auckland) Husqvarna, 125pts.