Today we enter the murky, mysterious world of bike set-up and we have approached suspension guru Richie Ebbett, of Taupo-based company MotoSR, to help us unravel some of the secrets.
We have often heard the winning equation is 80 percent rider and 20 percent bike, and we know so many racers are trying much harder nowadays to eat right, train right and work out their bodies to achieve their maximum potential, but is suspension and bike set-up still largely being overlooked?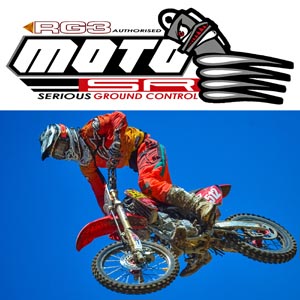 Getting your bike to perform at its best can certainly ensure that all the diet, training and exercise work is not going to waste.
It is okay for riders to spend money on flash graphics, spend time applying sponsors' stickers and to make sure their pit zone looks professional, but are they overlooking something that could arguably be more important?
Without giving too much away, because we know this is Richie's business after all, we asked him to explain some of the most common mistakes that riders are making and how best they can rectify them.
Q: Is it probably fair to say that most riders don't pay enough attention to suspension settings on their bikes?
A: Yes for sure. Too many riders/racers will just 'run it', for fear of the change in not knowing how differently the suspension will perform. I watched a very ill-handling bike at the junior nationals last year, approached the parents about it, they asked their son and decided against the change. Next race he broke his leg … or arm or something … I was really gutted.
Q: The manufacturers would have us believe that all motorcycles are pretty good to go straight out of the crate these days, and in many cases this is true with us hearing stories all the time about riders taking their stock bikes and winning race, so what's the biggest complaint you get from riders about their bikes?
A: They come in all forms … harsh, stiff, not compliant, needs to be plusher, rigid, wallowy, too soft, or after riding the bike all day trail riding – 'It beats me up'! Often the rider is not suited to the bike as most bikes are set up for 70-85kg. So if you are 60kg or 115kg … or 5ft tall or 6ft 4 … then your bike requires real attention.
Q: Is there a quick-fix that riders should look at? A basic, idiot-proof operation they could perform on their own, before even considering approaching someone like yourself?
A: Yep. Firstly look at your bike manual as this is a good start. Next, bleed the forks. I recommend against buying fork bleeders as they are horrible, leak or break off. Set the rear free sag to 30mm to balance the rear to the front – as long as you have the right spring rates. Check the fork axle alignment, the forks need to be parallel to each other. Also ensure your linkage bearings are serviced regularly.
Too often I see seized bearings and the riders bringing their bike over to me to 'fix it' … It has been rusty inside there for maybe three months already!
Oh … the other thing … organise to have your suspension fluid regularly serviced. Everyone changes their engine oil, but no one changes their suspension fluid enough. Some of these new bikes – the manual says to service the suspension every 7.5 hours! Check the manual … but 30-40 hours is generally the cut off.
The oil breaks down and tears itself apart, and can start to actually damage the internals if kept in use. We can do all this for you starting with our legendary $30 set-ups.
Q: But you can do so much more can't you? And I'm guessing you can save a rider/dad/team manager a lot of time and heartache?

A: Most definitely, motocross riders are the worst, typically. They 'think' they know what they are doing, in most cases this 'works ok', but nothing beats experience and actually knowing. We offer services depending on what is required. 1st a $30 MotoSR set-up.
Then our MotoSR re-valve, and possibly RG3 smartvalves. Finally, the best results will be achieved through testing on a rough as guts track! Then you will see results.
Anyone can go fast on smooth terrain, but not everyone can go pinned though the roughest stuff out there!
Well, that's part one of our interview with Richie Ebbett. Tomorrow we'll bring you part two.
For more information, contact Richard Ebbett at:
MotoSR Ltd.
70 Kurupae Rd,
Taupo 3330.
New Zealand.
Work: 07 9855112
Cell: 021 514 775
© Photos by Andy McGechan, www.BikesportNZ.com
Find BikesportNZ.com on FACEBOOK here
Find MotoSR on FACEBOOK here