Setting up and tuning the suspension on your dirt bike (or road bike for that matter) should not be such a dark science.
Yesterday we brought you part one of our interview with suspension guru Richie Ebbett and today we give you part two.
Q: I suppose your many years of experience and also your having the right tools for the job would make you a valuable man to have on your side?
A: Yep. What I pride myself on is turning the work around in the workshop within the week.
I know what it is like to not have your bike, so I make sure they never miss a weekend or even twilight training session during the week.
But I go to many events, often at the sacrifice of family activities. When I'm seen at events, advice is offered to anyone who asks.
Regardless of ability, we can get it waaay better.
Q: Do you get much feed-back from clients, happy or sad about how the bike performs after you've given it your tweaks?
A: For the $30 tweaks, customers come back smiling.. "wow, man I can't believe it", then they go out again and do another lap at a trail ride etc … having learned they can go waay faster, safer.
Sometimes the rider will learn that his suspension is still not great, so then it's booked in for a re-valve and 9 out of 10 times – the next ride I'm at I'll see him/her there to help dial it in further to make it unreal!
Q: Watching from the sidelines, can you spot straight away when a bike is not behaving properly for a rider? What can you see?
A: Yep! Usually you can spot it, even the factory teams I saw at the Auckland champs had some bikes that could have been improved.
The riders were struggling with front end grip and stability, because the bike was unbalanced, rear too high or front too low etc … All it takes is someone to ask for help. For $30 I'll work with that rider for the rest of the days racing, which I think is great value.
Q: How important is it to switch settings from one track to another, from a muddy day on hard-pack to a scorching day on a sand track?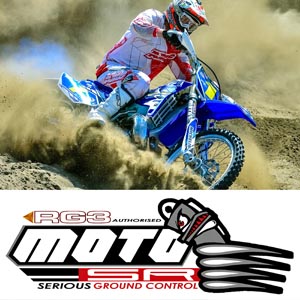 A: It depends how bad the bike is from the beginning. But with a MotoSR set-up, it should need only minimal further adjustment – often just a couple of clicks or winding the rear spring off, etc.
For mud, if it's real gloopy and heavy, then we would make it firmer to cope with the extra weight.
Q: The same bikes are often used by riders at all sorts of events. Generally-speaking, what settings changes should riders consider when switching from enduro to motocross, or from cross-country to supercross, for example?
A: For enduro, the bikes generally are a bit more compliant compared to cross-country or motocross, but they can be too soft. Cross-country is pretty much Moto setup.
You need it firm but plush to be able to have the stability and confidence to hit stuff fast. Supercross is totally different from a motocross bike set up, supercross would need like 200 more clicks on the suspension, similar to FMX.
Q: Do you have any funny or unusual stories you could share with us?
A: Not really. It never ceases to surprise me how some riders neglect or just have no understanding of how to maintain their motorcycle. I have seen bikes with one inch linkage slop and wheel bearings so bad that the tyre is rubbing the chain or fork legs!! I was taught, 1 hour's riding was 2 hours' maintenance, but my bikes were mint!
For more information, contact Richard Ebbett at:
MotoSR Ltd.
70 Kurupae Rd,
Taupo 3330.
New Zealand.
Work: 07 9855112
Cell: 021 514 775
© Photos by Andy McGechan, www.BikesportNZ.com
Find BikesportNZ.com on FACEBOOK here
Find Richie Ebbett and MotoSR on FACEBOOK here