An impressive race win by Raglan's Jason Dickey at the weekend has thrown the 2015 edition of the popular Bel Ray Cross-Country Series wide open.
Kawasaki rider Dickey (pictured here) snatched the lead on the opening lap of Sunday's second round of three in the series at Naike, just outside Huntly, and there was no stopping him after that.
Dickey had finished fourth overall at the series opener in early December and, as he came through the timing zone at the end of the opening lap on Sunday he was comfortably leading round one winner and current national cross-country champion Adrian Smith, of Mokau.
But the 20-year-old Dickey and his Kawasaki KX250F seemed unstoppable and, when Smith (Yamaha YZ250F) dropped out of the race with a flat tyre soon afterwards, Dickey knew he just had to stay safe and ride sensibly to maintain his advantage over the chasing bunch.
Significantly, the riders battling among themselves for the runner-up spot were Hamilton's Andrew Charleston (Honda CRF250) and Rotorua's Scott Birch (Honda CRF450), the two men who had finished second and third, and just ahead of Dickey, at the opening round.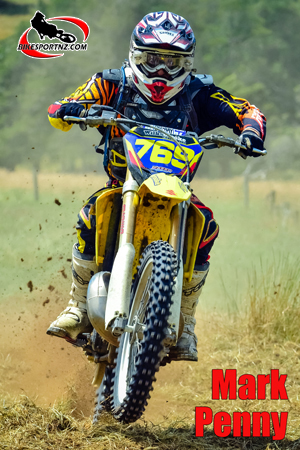 The race order remained the same for the entire two-hour duration on Sunday and, with Smith a non-finisher and Dickey, Charleston and Birch simply shuffling their round one finishing order, the series will now go down to the wire.
Any of these three riders could win the series outright and they'll decide that at the third and final round at Bombay on February 8.
Auckland's Chris Power (Yamaha WR450F) finished fourth on Sunday, but, because he was a no-show at round one, he is only eighth in the series standings after two rounds and therefore not a contender for outright glory. Te Kauwhata's Jacob Brown and Te Awamutu's Mark Penny finished fifth and sixth respectively on Sunday.
"I took it fairly easily at the start because it was hard to see where we were going in the long grass.
"But, after I settled into the race, I charged hard to see if I could build a bit of a gap," Dickey explained afterwards.
"After that it was just a matter of me avoiding any clashes with lapped riders out on the course, which was quite one-lined in places.
"If I can go well again at round three, I could win the series and that's certainly the aim."
Birch was lucky to finish after the 31-year-old suffered a huge crash on the final lap, but he recovered to hold on to third spot at the chequered flag.
The 19-year-old Charleston has taken the series lead but just four points separate the top three contenders.
The leading senior women's rider on Sunday was Albany's Julie Greenslade, who finished ahead of Te Awamutu's Jan-Maree Pool and Pukekawa's Rachel Parker.
Meanwhile, Waimauku's Jake Wightman won the 90-minute junior race staged earlier in the day, leading home Hamilton's Luke Taylor and PioPio's Troy Miller, with Cambridge BikesportNZ.com rider Ashton Grey and Gisborne's Duncan Summerfield rounding out the top five.
Hamilton's Tyla Cushion was the leading rider in the junior women's class, finishing ahead of Te Awamutu's Rachel Archer and Te Kuiti's Samantha Kelly.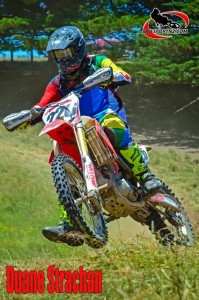 Conditions on Sunday were hot, dry and dusty, but, as is typical of the Huntly Motorcycle Club, they marked out an excellent course.
© Words and photos by Andy McGechan, www.BikesportNZ.com
Find BikesportNZ.com on FACEBOOK here