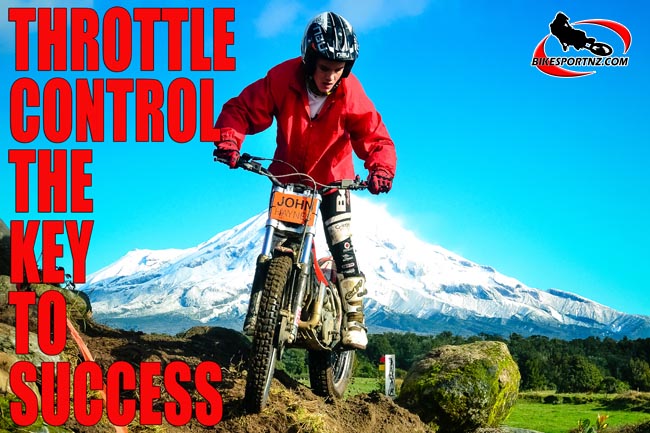 The "bandits of balance" are set to invade Taranaki this weekend for rounds five and six of the North Island Moto Trials Championships.
The prime requisites for the sport of Moto Trials are balance and throttle control and even riders at the bottom of the rankings exhibit scintillating skills in this regard.
With this branch of motorcycling sport, the emphasis is not on speed – the prime aim is on conquering the extreme terrain without touching feet on the ground or falling off. Points are lost for these "faults" and a rider with the lowest score wins.
The 10-round series remains tight in several of the grades and points gained this weekend could prove to be crucial as this unique motorcycle competition edges past the halfway stage.
Top Taranaki rider Matt Foster is currently sitting in second place in the Expert grade and he will be looking to take advantage of the home ground advantage to close the gap on series leader John Haynes, from Rotorua (pictured above).
Competition is tight in the battle for the A-grade title is still extremely close with Tauranga's Jacob Gundry holding a slender seven-point advantage over both Lower Hutt's Carl Robson from and Te Kauwhata's Corey Davies.
This weekend's two days of action opens on a slippery rock course set out on farmland near Opunake on Saturday, with riders then heading to Inglewood for round six the following day.
The Intermediate grade is always hotly contested. Manawatu rider Kevin Pinfold enjoys a 10-point series lead over South Islander David Trewin.
Taranaki's Craig Thompson is a further five points adrift, but, because he will be involved as an official to help run the event rather than competing, it opens the door for Tauranga's fourth-ranked Kevin Gundry and fifth-ranked local rider Andrew Clement to move up in the series standings.
In the Presidents' grade, it is a battle of the importers with Blenheim's Brendon Wadsworth, who imports the Spanish Sherco and Montesa bikes, holding a 12-point lead over Wellington's John Lawton, who is the importer of the Italian-produced Beta brand bikes.
In the Clubmans' grade, local rider Sam Smart will be looking to extend his series lead over Manawatu's Adrian Walcroft and Wellington's Dylan Ball.
Two young Taranaki riders, Claudia Thompson and Daniel Herbert, will experience their first taste of championship competition this weekend as they made their respective debuts in the Clubmans' grade.
Day one on Saturday will be held at Wiremu Road, Opunake while day two on Sunday will be held at Upper Durham Road, Inglewood. Both venues will be signposted and entry for spectators is free. The first riders are set off at about 10am on both days.
The next two rounds of the series will be held in Wellington on August 23 and 24 August, before the final two rounds in Hawke's Bay on October 4 and 5.
© Words and photo by Andy McGechan, www.BikesportNZ.com
Find BikesportNZ.com on Facebook HERE