Here's your chance to win the shirt off Gauteir Paulin's back, thanks to internationally-renowned photographer and friend of BikesportNZ.com, Stefan Geukens.
Simply answer the following question and send your answer to info@theartofmotocross.eu
Which Belgian designer dressed Gautier Paulin in the exclusive photo shoot in "The Art of Motocross" issue 10?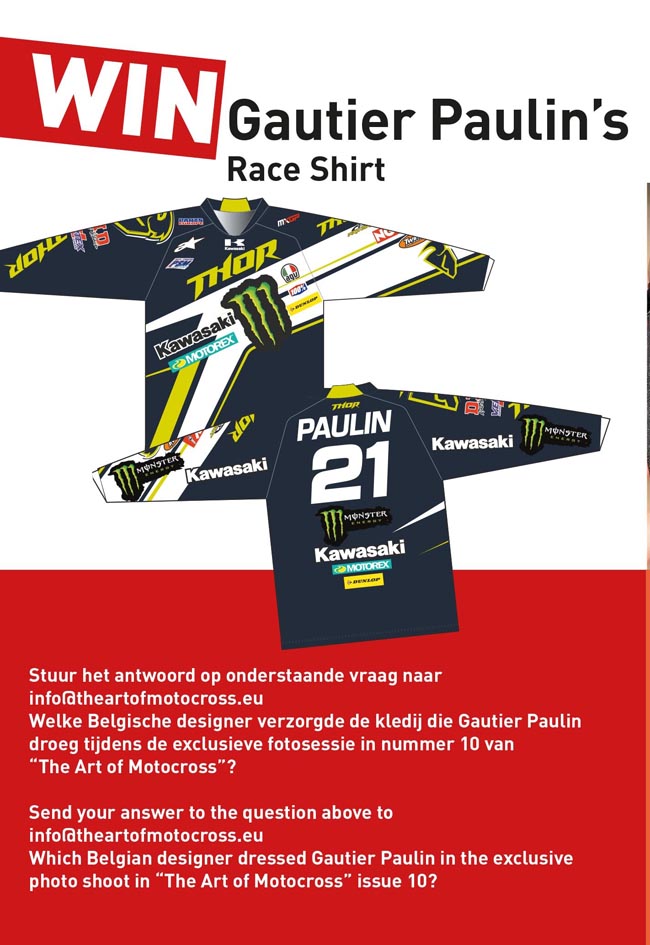 Meanwhile, back in his native South of France after his crash during the GP of the Netherlands, Gautier Paulin underwent successful surgery and will now start his re-education before coming back racing.
Suffering a broken collarbone after his crash at the beginning of the second heat last Sunday in Valkenswaard, the Monster Kawasaki Racing Team rider also suffers from a broken thumb when another rider hit him while he was still on the ground.
Visiting several French specialists in order to take the best decision, Paulin underwent surgery and has now to rest for several days before he could train again. There's no plan yet for his racing come back, as confirmed team manager François Lemariey.
"We never put any pressure on our injured riders to be back racing as soon as possible, and Gautier will be back when he will feel ready. For sure it's hard for him and for us to accept the current situation, as he proved with four heats wins that he was a serious contender for the World title.
"We will continue to work hard, as always, so Gautier will have the best material when he will be back. Steven Frossard who now recovered from his crash in Italy, and did a strong performance in the Netherlands, will be our single representative this weekend in Spain."