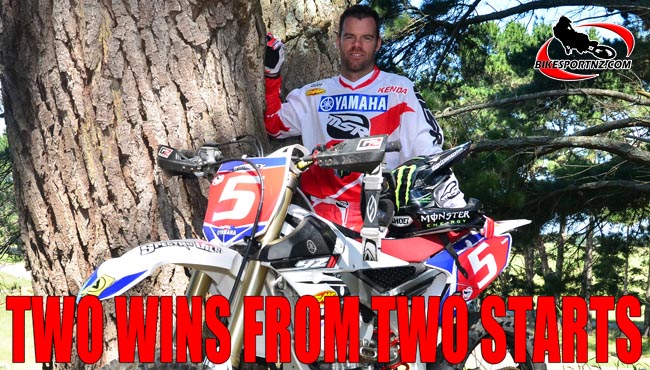 It's two from two now for Pahiatua's Paul Whibley in the United States.
The 35-year-old former Manawatu forestry worker, affectionately dubbed "The Axeman" on the motorcycling scene, has engineered a thrilling start to his Off-Road Motorcycle and ATV (OMA) campaign in the US this season, recording his second consecutive win at round two of the series in Greensburg, Kentucky, at the weekend.
"I had a terrible start and that had me playing catch up on the first lap of the race," said Whibley.
"I quickly caught the back of the main pack and had to settle there for a while with some dusty sections in the early part of the lap. At the big downhill and following hill climb I was able to make a couple passes. Then going down one of the rocky creek beds I moved past Jimmy Jarrett and slotted in behind (my Yamaha team-mate) Jordan Ashburn.
"Coming to a dusty grass track section I made the pass on Jordan .
"I could see Nick Fahringer in the lead and pushed to latch onto him before he could run and hide.
"On a slick hill climb coming out of the creek, my 450 four-stroke got a little better traction that his two-stroke and the pass happened. Now in the lead I tried to put in some solid laps and do as Nick had planned and open up a gap all for myself.
"After the fuel stop, I worked to minimise any mistakes and just maintain the lead. Nick had a bit of a buffer over third place but Jordan had a battle on his hands if he wanted to keep the final podium spot from Jason Thomas."
Ashburn and Thomas arrived at the scoring zone nose-to-tail for the final time, with Ashburn holding off Thomas for third.
"The new venue for the series provided a mixed bag of terrain, with some cool rocky creeks with some nice fresh trails, hill climbs and steep descents to challenge all."
The former OMA champion is also campaigning again the Grand National Cross-country Championships (GNCC) and he is fifth overall after five rounds of 13 in that parallel series.
Meanwhile, fellow Kiwi and fellow BikesportNZ.com rider Callan May was thrilled to tackle his first OMA event, finishing eighth overall and fourth in the Pro 2 (250cc) class on his Yamaha YZ250F.
The 21-year-old from Titirangi said he came into the event "feeling really good on the bike and looking for a good result" after pre-riding the course the day before.
"After the first four miles, I made some passes and got into the lead. There were a lot of creek beds and, unfortunately, just after getting into the lead, I got a flat front tyre.
"I was not too aware I got onto a very dry motocross track and washed out the front. By this stage I was very aware it was flat. I took a detour back to the pits and searched through everyone's trailers. Luckily, I found a YZ250 and took the front wheel off it, changed mine, and got back on the track 13 minutes later.
"I worked my ass off and managed to get fourth in class (and eighth overall). It was not where I wanted to be and I learned a very big lesson … I need some mousse tyres."
Whibley is supported by Yamaha Motor New Zealand, AmPro Yamaha, Monster Energy, Shoei, Sidi, Smith, MSR G2, Asterisk, Moto SR, Vortex Ignitions, EC3D, Bush Riders MCC, Spectro, Acerbis, DID, JT sprockets, Leatt, Kenda, Sargent Motorcycles, Yamaha NZ, Bikesportnz.com, Unibiker and Tire balls.
May is supported by Yamaha Motor New Zealand, Kiwi Rider magazine, BikesportNZ.com, MotoSR, Golden Tyres, Fox, Graphic Creation, GYTR and Yamalube.
© Words and photo by Andy McGechan, www.BikesportNZ.com
Find BikesportNZ.com on Facebook HERE