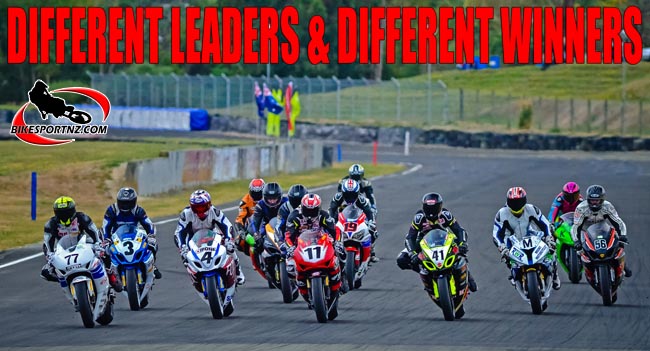 The competition saw red at Manfeild's final round of the New Zealand Superbike Championships at the weekend as riders of the distinctive fire-engine red Hondas came on strong.
Most impressive was the performance of Hawke's Bay rider Adam Chambers as he took his Wolfpack Racing Honda CBR600RR to win the day in the highly-competitive 600 Supersport class.
Tony Rees has a chat …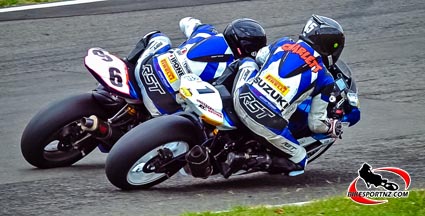 The rider from Clive finished 3-1-4-1-1 over the three days, overshadowing by a massive 19 points the next best rider at Manfeild, Wanganui's Jayden Carrick (Suzuki GSX-R600), who finished 4-5-1-2-3.
Chambers finished the championship ranked fourth overall, just ahead of fellow Honda star Jeremy Holmes, of Invercargill.
Wolfpack Racing team boss Jamie Rajek, of Taupo, said he was thrilled with the outcomes at the weekend.
"It was a fantastic way to end the season on a high like that," he said.
"And we can really look forward with confidence to next season too.
"The bikes are fantastic and they make fantastic power. Adam broke the Manfeild lap record at the weekend and that says it all really."
Canterbury's John Ross (Suzuki GSX-R600) arrived at the Manawatu race track with a healthy points advantage and he continued on to wrap up the 600cc title, but one of the key talking points in the pits was the astonishing show put on by Chambers, with Wolfpack Honda team-mate Daniel Mettam, of Auckland, chiming in with a solid performance of his own.
Honda men also sparkled in the superbike class, with Honda Rider Insurance Team rider Tony Rees, of Whakatane, and Christchurch's James Smith spectacularly riding tandem at the front of the field for extended periods in the fourth race of the weekend, although it was eventually New Plymouth's Hayden Fitzgerald (Suzuki GSX-R1000) who won the weekend, finishing 2-2-3-4-3 in the five superbike races.
Both Rees and Smith took turns leading the talent-laden superbike field, along with Australian BMW rider Linden Magee, Auckland's Jaden Hassan (Suzuki GSX-R1000), Wellington's Sloan Frost (Suzuki GSX-R1000), Feilding's Craig Shirriffs (Suzuki GSX-R1000) and the championship leader, Christchurch rider Dennis Charlett (Underground Brown Suzuki GSX-R1000), in amazing seven or eight-rider scraps, the likes of which has not been seen in this sport in several years.
The day's runner-up was Hassan, with Magee third best and Rees eventually settled for fourth equal overall on the day, level with home-town hero Shirriffs.
Smith, still in pain following his crash at round three in Taupo a week earlier, bravely fought his way to eighth overall on the day and secured 10th overall for the championship.
"It would have been nice to win a superbike race but, in the race I was leading, I'd used the tyre up by the time I got to the front. I came pretty close to winning, but to still finish third was alright … the racing was close and I think, if I'd sneezed, I would have finished eighth," laughed the 46-year-old veteran.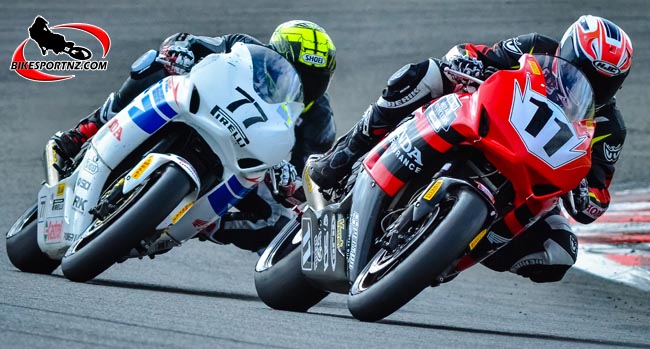 The championship series was a mixed bag for Smith.
"We started our preparation for the series a bit late and, apart from two DNFs (non finishes) I was doing okay and, in fact, the two races I DNFed I was leading at the time," said Smith.
"I got a win at Levels (round two, near Timaru, in January) but I came to round three at Taupo and then everything went pear-shaped. I had a bit of a crash and that caused me problems trying to ride with an injured leg at Manfeild.
"Thankfully the bike works really well … I just love the Honda."
James Smith has a chat …
Charlett had arrived at Manfeild with a solid points advantage and rode conservatively to wrap up the title win.
The eventual national champions in the other classes were: Superlites, Hayden Fitzgerald (New Plymouth, Suzuki); 125GP, Matthew Hoogenboezem (Christchurch, Honda); Pro Twins, Royd Walker-Holt (Kawakawa, Suzuki); 250 Production, Bailie Perriton (Ashburton, Kawasaki); and Sidecars, Spike Taylor and Astrid Hartnell (Masterton, LCR).
© Words and photos by Andy McGechan, www.BikesportNZ.com
Find BikesportNZ.com on Facebook HERE
Full story and more photos in your next issue of KIWI RIDER magazine.
Check back here on www.BikesportNZ.com during this week as we bring you more stories and photos from the weekend.
On board with Jeremy Holmes …