BEHIND THE SCENES FEATURE
Motocross GP riders Xavier Boog and Jens Getteman took last weekend off from their '14 MXGP preparation to witness fellow Honda rider Marc Marquez claim the MotoGP world title in sunny Valencia.
European correspondet for BikesportNZ.com, Tom Jacobs, gives us a run-down of what happened that day …
For both 24MX Honda riders and team manager Steven Lettani this was their very first taste of MotoGP. And what a first it was! The ultimate MotoGP round came to the perfect conclusion with record-breaking Marquez grabbing the crown in front of 104,000 people after a thrilling race.
Xavier and Jens personally met GP world champions like Stefan Bradl (LCR Honda), Alvaro Bautista (Go&Fun Honda Gresini), Colin Edwards (NGM Mobile Forward Racing), Loris Capirossi and many other asphalt colleagues. On top of that, they were also treated to an exclusive insiders' view of the MotoGP World Championship.
350 kilometers per hour on two wheels
While the fans have left the Ricardo Tormo circuit it's currently business as usual for the MotoGP riders who have started their first 2014 tests at the very same track. However the enormous media coverage for Valencia's post-GP test is just another distinction between MotoGP and motocross. When former MX1 moto winner Xavier Boog is plugging away in practice, there's rarely a journalist or photographer in sight!
On the other hand MX riders have more occasions to practice than MotoGP riders. But stripped to the core both worlds have a lot more in common than you would think. "What you guys do is amazing, I have the highest respect for motocross riders," says Stefan Bradl.
"With you it's the high jumps that impress the most, in MotoGP it's of course the speed." Reaching speeds of almost 350km/h and with about 250 HP – for 160kg – at his disposal on the Honda RC213V the former Moto2 world champ certainly knows what he's talking about. "Many riders have a background in motocross but I don't, it's a bit too risky for injuries! By the way how many broken bones have you got until now?" asks Stefan.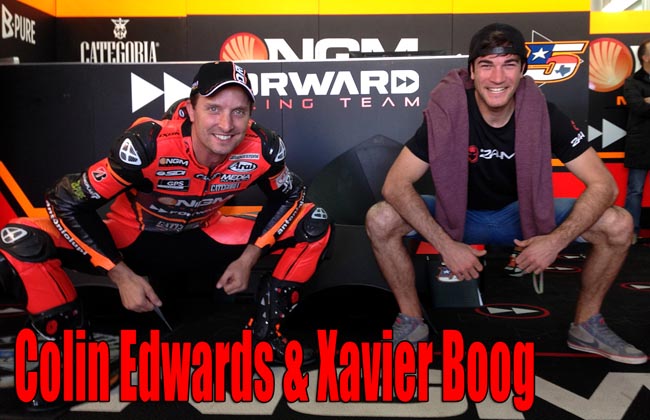 We would almost forget that the fast German fractured his right ankle just one month ago … Actually Bradl's Belgian crew chief Christophe Bourguignon does have remarkable past in motocross.
Beefy, as he's called in the MotoGP paddock, raced MX himself and wrenched for Eddy Seel, Axel Holvoet and Marnicq Bervoets before he made the jump to road racing as a suspension specialist in 1993.
For many GP racers dirt bikes are their second passion. Both Alvaro Bautista, who is from Talavera de la Reina, and Mattia Pasini have motocross as a part of their training routine.
"I try to avoid the big jumps," explains Bautista, "but motocross is so much fun, especially when I'm riding with friends. You always have to search for grip on the dirt and the physical aspect is a great way to prepare yourself for MotoGP. The MX track in Talavera is really cool, but it's a bit too much for me," Alvaro grins.
Forward Racing's Pasini is known to race regularly at Valentino Rossi's ranch where he rides dirt track but he loves his pure motocross as well. "I really like the CRF450 but I actually feel more comfortable on my own CRF250.
"If I was not in Moto2 I would be riding MX all of the time, day and night! The jumping is probably the hardest for us, road racers. I think it's easier the other way around. Antonio Cairoli has already tried a MotoGP bike, I think you should give it a go, but probably it's better to start on a 600cc motorcycle!" Thanks for the tip Mattia.
Close racing and high-tech
Inside the impressive Gresini hospitality we bump into Australia's Bryan Staring, Doni Tata Pradita from Indonesia and GP legend Loris Capirossi. Staring rode motocross as a schoolboy but it turned out that he preferred tarmac. However the friendly Aussie still keeps an eye on the MXGP series and his fellow Australians competing in AMA Supercross.
Three-time world champion Capirossi is now retired as a professional racer but the safety advisor to Dorna still has a weak spot for all forms of motorcycle riding. "Nice to meet you guys! Motocross is awesome, I know how tough it is. But I think that even for MXGP riders it pays off to bring other forms of training into their regime.
For example, enduro, trial or maybe supermoto. When Stefan Everts lived in Monaco I used to do a lot of trials with him. That was in the year when he won all three GP classes in Ernée. So that can't be bad for you, can it?"
With Repsol Honda's Dani Pedrosa and Jorge Lorenzo trading paint more than once in Valencia the 24MX Honda riders were spoiled with close racing. However in general each GP class has its own distinct qualities providing up and comers the abilities needed to make it to the pinnacle of two-wheeled competition; MotoGP. One step down from MotoGP is Moto2.
France's Johann Zarco is talented and blindly quick. He finished third in Moto2 last weekend with Ioda Racing before making the jump to the Caterham Moto Racing Team. Inside the pitbox, Johann introduced us to the complexity and demands of setup for this intensely competitive class.
The relation between lean angles, revs, trajectories on the track, tyre degradation, braking, accelerating, when and where to shift gears, intermediate times, temperatures inside the engine and so on. Literally, no stone is left unturned.
"Johann briefly explained us how they use telemetry to analyse data, both to change the setup and adapt the riding style to go faster. This allows them to work very accurately, but it's something that's fundamentally quite different from motocross where the track is changing constantly and relevant data is more limited," says countryman Xavier Boog.
After all the finesse of this technical brief, Zarco's conclusion is however refreshingly simple. "All of this seems like a lot of thinking and an awful lot of analysis about what we do. But in the end it's pretty simple. When you race you need a bike that allows you to ride as freely and intuitively as possible. Without thinking. You need to be able to enjoy yourself on the track!"
Stars of tomorrow
Of course this rings true for every motorcycle racer. And with some riders that joy is very obvious on the track. Australian Jack Miller has demonstrated his incredible skills on the tiny FTR Honda in Moto3 this season. For 2014 'Jackass' is tipped one of the main contenders for the Moto3 world title.
Like so many Australians, Jack's career started on dirt. He raced motocross and supercross, took the national 65cc title back home, showed potential in dirt track but eventually moved to road racing. "So you're from Belgium Jens" the likable kid from Townsville, Queensland informs, "than you will know all about sand riding, I guess?" Getteman nods the head.
And it quickly becomes clear that the enthusiastic Miller knows a lot about MXGP.  "I used to race with Todd Waters back in Australia, it's going to be interesting to see what he can do in GP's. But I'll keep an eye on you as well," he adds. "Did you know that Jeremy McGrath is here this weekend?" Jack wants to know. But any more small talk goes out of the door when Miller has to put on his leathers for Moto3 qualifying.
Almost everything is a bit different in MotoGP, whether it's the infrastructure, the speed and even the sounds. "These bikes are just amazing," admires Getteman when we're inside the Repsol-Honda box for a closer look at HRC's marvels of technology.
But the former national MX2 champ is particularly impressed with Marc Marquez, who is only 20 years old, just like him. That, and the incredible sound of the powerful MotoGP engines. The lanky Belgian feels perfectly at home on his Honda CRF450R. In MotoGP terms he's a giant.
When the youngest MX1 regular of the season meets his Moto3 counterpart, Livio Loi the characteristics of both sports couldn't be any more obvious.
Loi, who is also from Belgium, measures only 1m 58 but the 16-year old Marc VDS Racing rider has proven that he has the potential to go far in his chosen sport. On the other hand the hospitality of the star-studded Belgian Marc VDS team is bigger than that of any motocross team and the food is exquisite.  Luckily, it's not all about glamour, nor presentation.
The passion for competition is just as real here as it is in MXGP, enduro, rallyraid, club racing, trials, speedway or for example motoball. "I'm the happiest person in the world when I can do what I love most, and that's racing. It doesn't matter what," says Scott Redding.
Redding is known to show up at local tracks with a simple van to ride motocross or supermoto. Although he has now graduated from Moto2 to MotoGP (notably with Go&Fun Honda Gresini), the 20-year old Briton remains approachable as ever.
Sure Redding has unfortunately missed out on the first world title for the squad managed by Michael Bartholemy but in Valencia he made a point to finish what he has started. In spite of the pain and injuries sustained during the Japanese GP Redding rode through the pain barrier to pick up one well-earned championship point… Take note boys!
Leaving the track among the record crowd, for Xavier Boog and Jens Getteman it's time to head back home. Back to the real world.  Where it's a lot colder and where putting in gruelling motos in Dunkerque is the order of the day. To each his own!
Words courtesy Tom Jacobs
Photos courtesy Plan B