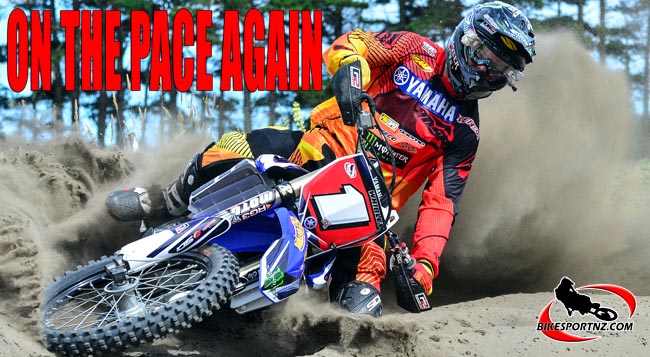 Pahiatua's Paul Whibley is wasting no time in getting back up to speed with his racing.
Out of action for several weeks as he underwent remedial surgery to repair a sports hernia, the 34-year-old returned to action a week ago and, after finishing on the podium at the penultimate round of the Grand National Cross Country Championships in Ohio, he set his sights on racing the Setra Rock Crusher cross-country race in North Carolina at the weekend.
Whibley won that event after a huge battle with top American riders Rickey Russell and Stu Baylor, the Kiwi's recovery obviously complete.
The former Manawatu forestry worker, affectionately dubbed "The Axeman" on the motorcycling scene, won two major cross-country titles in the US last season, clinching the GNCC and the Off-Road Motorcycle and ATV (OMA) crown as well, although his injury meant he has had to kiss goodbye to both titles this season.
But now he is out of the recovery ward and beginning to again threaten for wins, the Setra Rock Crusher perhaps a signal of what's to come as this season winds down and the 2014 season looms.
A long start straight that dropped down across a small creek awaited the riders as they launched out of the start gate in North Carolina.
"A good start was important as second or third would probably result in wet goggles," Whibley explained.
"I jumped off the line quick and took the lead. Stu Baylor quickly dropped in behind and, after about a mile he passed me when I failed to see a good line inside a tree.
"Stu set a quick pace early on and wasn't afraid to pin it through the leaf litter. His pace soon slowed and I began looking for a way around. He then waved me by, signalling that he had massive arm pump. I continued to break trail and searched for the arrows that turned on and off the multitude of formed trails. Ricky Russell soon moved up to join us at the front and after passing Stu latched on to my rear wheel.
"Late in the second lap I made a mistake when passing a lapped rider allowing Ricky to take the lead. Ricky took off like a cut cat. We ride together a lot during the week, so now the race was just like a training session.
"Passing was tough and Ricky was making no mistakes and leaving no doors open.
"After we gassed at the end of the second-to-last lap, I got back into the lead only to hand it back when I ran wide on a grassy straight. With half a lap to go and minimal passing opportunities I thought Ricky had it.
"I kept the pressure on and in the last mile his pace seemed to slow and I was showing him a wheel on the many switchbacks but there was no room to get by.
"On the last corner before scoring I held it on and came in hot around the outside and finally made a pass. Ricky rode a great race and earned a win. Unfortunately his slowed pace was from a flat rear tyre."
Whibley won the race ahead of Russell, with Baylor taking third spot on the podium.
Whibley is supported by Monster Energy, Sargent Yamaha in Carterton, MotoSR suspension, BikesportNZ.com, Graphic MX Creation and Yamaha Motor New Zealand.
© Words and photo by Andy McGechan, www.BikesportNZ.com