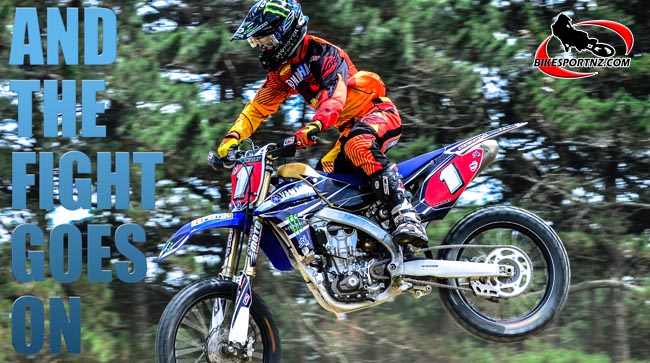 The American crown may be starting to slip from the head of New Zealand's Paul Whibley, but he's no quitter and is determined to go down fighting.
The Pahiatua man enjoyed an international season of racing last year that was nothing short of sensational but, so far this season, he has been unable to find the form that took him to two major titles in the United States in 2012.
The 34-year-old former Manawatu forestry worker, affectionately dubbed "The Axeman" on the motorcycling scene, won the Grand National Cross-country Championships (GNCC) and the Off-Road Motorcycle and ATV (OMA) crown as well, but so far this season he has not yet been able to score a win in either the GNCC or the OMA series.
However, there is plenty of fight left in the hard-as-nails Kiwi as he braces for the racing that's still ahead of him.
Heavy rainfall leading up to Sunday's eighth round of 13 in the GNCC series at Masontown, in West Virginia, made for slippery track conditions, but Whibley (Yamaha YZ450F) was again the best at getting off the starting line.
Defending national champion Whibley battled it out with his Yamaha team-mate Jordan Ashburn from the beginning, the dynamic duo nearly side-by-side through the first turn.
However, Ashburn was unable to brake for the slick corner, causing the Tennessee native to go down and so he began his race at the back of the field.
American Kailub Russell (KTM) fought through the traffic to dominate the three-hour race, capturing his second-straight victory of the season, finishing ahead of Australian Josh Strang (Kawasaki) and American pair Charlie Mullins (KTM) and Chris Bach (KTM), while Whibley was forced to settle for fifth place at the chequered flag. Ashburn battled through almost the entire field to take sixth spot.
Another New Zealander, Wellington's Rory Mead (KTM), came home tenth.
The weekend's result leaves Whibley fifth overall in the GNCC national standings overall, level with American rider Thad DuVall, but a massive 78 points behind series leader Mullins.
The 2013 GNCC continues at Snowshoe, West Virginia, on June 30.
Whibley is currently fourth overall in the parallel OMA series, just 15 points behind leader Russell Bobbitt.
Whibley is supported by Monster Energy, Sargent Yamaha in Masterton, MotoSR suspension, BikesportNZ.com, Graphic MX Creation and Yamaha Motor New Zealand.
© Words and photo by Andy McGechan, www.BikesportNZ.com
XC1 Event Results:
Kailub Russell (KTM)
Josh Strang (KAW)
Charlie Mullins (KTM)
Chris Bach (KTM)
Paul Whibley (YAM)
Jordan Ashburn (YAM)
Takeshi Koikeda (HON)
Adam Bonneur (KAW)
Mark Fortner (BET)
Rory Mead (KTM)
XC2 Event Results:
Jason Thomas (KTM)
Grant Baylor (KTM)
Layne Michael (KTM)
Scott Grills (KAW)
Chris Douglas (HSQ)
Ian Blythe (KTM)
AJ Stewart (YAM)
Sam Evans (KTM)
Travis Coy (KTM)
Jesse Groemm (KTM)
XC1 Series Standings:
Charlie Mullins (205)
Kailub Russell (200)
Josh Strang (144)
Chris Bach (140)
Thad DuVall (136)
Paul Whibley (127)
Jordan Ashburn (113)
Takeshi Koikeda (101)
Adam Bonneur (98)
Ricky Russell (93)
XC2 Series Standings:
Grant Baylor (179)
Jason Thomas (165)
Andrew DeLong (121)
Zach Nolan (96)
Shane Hufford Jr (94)
Jedediah Haines (88)
AJ Stewart (88)
Travis Coy (82)
Michael McGinnis (76)
Layne Michael (76)
Overall National Championship Standings:
Charlie Mullins (198)
Kailub Russell (190)
Chris Bach (133)
Josh Strang (122)
Paul Whibley (114)
Thad DuVall (114)
Grant Baylor (93)
Jordan Ashburn (91)
Jason Thomas (91)
Andrew DeLong (61)