SMITH SICK BUT STILL SLICK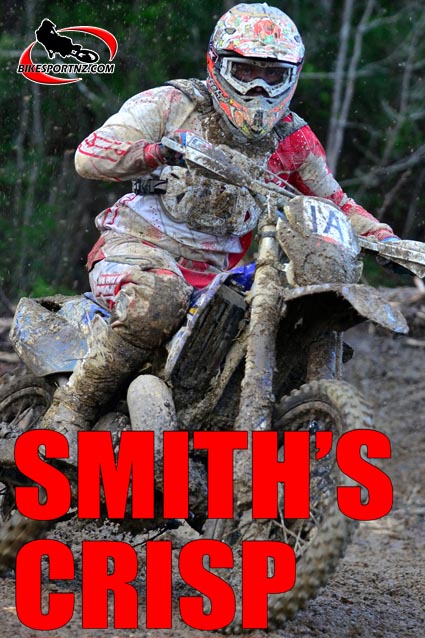 Mokau's Adrian Smith showed once again that he is king of the New Zealand cross-country motorcycling scene when he romped to victory at Ohakuri on Saturday.
The Yamaha ace was simply too good for his rivals at the third and final round of the popular Dirt Guide Cross-country Series at Ohakuri, just south on Tokoroa, winning the two-hour race by more than two minutes from fellow Yamaha exponent Callan May, of Titirangi.
National cross-country champion Smith (Blackwood BikesportNZ.com Yamaha YZ250) had been suffering from ill health all week, but his performance on Saturday gave no indication that he was in the least bit unwell.
"I think it's a great result, especially considering I have had the flu all week," said the 27-year-old sheep and beef farmer afterwards.
"I got in front about halfway through the first of what would eventually be six laps, then I just settled into a good pace. I actually cruised a bit and even took extra time in the pits because I wasn't feeling that well.
"But I felt confident in my bike and my own ability and was really enjoying the track. It all clicked into place nicely in the end."
Tauranga's Reece Burgess (KTM) had led the series after the first two rounds but his campaign came to grief on Saturday.
Disaster struck for Burgess with just two laps to go. Burgess was running in second place with he got a puncture and tried to battle on to the end. But, on the last lap, the tyre completely destroyed itself and came off the rim. This dropped him back to 27th overall and eighth in class, which was not enough for him to take the title.
Burgess was forced to settle for third overall in the series, behind joint series winners May and Taupo's Greg De Lautour (KTM).
De Lautour's score-line for the series was 8-2-3, while May's score-line was 4-6-2, meaning they accumulated identical points (55). Burgess finished 3-1-27 to earn 45 points.
With De Lautour finished third overall on Saturday, Aucklander Liam Draper (Husaberg) finished fourth and Rotorua's Nathan Sharland (KTM) rounded out the top five.
For Smith, Saturday's event was his first tilt at the series – "because dates for the Dirt Guide series clashed with national championship events that I was doing" – but his win on Saturday was still enough to earn him ninth overall for the series.
Smith won his third national cross-country championship crown at the final round of that four-round series near Norsewood last month.
Putaruru's Ryan Scherer won the intermediate for the second year running, with Carterton's Luke Fisher second and Bennydale's Duncan McLaren rounding out the top three in the series.
Auckland's Jake Wightman made a clean sweep of the series with another good ride, while Oparau's James Scott fought back from a bad start to take third overall on the day but second in the series.
Tokoroa's Richard Newton claimed second overall at the last round but is was not enough to get him on the podium for the series after missing round one.
Oparau's Hunter Scott had already won the first two rounds in the minis and was looking good to make it three in a row, but he was edged out by Patumaohe's Joshua Hilton at the final round. Scott took the series win with Hilton second and Oparau's William Hakiwai-Maikuku finishing third.
"The three-round series was a huge success, with an average of 130 riders competing at each round," said organiser Sean Clarke, from Tokoroa.
"The weather wasn't on our side this year, with heavy rain before each round. This made the courses a little more tricky, but he riders handled them well."
The Dirt Guide series is sponsored by Michelin, Bel Ray, Axo, Renthal, Troy Lee Designs, DRC, Zeta, Kiwi Rider magazine, Sixsixone, TCX boots, Yoshimura and Suomy helmets.
© Words and photo by Andy McGechan, www.BikesportNZ.com