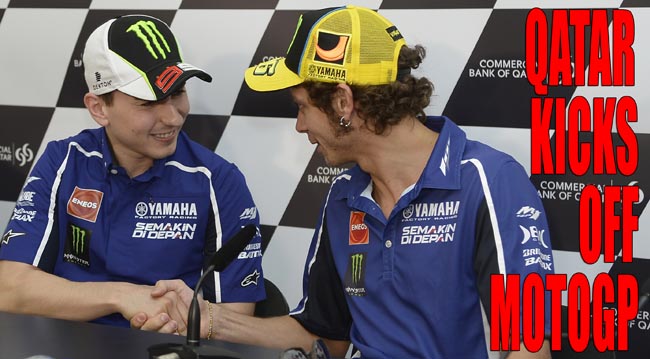 Reigning MotoGP World Champion Jorge Lorenzo kicked off the defence of his title in the best possible way, delivering a flawless ride under the floodlights of the Losail International Circuit to take a perfect victory in the Grand Prix of Qatar.
Lorenzo put the hammer down from pole position, taking the hole-shot into turn one and never looking back. He remained untouchable throughout, dispatching the 22 laps in isolation with trademark efficiency to claim his first victory of the season and collect 25 championship points toward his 2013 title bid.
Fellow Yamaha rider Valentino Rossi proved he still hasn't lost his magic in tonight's race, thrilling fans with a sensational run to claim second on the podium, completing a Yamaha Factory Racing one-two finish with his team-mate Lorenzo.
Rossi made sure his first race back with Yamaha was one to be remembered, having started from seventh on the grid he quickly moved up to fourth only to mistimed a pass on Italian Ducati rider Andrea Dovizioso and drop back to seventh again.
By lap eight he was charging back up the field, closing down a gap of over three seconds to catch the podium battle and join the fight for Qatar honours.
The nine-time World Champion dispatched fellow Yamaha rider Cal Crutchlow and Honda rival Dani Pedrosa before entering into a fantastic duel with MotoGP rookie Marc Marquez in the final laps for second place. Rossi emerged from the battle the victor, crossing the line in second position just under six seconds behind Lorenzo to take 20 Championship points.
"Half an hour before the race I felt a little bit nervous so I had to really concentrate and relax on the grid," said Lorenzo.
"I knew it was going to be difficult to open a gap but I had to try, I made a good start and pushed more than 100%. In the beginning it was hard to open the gap as Pedrosa didn't want to let me get away, he tried to stay with me but after six or seven laps I opened the gap which made me more confident to keep my pace. I'm very happy for Yamaha and happy for Valentino as he has now passed two difficult years."
Rossi was also thrilled with his performance.
"I'm more than happy, very happy indeed because it was my dream to come back with Yamaha," said Rossi.
"To arrive on the podium at the first race was my target from November and I put all my effort to arrive at the maximum here. It was a difficult weekend, especially yesterday in qualifying, but I know I had great pace so I tried to recover in the beginning but I made a mistake and I lost time. I had to do a great second part of the race and step by step I came close to my podium. In the end there was a great battle, especially with Marc for the second place.
"I'm so happy for me, for my team, for my friends and all my fans who stay with me through two difficult years and also for Yamaha, to start the season with first and second place is not so bad!"
2013 MotoGP Qatar results:
1. Jorge Lorenzo, Yamaha, ESP, 42'39.802
2. Valentino Rossi, Yamaha, ITA, 0'05.990
3. Marquez Marc, Honda, ESP, 0'06.201
4. Daniel Pedrosa, Honda, ESP, 0'09.473
5. Cal Crutchlow, Yamaha, GBR, 0'18.764
6. Alvaro Bautista, Honda, ESP, 0'22.148
7. Andrea Dovizioso, Ducati, ITA, 0'24.355
8. Nicky Hayden, Ducati, USA, 0'24.920
9. Andrea Iannone, Ducati, ITA, 0'37.124
10. Ben Spies, Ducati, USA, 0'44.908
11. Aleix Espargaro, ART, ESP, 0'49.809
12. Randy De Puniet, ART, FRA, 0'56.495
13. Hector Barbera, FTR, ESP, 1'09.599
14. Yonny Hernandez, ART, COL, 1'10.742
15. Hiroshi Aoyama, FTR, JPN, 1'13.600
MotoGP World Standings, after race 1 of 18:
1. Jorge Lorenzo, Yamaha, ESP, 25
2. Valentino Rossi, Yamaha, ITA, 20
3. Marquez Marc, Honda, ESP, 16
4. Daniel Pedrosa, Honda, ESP, 13
5. Cal Crutchlow, Yamaha, GBR, 11
6. Alvaro Bautista, Honda, ESP, 10
7. Andrea Dovizioso, Ducati, ITA, 9
8. Nicky Hayden, Ducati, USA, 8
9. Andrea Iannone, Ducati, ITA, 7
10. Ben Spies, Ducati, USA, 6
11. Aleix Espargaro, ART, ESP, 5
12. Randy De Puniet, ART, FRA, 4
13. Hector Barbera, FTR, ESP, 3
14. Yonny Hernandez, ART, COL, 2
15. Hiroshi Aoyama, FTR, JPN, 1
Photos courtesy Yamaha