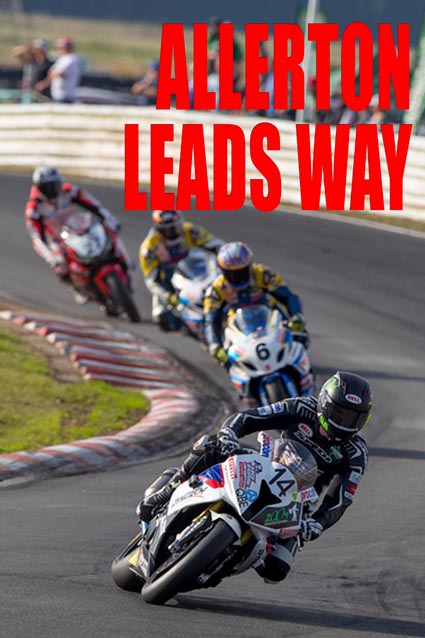 Glenn Allerton has completed a clean sweep of the QBE Australian Superbike Championship class, run in conjunction with the V8 Supercars at the Tasmania Microsoft Office 365 at the weekend.
The Next Gen Motorsports BMW rider was the quickest man on track in the Sunday morning warm-up, before completing his perfect weekend with a dominating win in Sunday afternoon's final 16-lap race.
Allerton, who took maximum points from the round, topped every Superbike session held over the weekend.
Allerton's only challenge came from Volvo Group Suzuki's Robbie Bugden – the recently-crowned New Zealand Superbike Champion – who took the holeshot before relinquishing the race lead to Allerton mid lap.
Team Suzuki's Wayne Maxwell passed his team-mate Bugden to finish the race second and now sits 11 points adrift of Allerton in the championship standings.
"I am really happy with today's race it couldn't have gone much better other than getting the holeshot," Allerton said.
"I was behind Robbie (Bugden) off the start but once I got past him I laid down some good laps and got away early.
"This is what we have all been working for. Hopefully we can keep it together and keep building on today's result," he added.
Maxwell was satisfied with his weekend.
"I got a bit of an average start in race two and both Robbie and Glenn got away," Maxwell explained. "Then it took me a few laps to set up a pass on Robbie.
"Suzuki provided me with an awesome bike we just didn't quite have it. We will go back to the drawing board and see if we can get the GSX R onto the top step at the next round."
Finishing third in Sunday's race, Bugden is third in the championship standings and acknowledged his team had some work to do in bridging the gap to rival Allerton.
"I got a good start but lacked a little bit of grip early. Glenn is riding really well and he got that little bit of a gap," Bugden stated.
"For Team Suzuki to finish second and third is still a really good result but we came here to win.
"We have a very dedicated team here at Suzuki so we wont' rest until we bridge that gap to Glenn," Bugden said.
Team Honda riders Jamie Stauffer and Josh Hook once again rounded out the top five.
CM Racing's Chas Hern endured another horror day, pulling off on the warm-up lap due to an engine failure.
The teams will now prepare for the next event on the QBE Australian Superbike Championship which will be held at Queensland Raceway on June 14-16.
QBE Australian Superbike Championship race 1 result:
1. Glenn Allerton, BMW HP4
2. Wayne Maxwell, Suzuki GSX-R
3. Robert Bugden, Suzuki GSX-R
4. Jamie Stauffer, Honda CBR RR
5. Josh Hook, Honda CBR RR
6. Ben Nicolson, BMW S-RR
7. Glenn Scott, Honda CBR RR
8. Ben Henry, Suzuki GSX-R
9. Beau Beaton, Suzuki GSX-R
10. Phil Lovett, Kawasaki ZX-10R
11. Josh King, Yamaha YZF-R1
12.Kurt Sushames, Suzuki GSX-R
13. Adam Senior, Honda CBR RR
14. Shaun Murfet, Honda CBR RR
15. Sophie Lovett, Kawasaki ZX-10R
QBE Australian Superbike Championship race 2 result:
1. Glenn Allerton
2. Wayne Maxwell
3. Robert Bugden
4. Jamie Stauffer
5. Josh Hook
6. Linden Magoo, BMW S-RR
7. Beau Beaton
8. Glenn Scott
9. Ben Nicolson
10. Ben Henry
11. Phil Lovett
12. Kurt Sushames
13. Josh King
14. Sophie Lovett
15. Shaun Murfet
16. Adam Senior
QBE Australian Superbike Championship points (after round 1 of 7):
1. Glenn ALLERTON, 51pts
2. Wayne MAXWELL (VIC), 40pts
3. Robert BUGDEN (QLD), 36pts
4. Jamie STAUFFER (NSW), 34pts
5. Josh HOOK (NSW), 32pts
6. Glenn SCOTT (NSW), 27pts
7. Ben NICOLSON (VIC), 27pts
8. Beau BEATON (NSW), 26pts
9. Ben HENRY (QLD), 24pts
10. Phil LOVETT (NSW), 21pts
11. Kurt SUSHAMES (TAS), 18pts
12. Josh KING (TAS), 18pts
13. Linden MAGEE (QLD), 15pts
14. Sophie LOVETT (NSW), 13pts
15. Shaun MURFET (TAS), 13pts
16. Adam SENIOR (WA), 13pts