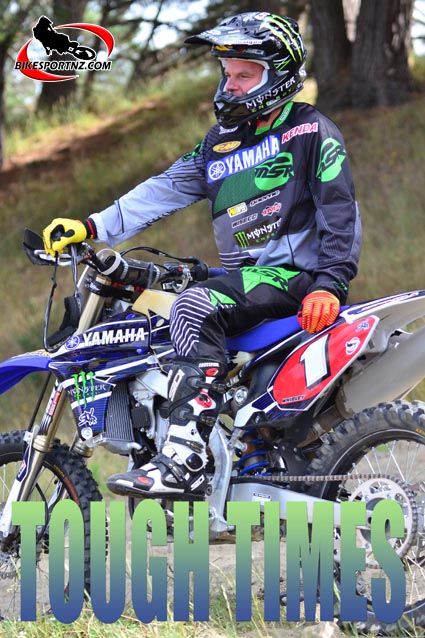 Pahiatua's Paul Whibley is experiencing some tough times in the United States so far this season.
The 34-year-old former Manawatu forestry worker, affectionately dubbed "The Axeman" on the motorcycling scene, won two major cross-country titles in the US last season, clinching the Grand National Cross-country Championships (GNCC) and the Off-Road Motorcycle and ATV (OMA) crown as well, but his 2013 campaign to defend both titles has had a rocky start.
Carrying an injury, the Kiwi hero finished just 29th overall, good enough for 11th in the XC1 class, at round three of the GNCC series at Steel Creek in Morganton, North Carolina, at the weekend.
Fellow Kiwi Rory Mead (KTM), of Wellington, finished ninth overall, and fifth in class at Steel Creek.
"This race was always going to be a big ask with my injured hand," said Whibley. "Steele Creek is a tough track with the rough down hills making it particularly hard to hold on.
"One highlight for me was that I managed to rip off another holeshot. That gave me a boost in adrenaline and for a few miles I rode with a deluded sense of strength, where it was just mind over matter and I was going to do it," said the Yamaha ace.
"But with each passing downhill reminding me just how sore the hand was, it wasn't long till I was cruising and allowing plenty of room for those behind me to come on by. It made no sense to try hold anyone off while I'm not in any condition to race.
"Just after completing the first lap, I came upon Thad Duvall, who had crashed hard and was in a lot of pain. We weren't far from the scoring section, so I parked the bike and ran back down the hill and told someone to get the medics up to attend to Thad.
"Returning to the race I was a long way back, but probably where I was going to end up anyway.
"I continued to circulate and tick off laps. It was nothing fast, as my hand never really loosened up, but it felt good to be back on the bike after resting for the week.
"By the end of the race I was getting pretty beat. Riding slow you seem to hit every hole and impact on each square edge instead of floating over half of them. I was glad to finish the event but a little disappointed not to be able to give my best."
American rider Charlie Mullins won the race, ahead of Kailub Russell and Chris Bach.
"We have another two weeks before the next GNCC and hope to be in much better shape by then," said Whibley.
The next GNCC race is set for South Carolina on April 21.
Whibley is now fifth overall in the XC1 class after three rounds, while Mead is ranked 12th.
Whibley is supported by Monster Energy, Sargent Yamaha in Masterton, MotoSR suspension, BikesportNZ.com, Graphic MX Creation and Yamaha Motor New Zealand.
© Words and photo by Andy McGechan, www.BikesportNZ.com