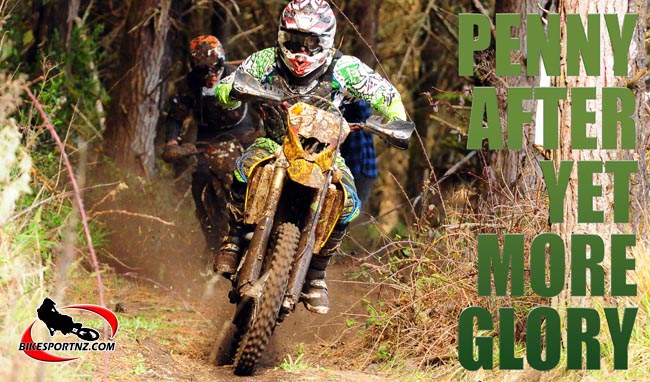 It is the toughest off-road motorcycle endurance event on the Kiwi calendar and Te Awamutu's Mark Penny is one of very few people who have conquered it more than once.
The 38-year-old cross-country ace teamed with Queenstown motocross rider Scotty Columb on a Suzuki RM-X450 to win the big annual Suzuki Six-Hour off-road dirt bike marathon near Mangakino last year, the victory making Penny a rare four-time winner of the event.
He teamed with Rotorua's Cam Negus to win it outright in 2002, teamed with Motueka's Brad Thomas to win it outright in 2003. Penny won the ironman title as a solo rider at the event in 2007 and last year's win, co-riding with Columb, made it victory No.4.
"It is definitely a goal to win this race each year," said Penny, who is yet to announce who his co-rider will be.
This year's Suzuki Six-Hour is set for Saturday, October 5, at Ohakuri, a venue that's about halfway between Tokoroa and Taupo, and Penny has firm ambitions to steal away with the glory all over again.
"It is a huge competition and just finishing is a huge accomplishment, but winning it is the ultimate achievement. I'm really looking forward to racing it again this year," he said.
The Suzuki Six-Hour is the premier off-road endurance event on the New Zealand motorcycling calendar and it is again expected to attract the cream of the nation's dirt biking talent, riders such as Kiwi internationals Chris Birch and Chris Power, both from Auckland, Tauranga's Reece Burgess, Mokau's Adrian Smith, Palmerston North's Adam Reeves and Auckland pair Mike Skinner and Freddie Milford-Cottam.
Race organiser Sean Clarke, of Tokoroa, himself a recent international competitor with International Six Days Enduro medals and multiple national enduro titles to his credit, says the shift from Mangakino to Ohakuri allows for a "much more open, a free-flowing course".
"It's an honour to be running this event. It has been going more than 20 years now and has a long and proud history," said Clarke, himself a former class winner and outright winner at the event.
Some of the past stars of this great event include motocross, enduro and cross-country exponents, men such as Daryl Hurley, Michael Phillips, Darryll King, Steven Croad, Adam Youren, Kevin Archer, Mark Fuller, John McKee, Cam Mabey, Ben Thomasen and Cody Cooper, to name just a few of the elite.
It is a gruelling race that can test both man and machine to the limits, although, for the more social competitors, the option is still there to treat it merely as a glorified trail ride.
Various separate bike classes cater for all ages, abilities and bike capacities and, with several hundred riders typically signing up for the challenge, there are usually plenty of tall stories to tell afterwards.
Some of New Zealand's current crop of international off-road stars, men such Pahiatua's Paul Whibley and Wellington's Rory Mead, both currently racing in the United States, cut their teeth at this event in the past, using it to hone their skills before venturing off-shore and hitting the big-time.
Champions of the past, present and future will tackle this year's Suzuki Six-Hour … could the name on the 2013 trophy be yours?
© Words and photo by Andy McGechan, www.BikesportNZ.com