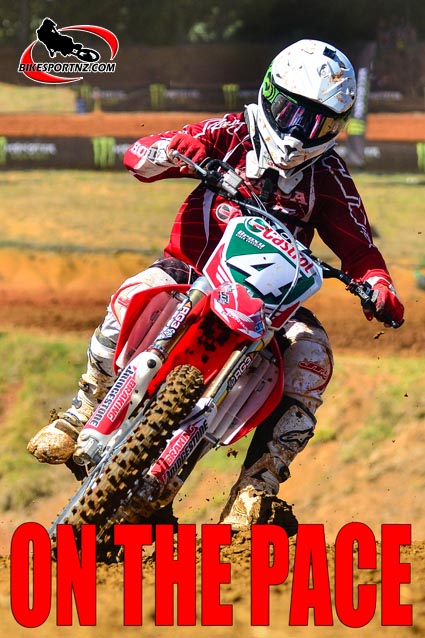 Tauranga's Peter Broxholme has the pace to be a champion and he showed that in emphatic style at Pukekohe on Sunday.
Broxholme took his Castrol Botany Honda CRF250 to a convincing victory in the second of three MX2 (250cc) class races at Pukekohe on Sunday, something he had been threatening to do all through the series.
The 31-year-old fearlessly demonstrated on Sunday that he has the pace to rank among the very elite of the sport, although, thus far, he has not had the luck that often spells the difference between success and disappointment at this high level.
And it was another case of good fortune deserting the national No.4 when he struck problems in both his other two races on Sunday.
"I was heading for a second-place finish in the day's first race when I pushed a little too hard and fell off. I ended up finishing fifth on that occasion.
"Then I had a good win. I took over the lead after a bit of bar banging with (Australian visitor) Ryan Marmont (Action Suzuki RM-Z250) and just didn't look back." Broxholme won the race by a healthy four-second margin.
"The third race was a bit of a disaster. I tried to push past (Waitakere rider) Ethan Martens (Yamaha YZ250) when my hand slipped off the handlebars. I think I was blessed not to have been injured.
"It was an up and down day for me that's for sure.
"Sometimes the results that go down on paper don't reflect a rider's form," he shrugged. "I'm looking forward to the final round in Taupo (on March 31). I usually go well at Taupo."
All the Bay of Plenty man needs now is a little luck to go with that pace and he can again position himself among the top five in the New Zealand Motocross Championships this season.
The professional motocross coach now finds himself sixth overall in the championship standings with just one round to go.
Broxholme was given the freedom this season to set up his own Honda and JT Clothing-backed Broxy Rider Coaching Team and he and his Hawke's Bay team-mate Kieran Scheele have each impressed with solid performances over the summer.
Scheele is currently eighth overall in the MX2 class championship standings, meaning the fledgling team is likely to celebrate having two riders inside the top 10 when the competition wraps up in Taupo in just over a fortnight.
© Words and photo by Andy McGechan, www.BikesportNZ.com