STONER WINS; LORENZO CROWNED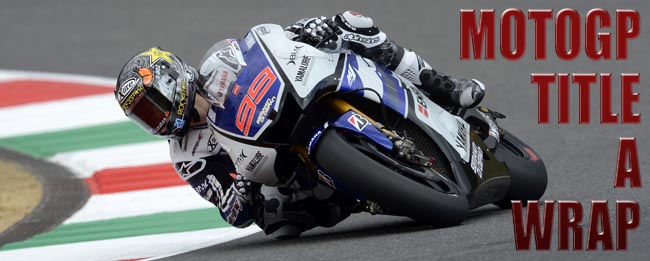 Australian Casey Stoner completed the final chapter of his Phillip Island fairytale by winning his home race for the sixth successive time, on his last Australian MotoGP appearance before retirement.
The double world champion made his comeback from ankle surgery two rounds earlier, and hadn't won since Laguna Seca in mid-July, before his Indianapolis injuries.
But the 27-year-old was in a class of his own from the very first Friday laps at Phillip Island, despite a fall in qualifying, with the race soon turning into a demonstration ride.
Stoner took the lead when Repsol Honda team-mate Dani Pedrosa slid off just in front of him on lap two and went on to win by over nine-seconds from Yamaha's Jorge Lorenzo, who secured his second world title.
A huge, cheering Australian crowd, many attending to see Stoner's final home race, then swarmed onto pit lane for the podium ceremony.
"My time's counting down now and in the last three races we've gone fifth, third and now first," smiled Stoner.
"It was very important for me to win a race before I retire and to do it at my home grand prix here was just fairytale.
"This whole weekend has gone almost ideally. The crowd of people, fans has just been amazing. I've never seen Cowes so busy.
"I know a big part of the reason they are here is to watch me ride. So it gives me a great feeling and great pride to be out there, as an Aussie, and making everybody proud.
"It was just a fantastic day today. So we've just topped off the end of a difficult year and I think there's no better way to do it than in front of your home crowd.
"A crowd this big and this enthusiastic is something else."
The Australian fans enjoyed a dream day of racing, with Arthur Sissis third in Moto3, then Anthony West second in Moto2, followed by Stoner's victory.
Stoner, who will make now his final grand prix appearance in the Valencia season finale on November 9-11, also offered his congratulations to Lorenzo and condolences to Pedrosa.
"My biggest congratulations to Jorge, he's ridden an almost perfect season finishing 1st or 2nd when possible and I'm just disappointed not to be in the championship fight, but I made my own mistakes and this is how things go," he said.
"My condolences to Dani – I saw him crash out in front of me – but he had to push today and go out and win the race to keep his championship hopes alive. It was a small mistake, easy to do in that corner and I feel very sorry for him."
Now certain to finish third in the standings, Stoner has won five races this year and a sixth would put him equal for the season with Lorenzo and Pedrosa.
MotoGP Australia, results:
Casey Stoner AUS Repsol Honda (RC213V) 41m 1.324s
2. Jorge Lorenzo ESP Yamaha Factory Racing (YZR-M1) 41m 10.547s
3. Cal Crutchlow GBR Monster Yamaha Tech 3 (YZR-M1) 41m 15.894s
4. Andrea Dovizioso ITA Monster Yamaha Tech 3 (YZR-M1) 41m 24.627s
5. Alvaro Bautista ESP San Carlo Honda Gresini (RC213V) 41m 24.756s
6. Stefan Bradl GER LCR Honda MotoGP (RC213V) 41m 24.791s
7. Valentino Rossi ITA Ducati Team (GP12) 41m 38.437s
8. Nicky Hayden USA Ducati Team (GP12) 41m 39.711s
9. Karel Abraham CZE Cardion AB Motoracing (GP12) 41m 53.937s
10. Aleix Espargaro ESP Power Electronics Aspar (ART CRT) 42m 1.623s
11. Randy De Puniet FRA Power Electronics Aspar (ART CRT) 42m 1.666s
12. Hector Barbera ESP Pramac Racing (GP12) 42m 23.275s
13. Danilo Petrucci ITA Came IodaRacing (Suter-BMW CRT) 42m 29.181s
14. Michele Pirro ITA San Carlo Honda Gresini (FTR-Honda CRT) +1 lap
15. Ivan Silva ESP Avintia Blusens (FTR-Kawasaki CRT) +1 lap
 DNF:
Roberto Rolfo ITA Speed Master (ART CRT)
Colin Edwards USA NGM Forward Racing (Suter-BMW CRT)
James Ellison GBR Paul Bird Motorsport (ART CRT)
Dani Pedrosa ESP Repsol Honda (RC213V)
World Championships standings:
1  Jorge Lorenzo      Yamaha 350
2  Dani Pedrosa       Honda 307
3  Casey Stoner      Honda 238
4  Andrea Dovizioso Yamaha 208
5  Álvaro Bautista    Honda 165
6  Valentino Rossi    Ducati 157
7  Cal Crutchlow      Yamaha 151
8  Stefan Bradl        Honda 135
9  Nicky Hayden      Ducati 122
10 Ben Spies   Yamaha 88
11 Héctor Barberá    Ducati 83
12 Aleix Espargaró   ART 69
13 Randy de Puniet  ART 58
14 Karel Abraham    Ducati 50
15 Michele Pirro       FTR-Honda 32
16 James Ellison      ART 28
17 Yonny Hernández BQR-FTR 28
18 Colin Edwards     Suter-BMW 25
19 Danilo Petrucci    Suter-BMW 19
20 Jonathan Rea      Honda 17
21 Mattia Pasini       ART 13
22 Iván Silva   FTR-Kawasaki 12
23 Toni Elias   Ducati 10
24 Katsuyuki Nakasuga     Yamaha 7
25 Steve Rapp   APR 2
26 David Salom        FTR-Kawasaki 1