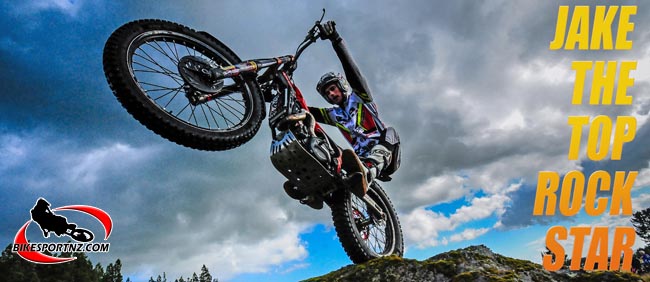 Wellington's Jake Whitaker made it six title wins in a row when he dominated the top category at the three-day New Zealand Moto Trials Championships near Alexandra at the weekend.
The extremely-talented 21-year-old Kiwi international had won the premier title at the New Zealand Moto Trials Championship for each of the past five years and he was clear favourite to extend that to six over the Labour Weekend.
He didn't disappoint, riding faultlessly over the entire weekend to take the Expert Grade crown ahead of Nelson's Karl Clark and Rotorua's John Haynes.
"It went pretty well for me," said Whitaker, in classic understatement.
"I said before the event that it might be possible to complete the three days without dropping any points and that's what I did. I don't know if that's ever been done before.
"I couldn't afford any lapse of concentration, though, because the second and third riders were close behind. It was challenging to try and keep focussed."
Whitaker said the weather did not play any part in proceedings, although a light sprinkling of snow cooled things down on the third day.
"The big granite rocks offered plenty of grip and it didn't rain at all, so it wasn't slippery. The arrival of the snow did make us want to hurry along and get the contest over a bit earlier."
Whitaker had also collected his third consecutive Moto Trials Championship crown in Australia in September, making him a multiple and reigning champion on both sides of the Tasman.
Winner of the second tier competition, the A Grade, was rising young star Liam Draper, the teenage Aucklander edging out Wellington's Carl Robson and Invercargill's Jason Hibbs.
The Intermediate Grade was topped by Tauranga father-and-son duo Kevin and Jacob Gundry, who finished the weekend first and second respectively, with Nelson's Daniel Clark taking the third step on the podium.
Draper was also a dual-class winner, also collecting the top prize in the Junior Grade, this time finishing ahead of Jacob Gundry and Blenheim's Gareth Wadsworth.
The top three Presidents' Grade riders were, in order, Nelson's Stephen Oliver, Christrchurch's Ross Bristol and Hamilton's Peter Osborne, while Pahiatua's Phillip Stephenson and Christchurch's Paul Jackson respectively won the Clubmans' and Twin Shock divisions.
© Words and photo by Andy McGechan, www.BikesportNZ.com