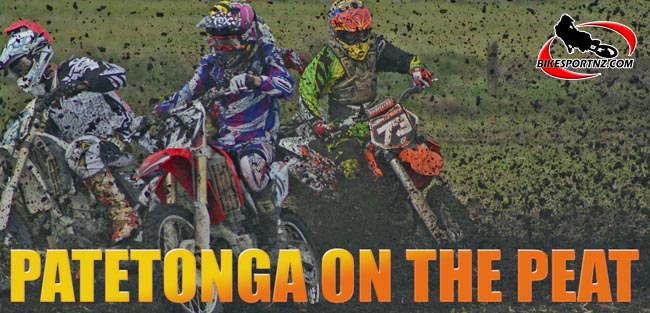 A "Spring weather bomb" greeted the 183 riders who had registered for the Patetonga On The Peat MX late last week.
This was the day that all the planning came to fruition and the Hauraki Plains College motocross parents.
Huntly MX club members once again helped out the HPC team and stepped up for the challenge which again resulted in a well run day and that was appreciated.
At the end of the day the riders were saying how awesome it was, even though they were covered from head to toe in peat – like "pigs in muck" – they kept riding while the weather changed throughout the day, absolutely gorgeous when the sun came out and bitter when the wind and rain came through.
As always things are learned along the way and a couple of tweeks to the rules will come in next year.
It was absolutely awesome to see new schools entered and to hear that some of the kids wanted to do it all again the following week.
The girls' class is here to stay with 23 entered, including riders from Gisborne.
"A huge thank you to my son Cameron Fitzpatrick, who is the reason why I am doing this," said organiser Amanda Fitzpatrick.
"Now a qualified motorbike mechanic and working for NV Motorcycles in Morrinsville, he rounds up his mates and with us designs the track, the kids have a ball marking out the track on bikes and in their vehicles or his,  it's a great day and a lot of fun.
"These tournaments are designed for kids that want to ride their bikes – it's not about how good you are, what you ride or where – it's about growing the sport of MX in schools, some would say why do you call it a MotoX team – why not?
"Kids start by riding a bike if they progress to a MX track great, if they don't it doesn't matter to me, trail riders, cross country, kids that just muck around at home on the farm – I'm not worried as long as they have the right attitude anyone can ride in the HPC tournaments – our tournaments were originally started to keep boys interested at school – it was the carrot and that is still my mission over the years I have seen it turn boys around at school and probably that is one if not the most satisfying things, their attitude to schoolwork changes because they want to be on the HPC MX team – with that being the end result we win every time no matter where we finish on the day – all our riders are winners for getting it right at school and earning their place on the team which they know they can very quickly lose if they are not on track at school.
Also thanks to the Wenn Family, especially Jason Wenn for the use of their peat paddocks, I don't know of any other farmer that fills in drains, drops fences, places posts in the middle of his paddock, cuts water pipes, and generally says YES to everything you ask. I can't thank him enough, placing events on paddocks like this takes a lot of the cost away which is all about making it affordable.
"With 37 schools coming to compete, I hope the word gets out that MX is here to stay in schools as a sport that kids love and competing on a paddock shuffles around the podium which again is all about fairness it's not always about MX tracks and jumps for me I want to cater for all the riders.
"So, yes, we'll be back next year without another one or two tournaments not sure where yet but I do know I have a peat venue which is available when the maize is off.
"The last words go to Alivia Singer who specialises in cross country riding her thoughts of the day "I love it" – her mother's "She's like a pig in muck" – doesn't get much better than that, although the trophy she received probably topped it off. And with Otumoetai College taking out 1st place for the schools trophy I couldn't have asked for a more deserving team to win."
© Amanda Fitzpatrick