The BikesportNZ.com photo archive is a treasure trove of classic old snaps.
We have decided that each week we are going to run an archive photo or two – a bit of a guessing game for you. See if you can answer the questions about BOTH photos.
We'll offer you a few clues, but we also want to keep you guessing.
Check back and we'll give you the answers next week, along with our next "Who's that?" feature photos.
Crown Kiwi – EVS – Alpinestars – 100%
Plus, we have a sponsor for the feature. Thanks to Crown Kiwi, EVS, Alpinestars and 100% apparel and accessories, we can offer a small prize each week – a tee-shirt or a cap – to the first respondent with the correct answers.
We had received a few comments from the "Tar Babies" that they couldn't answer the questions about the "Dust Bunnies" and vice versa.
This week we swing back towards the road bike community.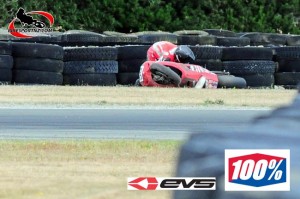 There should be a few correct answers to the easy questions – it's ridiculously easy, in fact, for you to guess who is the guy on the superbike (or off it, as the case may be).
Plus we've shown you a few extra photos of the same rider too … just for fun, you understand.
The two sidecar photos might take you a few moments longer to work out.
Next week we'll feature the dirt bike characters again.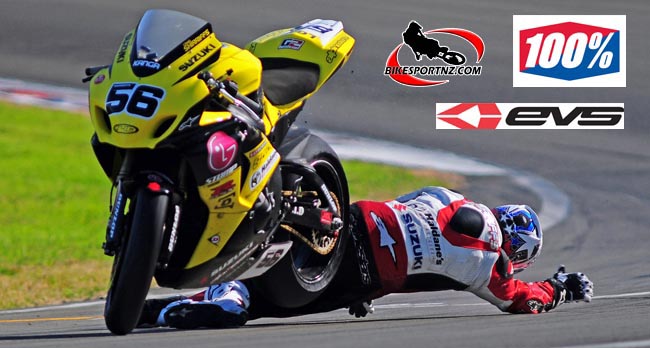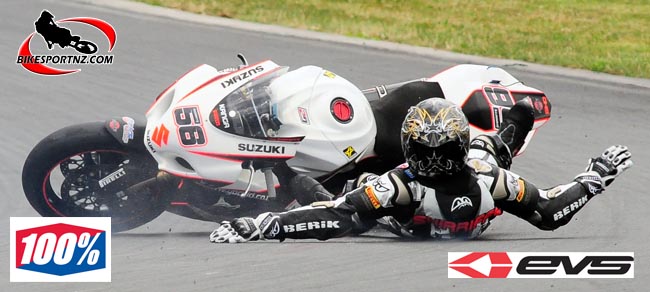 Clues for photos above:
These photos shows one of the sport's real characters. We've given you several photos of him, in typical pose, just to make it absurdly easy this week. Who is it? Shouldn't be too hard to work out.
We do also need you to answer the question about the two photos below.
Clues for photos below:
These two photos show a couple of sidecar crews having wee "moments", one on the streets of Wanganui and the other on the streets of Paeroa. Name the two crews (four individuals).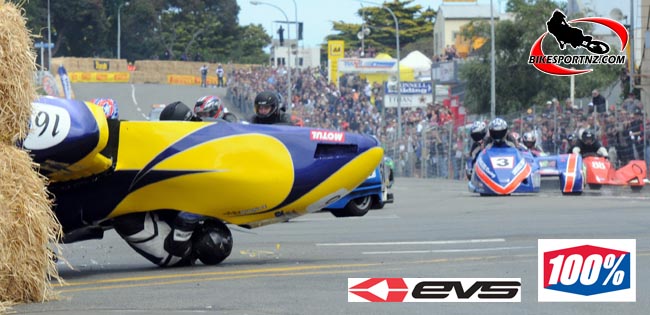 Last week's characters revealed:
The main photo displayed last week was a fairly recent shot of a couple of former Kiwi motocross greats.
The man on the left was well known for his exploits on the Kawasaki KX250, especially around Hawke's Bay – it's Wayne Shapcott, of course – and the other rider was a top national 125cc class rider in New Zealand in the 1980s until he left to live in the United States. He recently returned to settle back in New Zealand. This man is Cliff Tolley.
Tolley was a 125cc class dynamo throughout the 1980s, finishing 6th in the nationals in 1982, 4th in 1983 and 5th in 1984, before switching to a big bike and finishing 6th in the 500cc class in 1986.
His friend Shapcott was a local identity of the Hawke's Bay motocross scene in the 1980s. Shapcott's main claim to fame was winning the open class in the popular West Coast Winter Motocross Series in 1982, finishing ahead of former national motocross champion Greg Brinck.
Napier's Shapcott was a multi-time 125cc class winner at the Hawke's Bay Championships and also excelled in local cross-country races.
A married father of four boys, Shapcott was unable to continue his motocross career once he started working as a commercial deep sea fisherman. He spent 22 years working at sea before settling back with a land-based job.
The other photo displayed last week showed former Canterbury man Warren Timpson. He was hired as a motorcycle stunt man in the 1982 Hollywood film "Battletruck".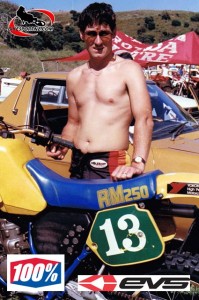 At that time he was rubbing shoulders with the lead character played by American actor Michael Beck (who also took the lead roles in "The Warriors" and "Xanadu"), American actor John Ratzenberger (Cliffy Clavin off TV comedy series "Cheers") and noted Kiwi actors Bruno Lawrence, John Bach and Kelly Johnson (Gerry Austin in iconic 1981 Kiwi film "Goodbye Pork Pie").
Timpson was among the top echelon of New Zealand 250cc motocross stars in the 1980s, finishing 3rd in the nationals in 1983, 4th in 1984, 3rd again in 1985, 7th in 1986 and 5th in 1987.
Timpson is now living in Tauranga and married with three adult daughters and, once he'd hung up his motocross boots, he tried his hand at mountainbiking, finishing as high as World No.6 in the masters' class (for riders aged 30-40 years) in Cairns in 1996.
As a bonus, we dug out this teaser clip for the film Battletruck, where we can see Timpson in action on the motocross bike:
Email your answers to this week's quiz to contest@bikesportnz.com
Note: Be careful to answer the questions being asked. We may ask for a time, a place, an event or ask for one or several of the individuals in the two photos to be identified.
© Photos by Andy McGechan, www.BikesportNZ.com