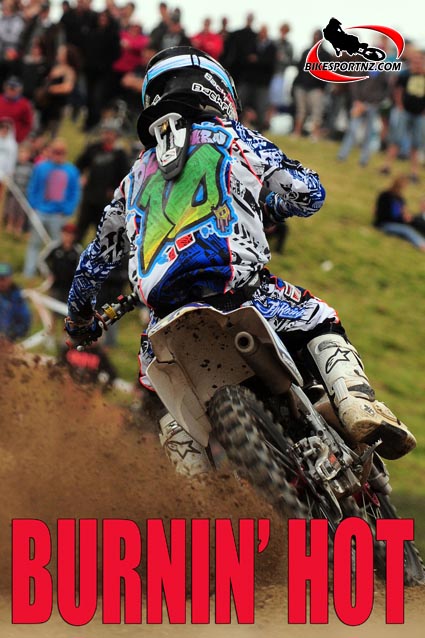 It was probably just a matter of time before Bay of Plenty rider Logan Blackburn would be the best senior 125cc motocross rider in New Zealand, and that time came at the weekend.
The Tauranga teenager has been threatening to top the leader board in recent weeks, his impressive performance at the Whakatane Summercross just after Christmas being a case in point, but he is now the New Zealand 125 Grand Prix Champion after winning the day in the 125cc class at the big annual Woodville Motocross on Sunday.
As the country's largest stand-alone motocross, with the event offering national GP titles in all the major classes, Blackburn (Bayride Motorcycles Yamaha YZ125) knew it would take some special riding to achieve his aim, but then Blackburn is a special character.
The 17-year-old BikesportNZ.com rider has put in a lot of hard work with his training over the past couple of months and it certainly paid dividends
Blackburn finished 3-2-1 in his three races to end the day ahead of fellow hard-hitters Cameron Vaughan, of Rotorua, and Garth Amrein, of Katikati, making it a classic Yamaha 1-2-3 in the class.
"I've been training a lot with coach Nicki Urwin and that's paid off," said Blackburn, who was also awarded the Roddy Shirriffs Memorial Trophy as the highest-placed 125cc rider aged under 22.  "It's the best ever result I've achieved.
"I had a good lead in the final race so I just paced myself. I was looking back and I could see Cam (Vaughan) was coming hard, but I did enough in the end," said Blackburn, a year 13 student at Tauranga Boys' College.
Vaughan (MXDK Rockstar Yamaha YZ125) had been on target to win the day, having finished second and first in the day's first two races, but he came unstuck in the final race, crashing early on and forced to play catch-up. He courageously fought back from last position to finish fourth in the final outing but eventually came up two points shy of Blackburn.
Similarly, it was an unlucky day for Amberley's Micah McGoldrick. The CMR Motorex KTM rider had finished top of the junior standings the previous day and won the first senior 125cc race on Sunday, but a crash in his next outing put him on the sideline for the rest of the day.
Blackburn, Vaughan, Amrein and McGoldrick will again go head-to-head again when they line up to race the National 125cc and under-21 classes at this season's New Zealand Motocross Championships, which kick off near Timaru on February 12.
© Words and photo by Andy McGechan, www.BikesportNZ.com