Reigning MotoGP champion Casey Stoner has described his recurring problem with back pain as "frustrating" but he is confident it won't hamper his world title defence this season.
Numbed by painkillers, the Australian Honda rider (pictured above) bounced back to post the fastest time on the second and third days of MotoGP testing at Malaysia's Sepang circuit, showing remarkable recovery after being sidelined by back pain.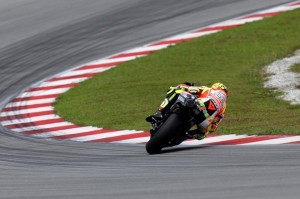 Stoner has been bothered by pain stemming from a 2003 crash and hurt himself earlier this week while stretching his back before the first day of testing, keeping him off the track.
"There is nothing we have been able to do to stop it from happening," he said.
"It just happens. So it is frustrating … I can't do anything about it at the moment," he said.
Stoner said the pain mostly does not affect his riding but admitted that he took to the track on Wednesday after taking pain pills.
"It is just aspirins and painkillers," he said.
Stoner said the back pain hits him at least three times a year, usually in cold weather. It generally occurs when he is not riding a bike and the pain is normally "manageable".
"Yesterday, it was far beyond anything I ever had before and I was worried," he said.
"I will have more tablets tomorrow. So it should be OK."
Medical scans have so far been inconclusive, he said, but added he would soon undergo new checks on his back and a stiff neck problem.
Stoner, who posted a top time on day two of 2 minutes 00.895 seconds and a top time on day three of 1m 59.607s, said he enjoyed riding his new bike – MotoGP switched this season to 1000cc engines from the previous 800cc bikes.
"Definitely more power is a little bit more fun. You can square the corners off a little bit more. I actually find more traction (with the 1000cc bike). I find this bike a little more stable," he said.
Meanwhile, multiple former MotoGP champion Valentino Rossi (pictured above right in an incredible slide) was fifth fastest with a best time of 2m 0.824s.
Testing winds up now and is followed by another three-day session at Sepang beginning on February 28.
The MotoGP 2012 season will officially start on April 8 in Qatar.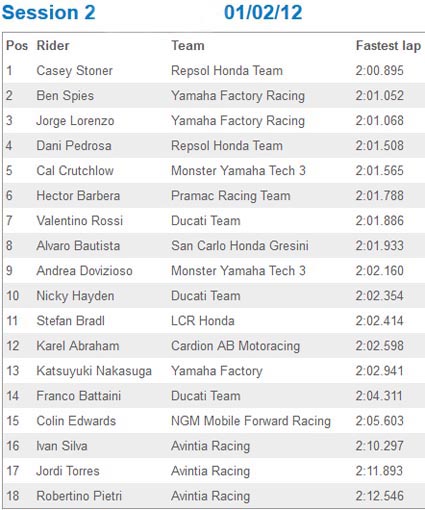 Photo courtesy Honda