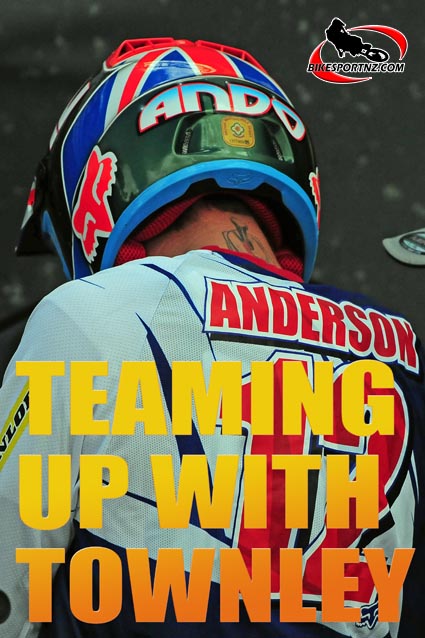 Britain's Brad Anderson arrived in Australia a couple of weeks ago and is enjoying his time as the Aussie weather and easy going lifestyle captures his imagination.
The British Motocross Champion and former Grand Prix racer knows it's not going to be a walk in the park down under as he battles the likes of Ben Townley, Josh Coppins, Billy Mackenzie, Cody Cooper and Jay Marmont.
Europe-based Australian journalist Geoff Meyer, owner/operator of the fabulous MXlarge website, caught up with Ando as he relaxed in his apartment just outside the beautiful city of Melbourne. Meyer offered these words to his friends at BikesportNZ.com.
Meyer: Brad, how's the weather down there mate?
Anderson: It's really hot at the moment.
Meyer: Where has your team got you situated?
Anderson: We have a nice apartment right on the edge of Melbourne city. It's like a new start for us, because we are normally in the middle of the country and this is totally different for us. It's been really good so far.
Meyer: How is it for a British guy in Australia? I know the Aussies like to give you guys a hard time.
Anderson: I've been here for two weeks and we have been into Melbourne a couple of times. The Aussies have been pretty good, they have been cool, and it's opened my eyes a bit. I thought they would have been up themselves a little bit, but no, it's been good.
Meyer: Did you get to the tennis to watch the Australian Open?
Anderson: We actually tried to get in to watch Andy Murray play, but all the tickets were sold out. It's only five or ten minutes from where we live, so we could easily have gone and watched it.
Meyer: Have you had much contact with Billy (Mackenzie)?
Anderson: We text each other and we are going to see him and we might train for a bit, we have a good connection.
Meyer: How do you find the food in Aussie?
Anderson: The food is pretty similar, to be honest it's expensive here in Melbourne, so we try and eat in a lot, pasta and that type of thing.
Meyer: Did you end up taking your dog with you; I remember reading somewhere that it might be a struggle?
Anderson: We didn't take the dog, because he would have been in quarantine for a couple of months, and we would have seen him once a week for 30 minutes.
Meyer: I bet you don't miss the UK weather at the moment, it's freezing here.
Anderson: I told the guys here how I had to scrape the ice from my windshield, they couldn't believe it, and it's been like 35 of 37 degrees here in Melbourne. It's just been really hot.
Meyer: You being a bit of a pale guy, how have you been doing with that hot Aussie sun?
Anderson: Actually, I do. I was washing my helmets and the van the other day and when I came inside I realised I was sun burnt; I was only out there for half an hour. I didn't realise until I got back in the flat and I was pretty red.
Meyer: Do you think the warmer conditions will be a problem for you once the season starts?
Anderson: Well the season starts in April, and it's the hottest part of the year in OZ, so I have dealt with it straight away and I am used to it already. Once it cools off a bit I will be used to it.
Meyer: How have you found the Aussie experience until now?
Anderson: It's actually better than I expected. I have been riding with Cheyne Boyd, but many of the riders are testing with their teams and I won't know my speed against them yet.
Meyer: Have you been riding much?
Anderson: I have been riding a little bit, just one or two days to recover then back into it. I hadn't ridden for a while back in UK, and once I got here I was in the deep end doing a lot of riding and testing.
Meyer: And how would you describe the track where you have ridden?
Anderson: We have ridden three different tracks, one is really sandy, but I was on a hard pack with blue groove, with this heat the tracks are pretty hard.
Meyer: Obviously Ben Townley is in your team and he will be one of the toughest guys to beat for the Australian Championship. Did you know he would be riding the series when you signed?
Anderson: When I was about to sign they said they were talking to Ben, but then there was talk he would sign for I think the Jeff Ward team in America, because that is where he wanted to ride. I don't know what happened there, but he eventually sorted a deal for riding in Australia.
Meyer: Having a rider of Ben's experience in the team should be a positive.
Anderson: I think the team can learn something from him, positive feedback for the bike and such. The thing is if I win the Australian title with Ben here and all these other riders, then I will be a true champion.
Meyer: I can imagine you went to Australia because that was your best option, but do you miss the idea of racing in UK?
Anderson: To be honest I can't wait for the Aussie season to start, but I have a month off in the middle of the Aussie season and I want to come back to UK and do a round of the Maxxis British Championship and maybe a round of the Red Bull Pro Nationals. I think it's sometime in June I will come back. My mechanic also wants to get over to England, so it should be fun.
Meyer: You rode a round of the Aussie Championship before and easily won it. There are so many good riders in the Australian series this year, it seems like it one of the best National series in the world at the moment.
Anderson: Obviously when I came into it last time I won those races and I won them easy, but if you look at these top names it's going to be hard to win it, but it's in my opinion the second best National series in the World behind the American series. Mind you the Maxxis British Championship also has some good riders in it, so that is also up there.
Meyer: I guess most people look at Ben being the favourite to win the title. What is your opinion?
Anderson: Well, people think Ben is the favourite for his background and he's just done well in New Zealand and he beat Josh Coppins and Cody Cooper there, so it's wasn't a real test for him. I don't know, I think there will be a bunch of different winners. I think the guy who is consistent will win it and I know I am consistent. You have to be injury free to be in with a chance. I am always the underdog, so I feel okay with that role.
Meyer: What about your future plans? Do you have any cement ideas on where you want to be in the future?
Anderson: Obviously the team has talked about it; I think they are in it for the long run. I need to see how I go with this life style, obviously with the dog back at home it's not perfect, but we will see how it goes and then think about what we do in the future.
Meyer: Hopefully we can do another interview once the season has started?
Anderson: Sure, and hopefully I will have the red-plate.
© Photo by Andy McGechan, www.BikesportNZ.com