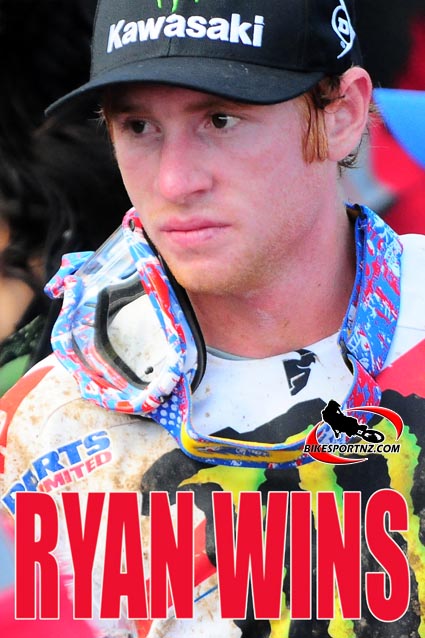 Kawasaki's Ryan Villopoto became the first rider of the 2012 AMA Supercross series to win two races, leading all 20 laps of the Main Event on Saturday night at Angel Stadium in Anaheim, California.
Colorado's Eli Tomac (Honda) won his third consecutive Western Regional Supercross Lites Class race and extended his points lead to 22 over Scotland's Dean Wilson (Kawasaki).
Villopoto picked up his second holeshot of the season to start the Supercross Class Main Event with Honda's Chad Reed in tow. Reed passed Villopoto on the opening lap but was passed back the following lap. Yamaha's James Stewart, who qualified through the LCQ after crashing out of his heat race, moved into third place on lap one. On Lap eight, Stewart passed Reed for second place. Stewart finished second and Reed finished third.
"James (Stewart) and Chad (Reed) were riding good tonight," said Villopoto. "I knew I had to stay on my toes and not make a mistake. We need to take it one race at a time. I had a great start and to be perfect on the start difficult."
Tomac opened the Western Regional AMA Supercross Lites Class main Event with the holeshot with Honda's Cole Seely, who won the season opening race in Anaheim earlier this year, on his rear wheel through the first turn. Seely quickly passed Tomac for the lead. On lap three, California's Seely slid out and fell back to second place as Tomac assumed the lead. Seely finished second and French former MX2 world champion Marvin Musquin (KTM) finished third.
"Tonight's track was difficult," said Tomac. "It's too bad Cole (Seely) slid out because he was going really fast, and I knew that I would have to work hard to get around him. I look forward to going to San Diego next weekend."
Supercross Class Results: Anaheim
1. Ryan Villopoto, Poulsbo, Wash., Kawasaki
2. James Stewart, Haines City, Fla., Yamaha
3. Chad Reed, Dade City, Fla., Honda
4. Ryan Dungey, Belle Plaine, Minn., KTM
5. Justin Brayton, Murrieta, Calif., Honda
6. Kevin Windham, Centreville, Miss., Honda
7. Davi Millsaps, Murrieta, Calif., Yamaha
8. Mike Alessi, Hilliard, Calif., Suzuki
9. Brett Metcalfe, Lake Elsinore, Calif., Suzuki
10. Broc Tickle, Holly, Mich., Kawasaki
Supercross Class Season Standings
1. Ryan Villopoto, Poulsbo, Wash., Kawasaki – 108
2. Chad Reed, Dade City, Fla., Honda – 105
3. Ryan Dungey, Belle Plaine, Minn., KTM – 103
4. James Stewart, Haines City, Fla., Yamaha – 95
5. Kevin Windham, Centreville, Miss., Honda – 73
6. Jake Weimer, Rupert, Idaho, Kawasaki – 71
7. Andrew Short, Smithville, Texas, Honda – 59
8. Brett Metcalfe, Lake Elsinore, Calif., Suzuki – 57
9. Davi Millsaps, Murrieta, Calif., Yamaha – 56
10. Justin Brayton, Murrieta, Calif., Honda – 53
Western Regional Supercross Lites Class Results: Anaheim
1. Eli Tomac, Cortez, Colo., Honda
2. Cole Seely, Murrieta, Calif., Honda
3. Marvin Musquin, Murrieta, Calif., KTM
4. Dean Wilson, Menifee, Calif., Kawasaki
5. Nico Izzi, Menifee, Calif., Yamaha
6. Michael Lieb, Menifee, Calif., Honda
7. Matt Moss, Sussex Inlet, NS, KTM
8. Vince Friese, Cape Girardeau, Mo., Honda
9. Travis Baker, Temecula, Calif., Honda
10. Martin Davalos, Cairo, Ga., Suzuki
Western Regional Supercross Lites Class Season Standings
1. Eli Tomac, Cortez, Colo., Honda – 113
2. Dean Wilson, Menifee, Calif., Kawasaki – 91
3. Marvin Musquin, Murrieta, Calif., KTM – 84
4. Cole Seely, Murrieta, Calif., Honda – 79
5. Zach Osborne, Chesterfield, S.C., Yamaha – 67
6. Nico Izzi, Menifee, Calif., Yamaha – 62
7. Tyla Rattray, Wildomar, Calif., Kawasaki – 60
8. Jason Anderson, Edgewood, N.M., Suzuki – 54
9. Ryan Sipes, Ekron, Ky., Yamaha – 53