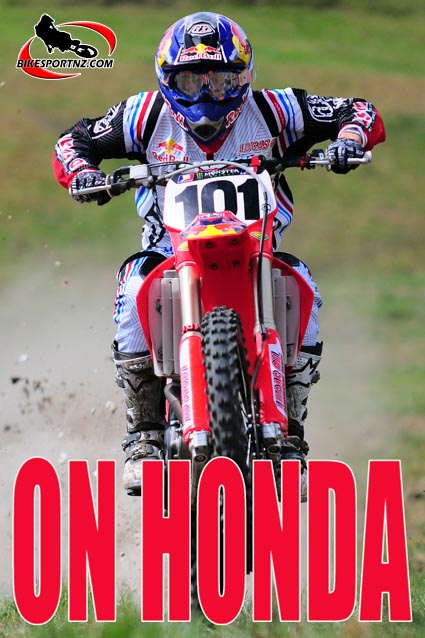 The worst-kept secret in motorcycle sport is out … Kiwi motocross star Ben Townley will race again for Honda in the 2011-2012 season, this time closer to home, in Australia and New Zealand.
The Bay of Plenty rider rejoins the distinctive red brand as he attempts to regain his accustomed spot near the pinnacle of the sport at international level.
Townley won the MX2 world championships in Europe on a KTM in 2004, finished world No.3 in the MX1 class on a KTM in 2005 and followed that by winning the East Coast Lites Supercross title on a Kawasaki in the United States in 2007.
He rode a Honda CRF450 to a thrilling race win while representing New Zealand at the Motocross of Nations in Denver, Colorado, in September 2010, but a series of debilitating injuries have hampered his claim for international glory in more recent times.
Now back to full fitness and looking to re-engage the sport at the ultimate level, Townley has agreed to terms to race for the Carlton Dry Honda race team in Australia throughout 2012 and also at selected high-profile events in his native New Zealand.
The 26-year-old Townley, a many-time former New Zealand motocross and supercross champion, will race one of the new Honda CRF450 bikes at the big annual Summercross event, near Whakatane next month, before also tackling the annual Woodville Motocross Grand Prix in January and then the four-round New Zealand Motocross Championships, starting in South Canterbury in February.
"My intentions were to race back in the United States, particularly after my success at the recent Monster Energy Cup event in Las Vegas, but it just didn't work out," said Townley.
"At the end of the day, it's all about me getting the right equipment to get the job done and Honda in Australia and New Zealand were able to provide me with what I need to win races," said Townley.
"I want to be winning … I have missed that lately and now I'm ready to start winning again."
Blue Wing Honda's group marketing manager, Martin Wylie, said he was thrilled to acquire Townley's signature.
"We are naturally delighted to have Ben Townley on board," he said.
"He will be at all the major events in New Zealand, racing alongside our Honda Dealer Team riders. We are looking forward to an exciting season ahead."
Blue Wing Honda events and race team co-ordinator Peter Finlay was equally excited about the new signing.
"Blue Wing Honda is really happy to have Ben back on a CRF and we look forward to working with him throughout the year. This is really exciting news for all New Zealand motocross fans too. The racing this season is going to be truly world class," said Finlay.
His first official outing on the Carlton Dry Honda CRF450 will be at the annual Whakatane Summercross event just after Christmas, on December 27.
© Words and photos by Andy McGechan, www.BikesportNZ.com
Ben Townley Career Highlights
2010
1st Place Race One, MXdN Lakewood CO, USA
2nd Place, Lakewood National, CO
3rd Place, Red Bud National, MI
4th Place, AMA Pro Motocross Championship
2008/2009
Off due to injury
2007
AMA SX Lites East Coast Champion
AMA MX Lites Vice Champion
2006
3rd Overall, Glen Helen AMA Motocross Lites
2nd Overall, MX2 Motocross of Nations
2005
3rd Overall MX1 World Championship
Winner of 4 GP's: Bellpuig (Spain), Castiglione Del Lago (Italy), St Jean d'Angely (France), Isle of Wight (Great Britain)
2004
MX2 World Champion and Dutch MX Champion
Winner of 9 GP's (from possible 16): Zolder (Belgium), Agueda (Portugal), Valkenswaard (Netherlands), Lichtenvoorde (Netherlands), Isle of Wight (Great Britain), Uddevalla (Sweden), Loket (Czech Rep), Ballykelly (Ireland), Sun City (South Africa)Winner of 21 out of 32 motos
Winner of 6 GP doubles
2003
11th Overall 125cc World Championship
Two podiums: Loket (Czech Republic), Gaildorf (Germany)
2002
6th Overall 125cc World Championship
2nd at round one GP in Valkenswaard (first podium finish
Winner GP of Sweden, Uddevalla- Gained 3 more podiums: Moscow (Russia), Castiglione del Lago (Italy), Sevlievo (Bulgaria)
2001
Debut season in World Championship