CAIROLI, ROCZEN SNATCH TITLES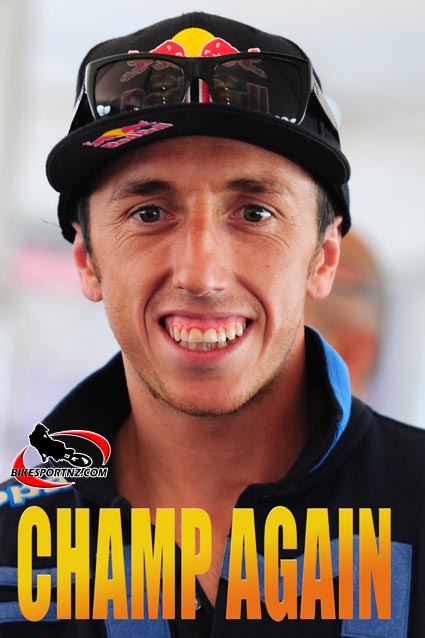 Italy's Antonio Cairoli completed a successful defence of his MX1 motocross world championship crown with 3-2 results at the 14th round of 15 at Gaildorf, in Germany, at the weekend.
It was the KTM riders' fifth world title and means he can now relax at the final round in his native Italy next weekend and prepare himself fully to represent his country at the Motocross of Nations in France the week after that.
New Zealand's Cody Cooper, making his MX1 world championship debut as guest rider for the Suzuki factory team, failed to score points in either moto.
In race one he was 26th after the opening lap and steadily fought his way through to 18th by the end of lap eight, but then faded to finish 26th.
In race two, Cooper was 18th after one lap and surged up to two positions to 16th three laps later, before again fading back and, locked in a battle with Dutch rider Herjan Brakke (Yamaha), had to settle for 21st at the finish.
"It was an awesome experience in terms of being with the team and riding the bike but I guess I'm not that fit," said Cooper.
"It was good to come over and race. I wasn't sure about it in the beginning because I'd been on holiday since the end of the Aussie nationals and we run three 20-minute motos there so the format is different.
"I didn't want to let the team down and just tried to have fun. I felt a bit better in the second moto as I had crashed in the first. It was real hard-pack here and these guys are fast for sure."
Meanwhile, Germany's Ken Roczen (KTM) finished 1-3 in the two MX2 class races to wrap up the world title before an appreciative crowd on his home turf.
Any doubt that Cairoli wouldn't win his fifth world title this weekend in Gaildorf was dispelled in the opening laps of moto one as his closest challenger and the only man capable of stealing the championship from the Italian's grasp – Frenchman Steven Frossard (Yamaha) – seemed to make a small mistake and found himself in the dirt and out of the race. That sealed the championship as far as KTM and Cairoli were concerned with the reigning champion needing only finish to win his 5th title.
Ahead of all that, Russian Evgeny Bobryshev announced his return after a one race absence with an almost start to flag win after the overhauled the holeshot man Xavier Boog, of France, on lap one and held off a late charge from the Kawasaki works rider at the flag to take the victory. Race two saw a green blur streak into the lead as fellow Frenchman Christophe Pourcel proved that the crash in race one was a blip, moving away from the chasing Bobryshev to win in the end by more than 30 seconds.
Bobryshev looked set for a comfortable overall victory until past half way when a coming together with the dreaded green trackside netting saw him lose pace as his rear wheel gained a green tinge. He would eventually finish second overall behind Cairoli who moved through to second on the road, and ahead of a resurgent Boog who capped a great weekend with his first podium of the year.
Grand Prix of Europe – Results
MX2 CLASS
MX2 Moto one: 1. Roczen, 2. Searle, 3. Tonus, 4. Paulin, 5. Herlings, 6. Aubin, 7. Leib, 8. Roelants, 9. Nicholls, 10. Anstie, 11. Lupino, 12. Butron, 13. Petrov, 14. Tixier, 15. Van Horebeek.
MX2 Moto two: 1. Searle, 2. Herlings, 3. Roczen, 4. Tonus, 5. Anstie, 6. Paulin, 7. Roelants, 8. Lupino, 9. Aubin, 10. Tixier, 11. Butron, 12. Charlier, 13. Petrov, 14. Rauchenecker, 15. Heibye.
MX2 overall: 1. Searle 47pts, 2. Roczen 45pts, 3. Herlings 38pts, 4. Tonus 38pts, 5. Paulin 33pts, 6. Anstie 27pts, 7. Roelants 27pts, 8. Aubin 27pts, 9. Lupino 23pts, 10. Butron 19pts.
MX2 Championship points: 1. Roczen 635pts, 2. Herlings 585pts, 3. Searle 526pts, 4. Paulin 458pts, 5. Tonus 391pts, 6. Anstie 369pts, 7. Osborne 295pts, 8. Kullas 287pts, 9. Aubin 269pts, 10. Roelants 253pts.
MX1 CLASS:
MX1 Moto one: 1. Bobryshev, 2. Boog, 3. Cairoli, 4. Nagl, 5. Strijbos, 6. Goncalves, 7. Guarneri, 8. Aranda, 9. Leok, 10. Boissiere, 11. Simpson, 12. Barragan, 13. Schiffer, 14. Monni, 15. Campano.
MX1 Moto two: 1. Pourcel, 2. Cairoli, 3. Boissiere, 4. Goncalves, 5. Strijbos, 6. Boog, 7. Simpson, 8. Bobryshev, 9. Aranda, 10. Nagl, 11. Campano, 12. Schiffer, 13. Monni, 14. Walkner, 15. Steinbergs.
MX1 overall: 1. Cairoli 42pts, 2. Bobryshev 38pts, 3. Boog 37pts, 4. Goncalves 33pts, 5. Strijbos 32pts, 6. Boissiere 31pts, 7. Nagl 29pts, 8. Pourcel 25pts, 9. Aranda 25pts, 10. Simpson 24pts.
World MX1 Championship points: 1. Cairoli 574, 2. Frossard 472, 3. Desalle 461, 4. Nagl 428, 5. Bobryshev 412, 6. Goncalves 386, 7. Philippaerts 308, 8. Boog 294, 9. Barragan 288, 10. De Dycker 268.
© Cairoli photo by Andy McGechan, www.BikesportNZ.com
Cooper photo courtesy Suzuki