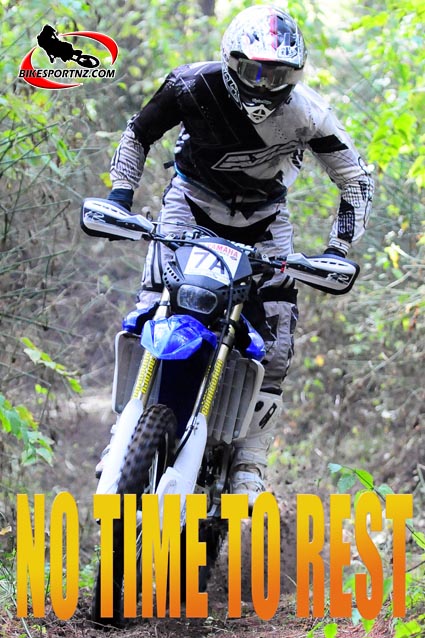 Taupo's Rory Mead has had little time to catch his breath since winning the New Zealand Enduro Championships crown just over a month ago.
The 24-year-old Yamaha ace immediately flew off to the United States to continue with his debut season of cross country racing and, at the weekend just gone, he mixed in an endurocross event and an extreme enduro in two different parts of the vast country.
"I did the third round of the AMA endurocross series near Indianapolis on Friday night, where I made it to the final race of the night and finished ninth overall," he explained.
"I'm very pleased with how the night went. During practise I was struggling with the track. I couldn't do more than a few laps without getting arm pump.
"Once the first lot of heats came round, I was feeling better, but still couldn't put in a solid six laps. I didn't manage to finish in the top two in my heats so I had to transfer to the LCQ (last chance qualifier race).
"As the night went on, I was feeling more comfortable on the track and managed to win the LCQ which got me into the main event, the final race of the night.
"I got a good start in the main, but went down on the fifth lap, a few riders got past and I finished up ninth."
Polish international extreme enduro specialist Taddy Blazusiak won the event.
Two days later and Mead was in Tennessee for an event called the Kenda TKO Extreme Enduro.
It was held at a trials training facility near the town of Chattanooga. It was a knockout format where 50 entrants were whittled down to 10 riders for the final race, which was 10 laps on a short course.
"I got a good start but crashed early on and the leaders pulled a gap," said Mead.
"I pushed hard getting up to fourth and was catching the third-placed rider but couldn't close the gap before the chequered flag was out."
Mead had to settle for fourth, just in front of fellow New Zealander Paul Whibley (Yamaha), from Pahiatua.
Blazusiak did not make it past the first round after falling and damaging his bike to such an extent that was impossible to finish.
Both Mead and Whibley will prepare themselves now for the resumption of the Grand National Cross-country Championships (GNCC) series, which takes place at Unadilla, near New York, in two weeks' time.
Results from Tennessee:
1. Mike Brown
2. Cody Webb
3. Bobby Prochnau
4. Rory Mead
5. Paul Whibley
6. Jordan Ashburn
7. Kyle Redmond
8. Wally Palmer
9. Colton Haaker
10. Michael Williams
© Words and photo by Andy McGechan, www.BikesportNZ.com