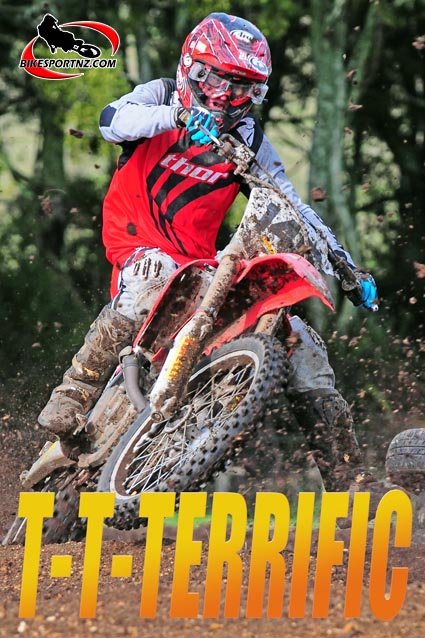 It was a perfect weekend for Amberley's Ian Ffitch.
The Honda star drove up from quake-ravaged Canterbury region to do a little earth-shaking of his own at the New Zealand TT Championships at Kuratau, near Turangi, romping to his first outright win at the annual Bike Torque Yamaha-sponsored event.
The 41-year-old took his Honda Sportrax 450R to clean sweep the ATV Open class, recording a string of five convincing wins at the two-day event, and eclipsing three-time previous champion Quentin Palmer in the process.
Turangi's Palmer (Suzuki) finished runner-up, his 2-3-3-2-2 results leaving him 19 points behind Ffitch.
"This is the first time I've won the TT nationals and it's certainly nice to be so dominant," said Ffitch.
"I've always been at the sharp end of the field but Quentin's usually been too strong. It was my turn to be strong this year.
"I got tangled in the first turn of the first race last year and had to spend the whole weekend playing catch-up. This time around it was up to everyone else to try and catch me, so that was nice for a change."
Meanwhile, with the two-wheeled bike racers, it was a heart-warming family affair for Cameron and Alex Dillon, the Taupo brother and sister each claiming class wins.
For 17-year-old Alex Dillon it was another story of complete dominance as she rode her Honda CRF250 to an unbeaten string of wins, easily heading the women's class from Matamata's Kelly Kneebone (Yamaha).
Her 18-year-old sibling, Cam (pictured above), may have felt robbed after having a solid grip on both the senior Open class and 250cc class crowns, but then having to settle for just one title.
Cam Dillon (Honda CRF250) was almost untouchable in the 250cc class, scoring four wins and a second place over the two days and ending the weekend a massive 17 points clear of his nearest rival, Rotorua's Scott Canham (Kawasaki).
But the Open class was the one that got away.
Dillon took the bigger Honda CRF450 to tackle the Open class and, with three of the five races completed, he was on top of the standings, five points clear of Masterton's Mason Wilkie (Yamaha YZ450F).
However, Wilkie won the last two races to snatch away the title, winning it by just one point.
"It's the first time I've won the 250cc title … I've usually finished second. Pity about the Open class but, really, I just do this for fun and haven't been training much lately."
Wilkie was, not unexpectedly, ecstatic about his title win.
"I was two points behind Cam heading out to that final race. I knew I had to win that last race if I wanted the title. But the pressure was more on Cam than it was on me. The title was mine to win and his to lose," said the 21-year-old.
"I crashed in the first race on Saturday while I was leading and had to fight back from dead last to finish third. That meant I was playing catch-up the whole weekend.
"It's a great feeling to win this … it's my first national title on a 450cc bike."
Other class winners at the weekend were: Auckland's Matthew Wickstead, Junior ATV; Rotorua's Tony Smales, Veteran ATV; Rotorua's Emma Smales, ATV Open women; Te Awamutu's Ryan Thompson, Senior bikes under-200cc; Auckland's Toby Summers, Vets over-35; New Plymouth's Mitch Rowe, Vets over-40; Taumarunui's Russell Josiah, Vets over-50; Wellington's Josh Bartosh, Junior 125-250; Christchurch's Dylan Walsh, Junior 13-16 years; Taupo's Wyatt Chase, Junior 8-12 years.
© Words and photos by Andy McGechan, www.BikesportNZ.com
Full story and more photos in your next issue of KIWI RIDER magazine.