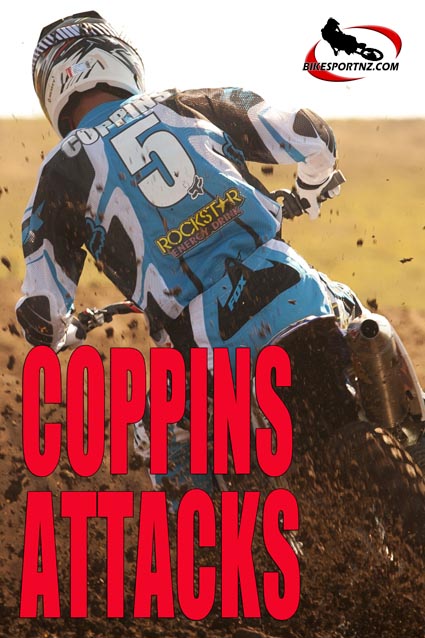 How quickly fortunes can change in motocross.
New Zealand's Josh Coppins led a Yamaha 1-2 at the penultimate round of the Australian Motocross Championships at Moree on Sunday, rocketing from second place overall in the open class and 14 points behind Australian Kawasaki rider Dean Ferris, to the No.1 position and 18 points clear of a new No.2 man, his own Yamaha team-mate and defending champion Jay Marmont.
Coppins finished 1-2-2-1 in his four open class races on Sunday, ending the day first-equal with Marmont (2-1-1-2) but first outright on count-back.
This sets him up nicely for the ninth and final round at Coolum next weekend.
The man from Motueka is 18 points clear of Marmont but now a massive 40 points clear of third-ranked Ferris with just four more races at Coolum still to come.
However, Ferris crashed and injured his thumb at the weekend and is now in doubt for the final round.
"I'm pretty happy and satisfied with the day," Coppins said afterwards. "It's been a great day for the team, a great day for Yamaha and all our sponsors and the result of a lot of hard work by a lot of people. But, it's not over yet so its straight back to work tomorrow as this championship is far from over," he said.
Other Kiwis in action at the weekend were Suzuki's Cody Cooper, of Mount Maunganui, who managed 10-4-7-13 on Sunday and he remains eighth overall in the championship chase, while Honda's Michael Phillips, of Rotorua, finished 9-7-5-18 on Sunday and he stays sixth overall in the championship.
In the Lites (MX2) class, Yamaha's Kirk Gibbs won the day with 3-1-2-2 results, but KTM's Matt Moss continues to lead the championship.
Moss is a solid 33 points clear of Gibbs and it will take a miracle or disaster for that to change significantly.
New Zealand's sole entry in the class, Christchurch's Justin McDonald (Honda), finished 0-8-11-7 on Sunday and he slips from sixth to ninth in the series rankings.
© Words by Andy McGechan, www.BikesportNZ.com
Photo courtesy Yamaha
RESULTS:
Rockstar Energy Pro Open Round Results:
1. Josh Coppins (CDR Rockstar Energy Yamaha) 94
2. Jay Marmont (CDR Rockstar Energy Yamaha) 94
3. Todd Waters (Carlton Dry Honda Thor Racing) 70
4. Lawson Bopping (Raceline Pirelli Suzuki) 58
5. Cheyne Boyd (Carlton Dry Honda Thor Racing) 58
6. Billy Mackenzie (Monster Energy Kawasaki) 52
7. Cody Cooper (Rockstar Motul Suzuki) 51
8. Jamie Law (Herb Watson Racing KTM) 48
9. Louis Calvin (JDR Motorex KTM) 45
10. Michael Phillips (Carlton Dry Honda Thor Racing) 45
Rockstar Energy Pro Open Championship Standings (after 8 of 9 rounds):
1. Josh Coppins 603
2. Jay Marmont 585
3. Dean Ferris 563
4. Billy Mackenzie 559
5. Cheyne Boyd 494
6. Michael Phillips 460
7. Lawson Bopping 433
8. Cody Cooper 395
9. Louis Calvin 313
10. Daniel Reardon 226
Motul Pro Lites Round Results:
1. Kirk Gibbs (Serco Yoshimura Yamaha) 89
2. Kade Mosig (Berry Sweet Strawberries/Lucas Oil Honda) 79
3. Brenden Harrison (JDR Motorex KTM) 71
4. Cody Mackie (Team 07 Axis Motorsports Honda) 69
5. Josh Cachia (JDR Motorex KTM) 65
6. Matt Moss (JDR Motorex KTM) 64
7. Phil Nicoletti (Monster Energy Kawasaki) 60
8. Daniel McCoy (Rockstar Motul Suzuki) 51
9. Luke Styke (Serco Yoshimura Yamaha) 48
10. Keiron Hall (Team 07 Axis Motorsports Honda) 47
Motul Pro Lites Championship Standings (after 8 of 9 rounds):
1. Matt Moss 567
2. Kirk Gibbs 534
3. Brenden Harrison 478
4. Phil Nicoletti 477
5. Daniel McCoy 461
6. Kade Mosig 440
7. Josh Cachia 423
8. Cody Mackie 419
9. Justin McDonald 403
10. Luke Styke 372
Pirelli Under 19s Round Results:
1. Errol Willis (Raceline Pirelli Suzuki) 100
2. Dylan Long (Top Gear KTM) KTM 76
3. Luke Arbon (GYTR Rockstar Energy Yamaha) 70
4. Sam Martin (Byrners Suzuki) 62
5. Jacob Wright (Honda Australia) 60
6. Jay Wilson (Coastal KTM) 59
7. Mitch Budd (Honda) 53
8. Jacob Mcleod (Grayson Sonter Motorcycles Yamaha) 46
9. Kale Makeham (JDR Moss Institute Suzuki) 45
10. Dylan Peterson (Team 07 Axis Motorsports Honda) 40
Pirelli Under 19s Championship Standings (after 8 of 9 rounds):
1. Errol Willis 656
2. Luke Arbon 550
3. Shaun Redhead 466
4. Dylan Peterson 425
5. Jay Wilson 385
6. Jake Emanuelli 380
7. Kyle McKeddie 370
8. Sam Martin 305
9. Kale Makeham 280
10. Dylan Long 270