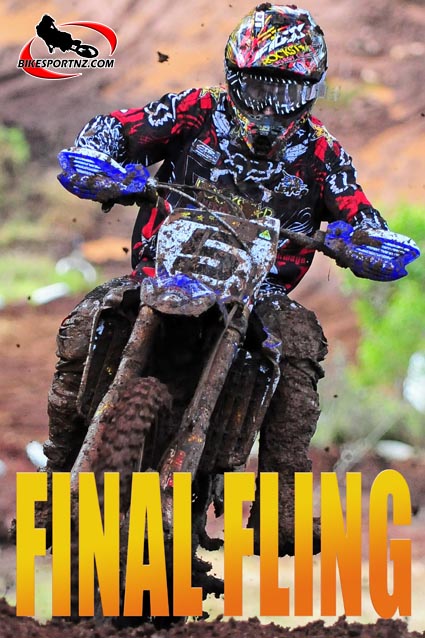 It's the final throw of the dice for motocross title hopefuls in Australia this weekend.
Sunday is the ninth and final round of the 2011 Rockstar Motocross Nationals at Coolum and it is a New Zealand rider who is favoured to steal away with the main prize.
Motueka's Josh Coppins (CDR Rockstar Yamaha YZ450F) is comfortably on top of the open class standings, 18 points clear of his own CDR Rockstar Yamaha team-mate, defending champion Jay Marmont,
If either Coppins or Marmont finish the weekend on the top of the podium it will be the fourth successive time that a member of this powerful team has won the title.
It seems a long shot for their nearest rivals – Kawasaki pair Dean Ferris and Billy Mackenzie – to snatch away the glory at this late stage but nothing is impossible as fortunes for all the riders have soared to the highest of highs and plummeted to the lowest of lows at various stages of the series.
A crash, a flat tyre or a bolt of lightning may still have an impact on where the title ends up.
With rounds eight and nine on consecutive weekends, Coppins remained in Australia to train during the week.
"It's actually been nice to stay here and enjoy the warm weather," Coppins said. "With the team also staying in Queensland, I have been able to get some riding in and hit the gym so, for me, it's business as usual this weekend and I'll try to post the four best motos I can."
Also chasing glory this weekend are fellow Kiwi riders Michael Phillips (Honda), of Rotorua, Mount Maunganui's Cody Cooper (Suzuki) and Christchurch's Justin McDonald (Honda).
Phillips is currently sixth in the open class standings and Cooper is eighth. McDonald lays ninth overall in the Pro Lites (250cc) rankings.
Hamilton's Darryll King, the 2011 New Zealand MX2 motocross champion, has crossed the Tasman this week to tackle the one-off Australian Veterans' Motocross Championships that share the programme with the open class and Pro Lites racing.
The 42-year-old King will also contest the Open class in Australia for the first time this season, meaning he will be in action eight times this weekend.
King is no stranger to racing in Australia. He won the veterans' (over-40 years) class there last season, but also previously won the premier open grade in 2001, 2003 and 2004.
© Words and photo by Andy McGechan, www.BikesportNZ.com
Championship standings with one round remaining:
Rockstar Energy Pro Open
1 Josh Coppins 603 Points
2 Jay Marmont 585 Points
3 Dean Ferris 563 Points
4 Billy Mackenzie 559 Points
5 Cheyne Boyd 494 Points
6 Michael Phillips 460 Points
7 Lawson Bopping 433 Points
8 Cody Cooper 395 Points
9 Louis Calvin 313 Points
10 Daniel Reardon 226 Points
Motul Pro Lites Championship
1 Matt Moss 567 Points
2 Kirk Gibbs 534 Points
3 Brenden Harrison 478 Points
4 Phil Nicoletti 477 Points
5 Daniel McCoy 461 Points
6 Kade Mosig 440 Points
7 Josh Cachia 423 Points
8 Cody Mackie 419 Points
9 Justin McDonald 403 Points
10 Luke Styke 372 Points
Pirelli Under 19's Championship
1 Errol Willis 656 Points (2011 Champion)
2 Luke Arbon 550 Points
3 Shaun Redhead 466 Points
4 Dylan Peterson 425 Points
5 Jay Wilson 385 Points
6 Jake Emanuelli 380 Points
7 Kyle McKeddie 370 Points
8 Sam Martin 305 Points
9 Kale Makeham 280 Points
10 Dylan Long 270 Points