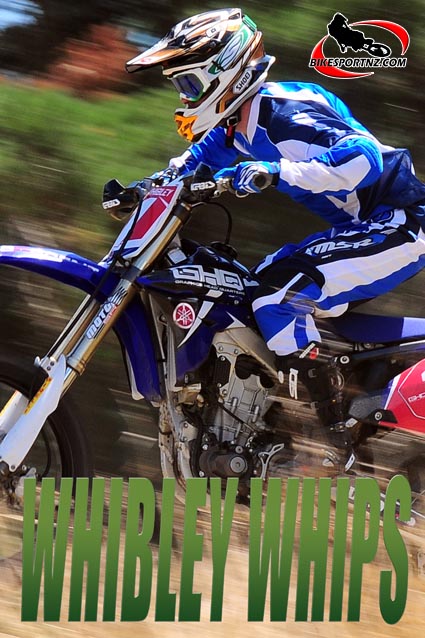 New Zealand's Paul Whibley is back where he feels he belongs, on top of the podium in the United States.
The Yamaha ace from Pahiatua won the weekend's fifth round of 13 in the Grand National Cross-country Championships at Patton, Pennsylvania.
The Kiwi former GNCC champion made it look easy, finishing the three-hour race nearly two minutes ahead of series leader and defending champion Josh Strang.
Whibley (Yamaha YZ450F) took the lead soon after the start of the race, before being swallowed up by Australian Strang and American hero Charlie Mullins.
However, when Strang and Mullins both made mistakes, just a few thousand metres later, Whibley pounced and shot away to a sizeable lead.
Strang fought back and retook the lead when Whibley became stuck on a hill but the Kiwi took over the lead again when Strang pitted for fuel.
And that was the eventual finish order with Whibley winning from Strang and Mullins, with American riders Michael Lafferty and Kailub Russell rounding out the top five.
"For me, it feels good to get another win," said Whibley. "Being one of the older guys in the field, the wins are harder to come by and the last two races a few of the younger guys have been up front. So it's good to still be able to run with these guys," said Whibley, who just turned 33 years old during the week before the event.
"I have to admit I wasn't really enjoying it out there. I'm not a huge fan of rocks, but this past week I practiced in the rocks and I was somewhat prepared," said Whibley.
"The course was quite fast and the penalty for going down in this stuff is severe so I was a little cautious out there and I think Strang might have had problems at the end of the race so everything ended up going my way."
Another Kiwi, Taupo's Rory Mead, sat in for injured Honda rider Jimmy Jarrett, finishing eighth overall in his first-ever GNCC race.
Strang holds the championship lead with 123 points, while Mullins is second on 121 and Whibley is third in the standings with 103 points.
© Words and photo by Andy McGechan, www.BikesportNZ.com
XC1 class results:
1. Paul Whibley (Yam)
2. Josh Strang (Suz)
3. Charlie Mullins (KTM)
4. Michael Lafferty (Hsb)
5. Kailub Russell (KTM)
6. Chris Bach (Bet)
7. Nate Kanney (KTM)
8. Rory Mead (Hon)
9. Kenneth Gilbert (KTM)
10. Nick Fahringer (Hsb)
XC1 class standings:
1. Josh Strang (123/1 win)
2. Charlie Mullins (121/2 win)
3. Paul Whibley (103/2 wins)
4. Cory Buttrick (81)
5. Nate Kanney (72)
6. Kailub Russell (69)
7. Michael Lafferty (64)
8. Chris Bach (63)
9. Garrett Edmisten (46)
10. Jimmy Jarrett (43)