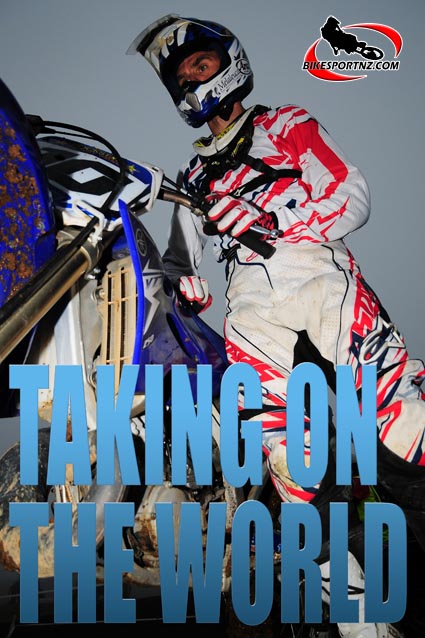 The Grand Prix motocross world is calling out again to New Zealand MX2 champion Darryll King.

It doesn't seem that long ago that Waikato's King was racing the motocross world championships but a decade has passed since he last fought on the motocross battlefields of Europe.
He's now aged 42 and considered a veteran in the sport, but that didn't stop him winning the elite MX2 title at the New Zealand Senior Motocross Championships that wrapped up in March, humbling many of Australasia's rising young stars.
King himself would tell you, and plenty of his young rivals would probably agree, that he's as fast now as he ever was and that's why he's packing his bags to again take on the world's elite.
The MXDK Rockstar Yamaha team boss heads off this week for the United States, where he will tackle round two of this season's Veterans' Motocross World Championships at Glen Helen, in California, on Sunday (May 15).
He was forced to miss round one at Valkenswaard, in the Netherlands, last month after injuring himself in an accident unrelated to motorcycling.
"I smacked my head on a low roof. It gave me a real jolt," he explained. "But I'm 100% again now.
"I'm really excited to be going to race in the US. To win the USGP, at any level, is a real achievement and I believe I can win."
Round two of the veterans' world championships shares the programme with round three of the MX1 and MX2 world championships, each class to race twice at Glen Helen in what promises to be a very busy and exciting weekend.
"King will have a fully-prepped Yamaha YZ450F waiting for him when he arrives, courtesy of Pro Circuit and Rockstar.
"I know it will be difficult to beat (leading American rider) Doug Dubach and Sweden's Matt Nilsson (the defending world champion and current series leader), but that's the plan," said King.
Yamaha's Nilsson won both veterans' class races at Valkenswaard and already has a maximum 50-point advantage over King, although the Kiwi hero would settle for the honour of winning a race in the US, or possibly even beating all of the world's best riders aged over 40 and winning the USGP overall.
"Yes, I'm already 50 points behind but, if I can win races and Nilsson has a problem, I'm in the hunt.
"The magnitude of this event is huge. It's a track too that's certainly not for the faint-hearted, with some huge uphills and downhills."
After the California event, the veterans' competition then takes a short break before resuming in July with round three in Latvia, round four in Belgium, round five in England and, finally, round six in Germany.
King has made no firm commitment to racing the rest of the series and he "will take it one event at a time and see where I am in the points after America". He says continuing the campaign will also depend upon how much his budget can stretch.
© Words and photo by Andy McGechan, www.BikesportNZ.com