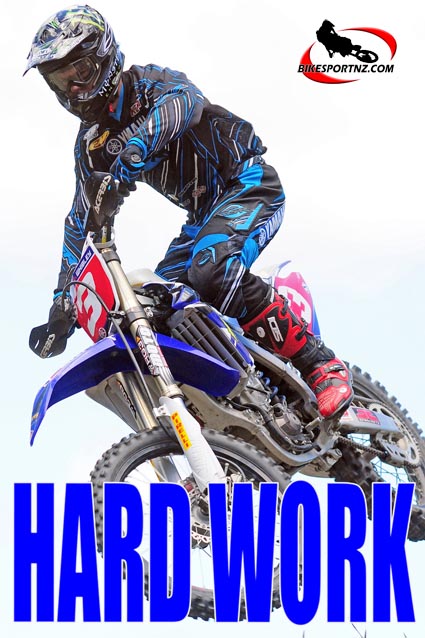 It was a philosophical Paul Whibley who reported in at the end of the day's racing at round four of the Grand National Cross-Country Championships (GNCC) in the United States at the weekend.
"There are a few races left in the championship and plenty of points still on the table," the Kiwi former GNCC champion shrugged after coming home a disappointing sixth in the race in South Carolina.
Pahiatua's Whibley is fourth in the championship points standings and he finds himself 27 points off the lead, held now by American KTM rider Charlie Mullins.
The 2010 champion, Australian Josh Strang (Suzuki), is 25 points ahead of Whibley.
The round four event certainly was a disappointing outing for Whibley, always a contender in this competition and outright champion in 2009. He finished third overall in the championship last season.
"I had planned on putting in another good performance like I managed at round two, where I put my Yamaha in the centre of the box (top of the podium), but a poor start here didn't help my cause.
"When the green flag waved, I was left stranded on the start line, but a couple of kicks later I was underway. I latched on to the back of the pack and in the few open turns closed in on the top 10. The first few miles were pretty dusty and moving up much further was risky until we spread out a little and vision improved.
"I hooked up with Chris Bach (Beta) and my former team-mate Jimmy Jarrett (Honda). I got past both of them after a couple of laps but it had taken me too long to make the move and the leaders had already put a sizeable gap on me.
"I pushed hard to try and reduce that gap but it wasn't happening. The guys up front were in their own battle and, I imagined, they were able to key off each other and learn the fastest lines. I seemed to be stuck in no man's land.
"The bike was working great but I couldn't find my way up to that podium.
"I am pretty disappointed with my sixth place. I really need to get up on that box soon and reflect some of the hard work my team is putting in to get me to the line."
Grand National Cross Series – Round 4 – Big Buck GNCC results:
XC1 Results:
1. Charlie Mullins (KTM)
2. Josh Strang (Suz)
3. Kailub Russell (KTM)
4. Cory Buttrick (KTM)
5. Russell Bobbitt (KTM)
6. Paul Whibley (Yam)
7. Nate Kanney (KTM)
8. Chris Bach (Bet)
9. Jimmy Jarrett (Hon)
10. Mike Lafferty (Hsb)
XC1 class standings after four of 13 rounds:
1. Charlie Mullins (100/2 win)
2. Josh Strang (98/1 win)
3. Paul Whibley (73)
4. Cory Buttrick (72)
5. Nate Kanney (58)
6. Kailub Russell (53)
7. Chris Bach (48)
8. Garrett Edmisten (46)
9. Mike Lafferty (46)
10. Jimmy Jarrett (43)
© Words and photo by Andy McGechan, www.BikesportNZ.com