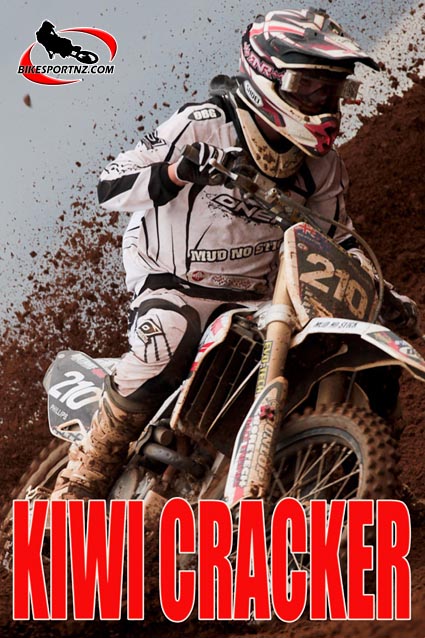 April Fool's weekend took the Kiwi DBG Suzuki Team to the season opener of the British Red Bull Pro Nationals at Fat Cat Motoparc near Doncaster.
And they came away with their best results of the British season so far.
Par Honda rider Brad Anderson scored 1-1 results to lead home Shaun Simpson in winning the MX1 class, while, in the MX2 class, Britain's Elliot Banks-Browne won the day ahead of Mel Pocock.
But the Kiwis were also on fire at the weekend.
Masterton's Bjarne Fredricksen managed 17th overall in the MX1 class and his Kiwi DBG Suzuki team-mate John Phillips, of Rotorua, finished an astounding 8th overall in the MX2 class.
Phillips took to the practice and timed qualifying session not knowing what to expect. He pushed hard during the entire session to try and master the conditions and came out with the 37th fastest qualifying time with the MX2 and MX1 combined. This meant he had a decent gate pick as the MX2 were given priority over the MX1 riders.
Jumping out of the gate in the first moto, Phillips found himself mid pack. After a hectic few laps, he settled into a rhythm and it was clear that his riding improved every lap as the race progressed crossing the line 27th overall which gave him 14th position for the MX2 class.
Motivated by his first race success, Phillips attacked as the second moto hit the track banging bars with top class riders such as Gordon Crockard and Alex Snow for the first part of the moto. Unfortunately the testing conditions began to take its toll and, after a few mistakes, Phillips lost touch with the group he was doing battle with. Picking himself up after a few fall-offs John managed to cross the line in an impressive 9th position in MX2 and 24th overall.
Phillips riding in the sand improved all day and he showed heart and determination to battle right to the end of each moto. Excited after his 8th place overall in the MX2 class for the day, Phillips had this to say: "I just want to get out to Belgium and France now and ride some sand tracks to improve even more on what I have learned today. It was tough out there but I kept pushing and am happy to get such a good overall result in my first Red Bull National outing."
The Kiwi DBG Suzuki Team is managed by former Hawke's Bay man Rex Michau.
MX1 results:
1. Brad Anderson (Honda) 50 points, 25 25
2. Shaun Simpson (KTM) 42 20 22
3. Martin Barr (KTM) 40 22 18
4. Stephen Sword (CCM 34 14 20
5. Gert Krestinov (Kawasaki) 32 18 14
6. Tom Church (CCM) 31 16 15
7. Kristian Whatley (Yamaha) 27 15 12
8. Graeme Irwin (KTM) 24 11 13
9. Jamie Law (KTM) 24 13 11
10. Nathan Parker (KTM) 22 6 16
11. Arunas Gelasninkas (Kawasaki) 19 9 10
12. Gordon Crockard (Suzuki) 19 12 7
13. Sam Simmons (Yamaha) 16 8 8
14. Alex Snow (Kawasaki) 13 7 6
15. Martyn Cremers (CCM) 10 10 –
16. Jamie Smith 9 – 9
17. Bjarne Frederiksen (DBG Suzuki, NZ) 5 – 5
MX2 results:
1. Elliott Banks-Browne (Honda) 50 points, 25 25
2. Mel Pocock (Suzuki) 44 22 22
3. Scott Elderfield (Kawasaki) 38 18 20
4. Stuart Edmonds (TM) 34 20 14
5. Jack Brunnel (Kawasaki) 32 14 18
6. Bryan MacKenzie (Kawasaki) 24 9 15
7. Lewis Tombs (Honda) 23 10 13
8. John Phillips (DBG Suzuki, NZ) 19 7 12
9. Tom Kelly (Honda) 17 8 9
10. Jordan Booker (KTM) 16 16 —
11. Steven Clarke (Suzuki) 16 — 16
12. Sunny Thompson 16 5 11
13. Ray Rowson (Yamaha) 15 15 —
14. Josh Waterman (KTM) 13 13 —
15. Ryan Houghton (KTM) 12 12 –
© Andy McGechan, www.BikesportNZ.com
© Photos by Stefan Paetow, eons netmedia