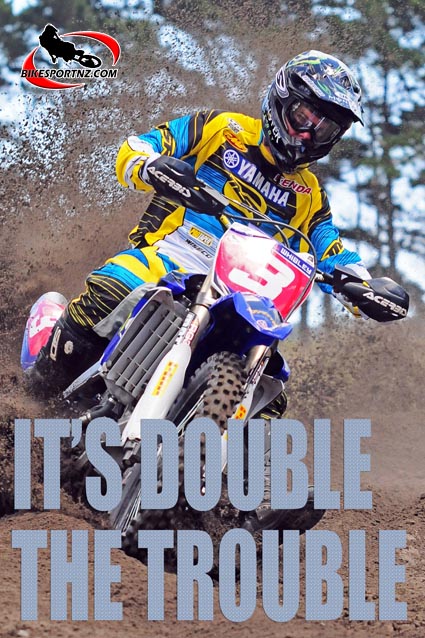 Kiwi Paul Whibley created double trouble for his rivals at the weekend.
The 32-year-old Yamaha ace from Pahiatua tackled back-to-back events in the United States at the weekend and won them both.
The first of two high-profile events in Whibley's sights was round three of the Mid-East Hare Scramble Championships and, with his winning the previous round, that made the Kiwi favourite to extend his series lead.
Saturday's race was staged at the Antioch Speedway and the first section incorporated the dirt track oval and infield. The track also ran through the embankment above the oval allowing spectators to view the first couple kilometres of the lap.
"With a pretty high average speed, the six-mile loop was completed in 12 minutes," said Whibley.
"I got a good start and swept into the lead as we speed around the dirt track oval. Cory McDonald gave chase on his YZ450F until a flat tyre allowed KTM rider Stu Baylor and my AmPro Yamaha team-mate Jordan Ashburn past.
"The short fast lap made it tough to really gain an advantage and the traffic was constant.
"When the day was done, I took the win ahead of the battling pair of Baylor and Ashburn."
The following day, Whibley polished up his Yamaha YZ450F to take on the cream of the crop at the second round of the North Carolina Hare Scramble Association (NCHSA) Series.
The NCHSA event was held a short drive up the road near Taylorsville, North Carolina.
"Taking the holeshot helped me open a gap over Honda rider Jimmy Jarrett early in the race. The rocky soil was unpredictable on the first lap, especially in the fresh section that was still covered in leaves. Visiting Aussie Ash Day kept me in sight on the first lap until Jimmy Jarrett took the position, although Jimmy's day ended early with some bike problems a few laps later.
"Ash had his own problems with a violent crash putting a finish to a strong run. I was ticking off safe, smooth laps at the front.
"Another Aussie, Ben Kearney, nabbed second spot as the chequered flag came out."
Whibley now readies himself for the fourth round of 13 in the Grand National Cross-Country Championships series, his main reason for racing in America.
That race is set for this weekend at Union, South Carolina.
After three round of the GNCC series, Whibley is fourth in the championship points standings, but just 21 points off the lead, held by 2010 champion Josh Strang (Suzuki), of Australia.
RESULTS:
Mid East Hare Scramble series round three:
1. Paul Whibley
2. Stu Baylor
3. Jordan Ashburn
XC NCHSA round two:
1. Whibley
2. Ben Kearney
3. Glenn Drum
© Words and photo by Andy McGechan, www.BikesportNZ.com